You are here
Thousands more Syrians flee their homes as two battles rage
By Reuters - Mar 17,2018 - Last updated at Mar 17,2018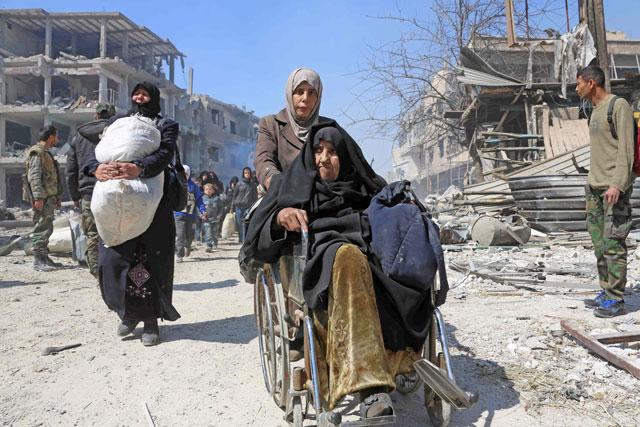 A Syrian woman sitting in a wheelchair is pushed during a civilian evacuation from the town of Jisreen in the southern Eastern Ghouta, on the eastern outskirts of the capital Damascus, on Saturday (AFP photo)
BEIRUT, Lebanon — Thousands of civilians streamed out of their towns on Saturday to escape battles in the north and south of Syria, where two different offensives have prompted an exodus in recent days.
A new wave of at least 10,000 people fled a rebel pocket to army lines in Eastern Ghouta near the capital Damascus in the southwest. Rescuers and a monitoring group said air strikes pounded the besieged zone.
In the northern Afrin region, people ran from other frontlines closing in on their homes as Turkish war planes struck the main town, Syrian Kurdish forces and the monitor said. More than 150,000 people have left the town in the last few days, a senior Kurdish official said.
The two offensives — one by the Syrian army with Russia's support, and another led by Turkey with its allied Syrian rebels — entered decisive phases this week. Both have shown how foreign backers and their Syrian allies are reshaping the map after the defeat of Daesh's self-proclaimed caliphate last year.
Syria's conflict marked seven years this week, after killing hundreds of thousands, displacing at least 11 million more, including nearly 6 million who fled abroad in one of the worst refugee crises of modern times.
Turkey launched the cross-border offensive on Afrin in January against the Syrian Kurdish YPG fighters that control the region.
In its own month-long assault, the Syrian military has marched into much of Eastern Ghouta, the last big insurgent bastion around Damascus.
Eastern Ghouta
Government forces have splintered Ghouta into three zones in one of the bloodiest offensives of the seven-year war. For the first time, residents began running in their thousands out of the southern pocket, around the town of Hammouriyeh, this week.
State media said 10,000 more civilians reached army positions on Saturday, and some others started leaving the Harasta zone as well in a new outflow.
Troops and the Syrian Arab Red Crescent (SARC) would transfer them to temporary shelters, it said.
Men, women and children crossed the front by foot along a dirt road, staggering under the weight of bags and suitcases, footage on state TV showed. Many carried infants on their shoulders or pushed them in strollers. Some elderly people hobbled on wooden sticks.
The United Nations has said the exact numbers of people fleeing are not known nor are the destinations of all evacuees. Mobile clinics were open and some people were taken to hospital in the capital, it said.
An army officer in charge of arrivals in Adra said authorities had spread out 25,000 people across temporary shelters there and in two nearby towns. In Adra, the newcomers stayed in schools, receiving food, water and medicine, he said.
The officer said boys and men between the ages of 15-60 years old could "settle their affairs" with the state by writing a vow that says "I pledge not to return to armed actions." Some 1,500 men had done so in the town, he said.
The Syrian Observatory for Human Rights said air strikes on Zamalka, in the pocket that has seen the exodus, killed 30 people gathering to leave for government lines. The UK-based monitoring group and local rescuers in rebel territory said warplanes also pounded the towns of Kafr Batna and Ain Tarma.
Damascus and its ally Moscow say they strike only armed militants in the war and now seek to stop insurgent mortar fire that killed dozens in the capital.
The rebel factions accuse Damascus of seeking to depopulate opposition towns and deny its charges that they blocked people from leaving.
Afrin
An estimated 12,000-16,000 people had already left Ghouta before Saturday, while more than 48,000 were reportedly displaced in Afrin, a UN aid official in Syria has said.
The Turkish military has pushed the YPG militia back from the border and nearly encircled them with advances on the western and eastern flanks of Afrin town itself. Ankara sees the YPG as an extension of the outlawed Kurdish PKK which has waged a decades-long insurgency inside Turkey.
"We can enter Afrin [town] any second. We can give you the good news any minute," Turkish President Recep Tayyip Erdogan told a congress of the ruling AK Party. "Conquest is close. We walk towards that aim."
Turkish air and artillery strikes rained down overnight and in recent days, driving tens of thousands out of the main town by car and on foot, Kurdish authorities and the observatory say.
Hevi Mustafa, a senior civic official, said that people fled the main town to other Kurdish-held parts of the region and to government territory.
"The situation is tragic for the people inside," she said. "And the displaced outside Afrin are out in the open without refuge or food".
The Turkish military denied on Saturday it had struck a hospital in Afrin, saying it was waging the campaign in a way that would not hurt civilians. The YPG and the observatory had said a Turkish air strike on the main hospital killed 16 people the night before.
Rezan Hedo, a YPG media adviser, and state TV said people arriving in the nearby towns of Nubul and Zahraa, under government control, received some aid.
Inside the town, "there is no water, there are no hospitals", Heddo added. "There are civilians under the rubble and no capacity to get them out."
Related Articles
Mar 15,2018
BEIRUT, Lebanon — Turkey turned up the heat on Syria's Afrin Wednesday, launching deadly strikes on Damascus loyalists deployed around the K
Feb 19,2018
HAMMURIYEH, Syria — Heavy Syrian bombardment killed 44 civilians in rebel-held Eastern Ghouta on Monday, as regime forces appeared to prepar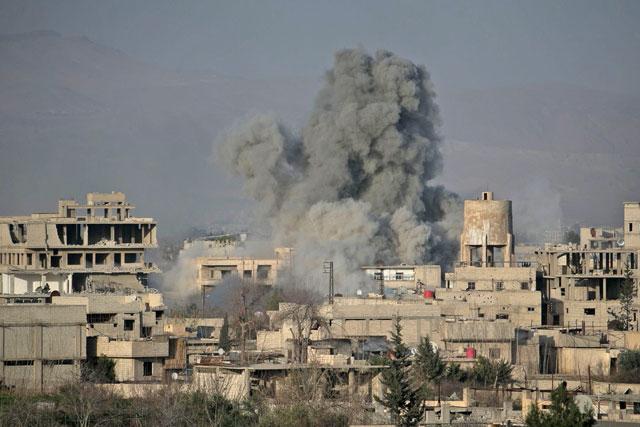 Mar 04,2018
BEIRUT/ISTANBUL — Syrian government forces gained more ground in an assault on Eastern Ghouta near Damascus on Saturday as they seek to defe
Newsletter
Get top stories and blog posts emailed to you each day.