You are here
Syrian regime flag raised in Douma: Russian military
By AFP - Apr 12,2018 - Last updated at Apr 12,2018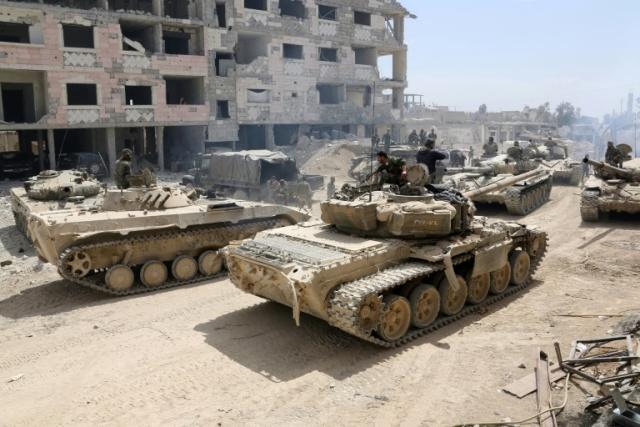 A picture taken on April 8, 2018, shows Syrian Army soldiers gathering in an area on the eastern outskirts of Douma, as they continue their offensive to retake the last opposition holdout in Eastern Ghouta (AFP photo)
Moscow - The Russian defence ministry said Thursday that the Syrian regime flag is flying in the town of Douma, which it said meant government forces had taken full control over Eastern Ghouta.

"Today a significant event in the history of Syria took place. The raising of a regime flag over a building in the town of Douma signified control over this town and consequently over Eastern Ghouta as a whole," Major General Yury Yevtushenko, head of the Russian military's centre for reconciliation in Syria, was quoted as saying by the Interfax news agency.

Russian television showed footage of the Syrian government's red, white and black flag with two green stars hanging from an unidentified building, while cheering crowds waved flags in among shell-damaged buildings.

The Russian defence ministry also said Thursday that its military police had begun patrolling Douma, after announcing their planned deployment the day before.

"From today, units of the Russian armed forces' military police are working in the town of Douma. They are a guarantee of the observance of law and order in the town," the defence ministry said in a statement, RIA Novosti news agency reported.

The Russian military said the situation in Douma was normalising and a total of 166,644 people had been evacuated from the city through a humanitarian corridor.
Related Articles
Apr 01,2018
Beirut - Syrian regime ally Russia struck a deal with rebels to evacuate hundreds of civilians from Douma, the final opposition pocket in th
Apr 12,2018
WAFIDEEN CHECKPOINT, Syria — Rebels in Syria's Eastern Ghouta surrendered their heavy weapons and their leader left the enclave, a monitor s
Apr 12,2018
Washington - The United Nations warned world powers against letting the crisis over an alleged chemical attack against civilians in Syria fr
Newsletter
Get top stories and blog posts emailed to you each day.