You are here
Syria war has killed more than 330,000 — monitor
Observatory says total of 18,243 children and 11,427 women were among civilians killed
By AFP - Jul 16,2017 - Last updated at Jul 16,2017
A woman whose husband was killed in the US-backed Kurdish and Arab forces' battle of Raqqa, the main Syrian stronghold of the Daesh group, visits a cemetery in the Kurdish town of Kobani in northern Syria, on Sunday (AFP photo)
BEIRUT — More than 330,000 people have been killed in the Syrian conflict since it started six years ago, around a third of them civilians, a monitor said on Sunday.
The Britain-based Syrian Observatory for Human Rights said it has documented the deaths of 331,765 people across Syria since the conflict erupted in mid-March 2011 with anti-government protests.
Included in the overall death toll are 99,617 civilians, observatory head Rami Abdel Rahman told AFP, adding that the figures were for the period between March 15, 2011, and July 15, 2017.
A total of 18,243 children and 11,427 women were among the civilians killed, the observatory said.
The figures were the latest provided by the observatory since March when it said 320,000 people, including 96,000 civilians, had been killed.
In its latest report, the observatory said a total of 116,774 members of the regime forces or regime supporters have been killed in Syria since the conflict began.
Of those, it said 61,808 were soldiers and 1,408 were members of the Lebanese Shiite movement Hizbollah, an Iran-backed regime ally.
Also killed in Syria since the conflict erupted were 57,000 rebels, including from the US-backed Syrian Democratic Forces, an Arab-Kurdish alliance.
In addition, more than 58,000 militants, namely from the Daesh terror group and Al Qaeda's former Syria affiliate, were killed, said the observatory, noting that the figure also includes foreign extremists.
The conflict broke out with peaceful anti-government protests but quickly turned into a fully fledged war involving a multitude of local, regional and foreign powers.
The brutal conflict has destroyed much of the country's infrastructure and displaced millions of people, more than half of Syria's population.
Related Articles
Oct 04,2017
BEIRUT — A Russian air strike killed 38 civilians on Wednesday as they tried to cross the Euphrates River to escape fighting in eastern Syri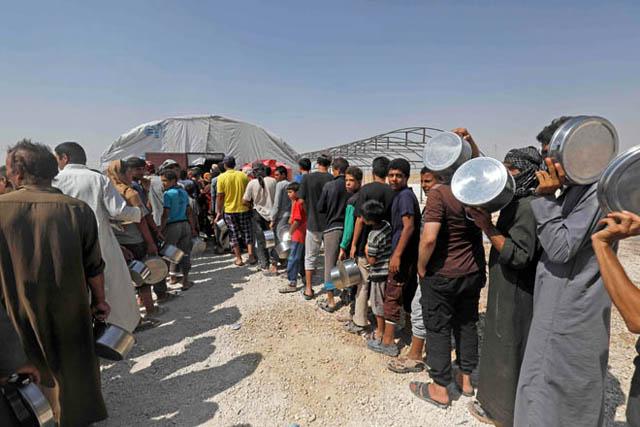 Aug 27,2017
BEIRUT — At least 34 Syrian soldiers and allied fighters have been killed in a Daesh terror group counterattack in the east of Raqqa p
Sep 21,2017
BEIRUT — At least 22 civilians have been killed in 48 hours of heavy air strikes by Syria's regime and its ally Russia in northwestern Syria
Newsletter
Get top stories and blog posts emailed to you each day.