You are here
Syria regime accused of chemical attack in rebel enclave
By AFP - Jan 22,2018 - Last updated at Jan 22,2018
A Syrian boy holds an oxygen mask over the face of an infant at a makeshift hospital following a reported gas attack on the rebel-held besieged town of Douma in the eastern Ghouta region on the outskirts of the capital Damascus on Monday (AFP photo)
DOUMA, Syria — At least 21 people, including children, suffered breathing difficulties Monday, a monitor said, in a suspected Syrian regime chemical attack on a besieged rebel enclave near Damascus.
United Nations inspectors have accused President Bashar Assad's regime of being behind multiple deadly poison gas attacks during the country's devastating seven year war.
Monday's attack targeted the city of Douma in the rebel-held region of Eastern Ghouta, the Syrian Observatory for Human Rights said.
"After regime forces fired rockets into the western part of the city of Douma, white smoke spread, causing 21 cases of suffocation," it said.
An AFP correspondent at a hospital in the city saw people carrying babies wrapped in blankets, breathing through oxygen masks, some of them screaming.
Young girls and men sat on hospital beds, tears in their eyes, unable to stop coughing.
A doctor at the hospital who gave his first name as Bassil said patients were suffering "respiratory irritation, breathing difficulties, coughing and reddening of the eyes".
"We noticed that they smelled like bleach, or chlorine, and we stripped them of their clothes," he said.
Six children and six women were among those affected, the observatory said.
"Residents and medical sources talk of chlorine gas," observatory hear Rami Abdel Rahman said, adding that his group — which relies on a network of sources inside Syria could not confirm those reports.
On January 13, a similar attack targeted the outskirts of Douma and the observatory reported seven cases of suffocation.
Days later, Human Rights Watch head Kenneth Roth accused the Syrian regime of using chlorine gas during the siege of Eastern Ghouta.
Besieged since 2013 by regime forces, the rebel stronghold's 400,000 inhabitants are already experiencing a crushing humanitarian crisis and severe shortages of food and medicine.
The Organisation for the Prohibition of Chemical Weapons (OPCW) and the United Nations blamed the Syrian air force for an April 2017 sarin gas attack on the opposition-held village of Khan Sheikhoun which left scores dead.
The attack triggered an unprecedented American missile strike on the airbase it is believed Syrian forces used to carry out the attack.
The regime is also accused of using chlorine gas in three areas of northern Syria in 2014 and 2015.
UN Secretary General Antonio Guterres has called for efforts to punish officials responsible for chemical attacks in Syria.
Syrian state TV said Monday that rebel mortar fire had killed nine people in two neighbourhoods of Damascus.
Syria's nearly seven-year war, which began as the regime brutally crushed anti-government protests, has claimed more than 340,000 lives, forced millions to flee their homes and left the country in ruins.
Related Articles
Apr 07,2018
BEIRUT — At least 11 people were left struggling to breathe on Saturday after air strikes on Syria's rebel town of Douma, a monitor said, as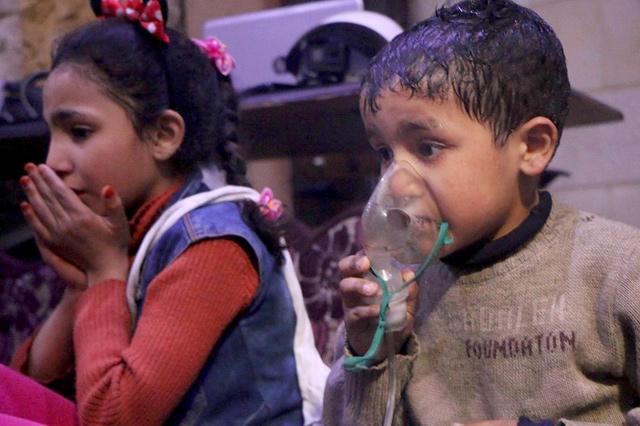 Apr 09,2018
DAMASCUS, Syria — Calls grew on Monday for an international response to an alleged chemical weapons attack on a rebel-held Syrian town that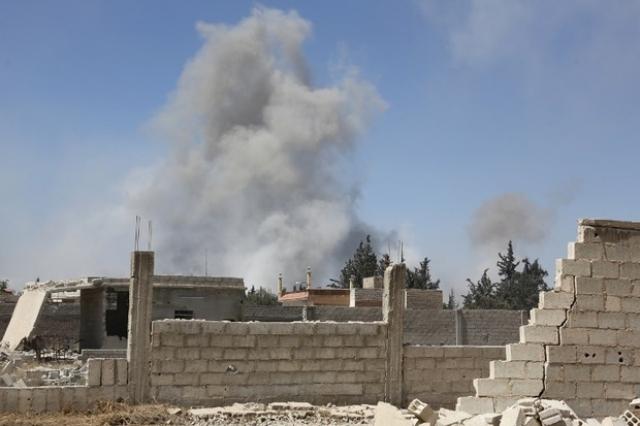 Apr 08,2018
BEIRUT - A chemical attack on a rebel-held town in eastern Ghouta killed dozens of people, a medical relief organisation and a rescue
Newsletter
Get top stories and blog posts emailed to you each day.