You are here
Syria rebels to stay away from Astana talks — spokesman
By AFP - Mar 13,2017 - Last updated at Mar 13,2017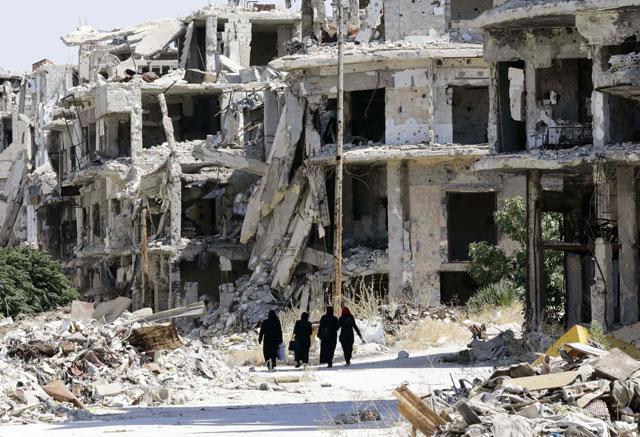 This file photo taken on September 19, 2016, shows Syrian women walking between destroyed buildings in the government-held Jouret Al Shiah neighbourhood of the central Syrian city of Homs (AFP photo)
BEIRUT — Syrian rebel factions will not attend a new round of negotiations with government figures in the Kazakh capital, an opposition delegation spokesman told AFP on Monday.
"Rebel groups have decided not to participate in Astana," said Osama Abu Zeid, adding that one reason for the boycott was "unfulfilled pledges related to the cessation of hostilities".
The third round of talks in Astana, sponsored by government ally Russia and rebel backer Turkey, is scheduled to begin on Tuesday.
The Astana track has aimed to reinforce a fragile ceasefire deal brokered by Moscow and Ankara in December.
"We decided not to participate in Astana because the reinforcement of the ceasefire was not implemented," said Ahmad Othman, commander of the Ankara-backed Sultan Murad rebel group.
"The regime and the militias are continuing to bomb, displace, and besiege," he told AFP, and rebel groups had informed the talks' sponsors of their decision.
Syrian state television on Monday reported that the government delegation, headed by Syria's representative to the UN Bashar Al Jaafari, had arrived in the Kazakh capital.
Jaafari has also led the government's representatives in parallel UN-backed talks in Geneva.
Kazakhstan's foreign ministry said the Russian and UN delegations had also arrived in Astana for the talks, with other teams expected later Monday.
A fresh round of negotiations in Switzerland is set to begin on March 23 and will focus on governance, the constitution, elections, counterterrorism and possibly reconstruction, according to UN envoy Staffan de Mistura.
De Mistura had earlier said he expected negotiators in Astana "to actually address the issue of counterterrorism" and discuss a "concrete possibility of the exchange of detainees and abducted people".
Russian Foreign Minister Sergei Lavrov on Monday discussed the Astana meeting with his Turkish counterpart, Mevlut Cavusoglu, according Lavrov's office.
The Russian foreign ministry did not release details of the call.
Lavrov's deputy Gennady Gatilov said Monday that Moscow had "invited all the parties present at the previous meeting in Astana, and we hope that everyone who attended will also be present this time".
More than 320,000 people have been killed since Syria's conflict erupted in March 2011.
Related Articles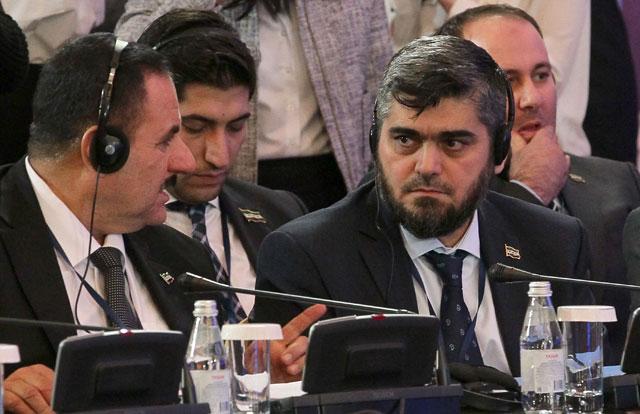 Feb 16,2017
ASTANA, Kazakhstan — Syrian regime and rebel representatives failed Thursday to make any breakthroughs at talks in Kazakhstan, as key powerb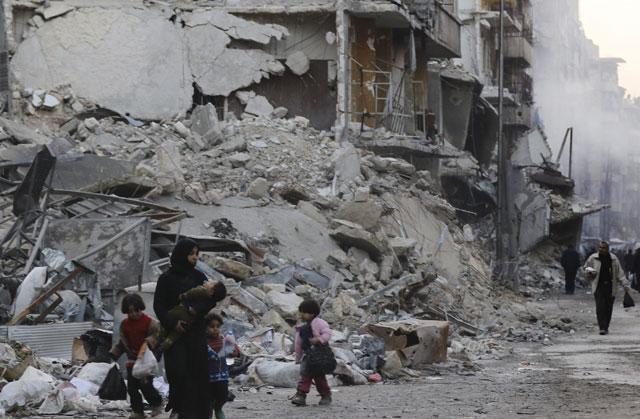 Jan 22,2017
ASTANA, Kazakhstan — Syria's government and rebel fighters will on Monday sit down at the negotiating table for the first time in nearly six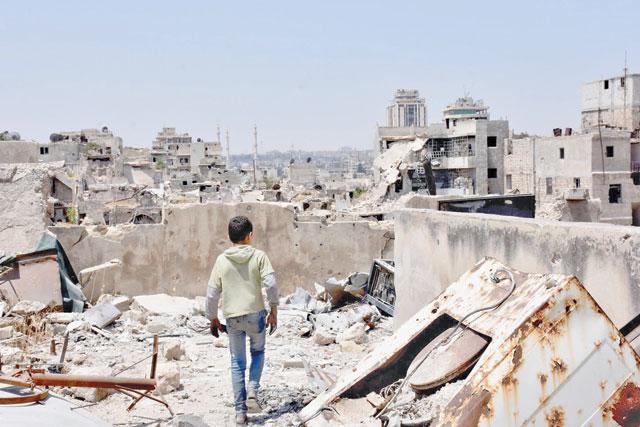 Dec 23,2017
ASTANA, Kazakhstan — Major powerbrokers agreed Friday to hold a peace congress for Syria in Russia's Black Sea resort of Sochi in late Janua