You are here
Syria army seizes dozens of villages in advance on key base — monitor
By AFP - Jan 14,2018 - Last updated at Jan 14,2018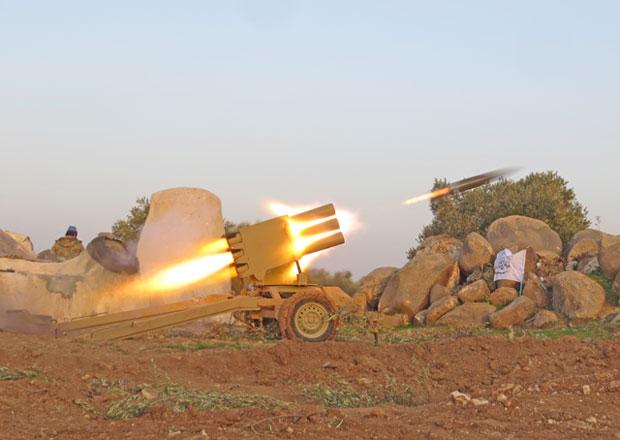 Multi-barrel rocket launcher in action within the clashes between armed opposition group Tahrir Al Sham and Assad regime forces around the Abu Al Duhur military airbase in a de-escalation zone in Idlib, Syria, on Saturday (Anadolu Agency photo)
BEIRUT — Syrian troops have recaptured dozens of towns and villages from extremist fighters, a monitor said Sunday, bringing them closer to a key military airport in the country's northwest.
"In the past 24 hours, regime forces have taken at least 79 villages in the southern parts of Aleppo province, an area near the Abu Duhur military airport," said Rami Abdel Rahman, the head of the Britain-based Syrian Observatory for Human Rights monitor.
Russia-backed regime troops are aiming to reach the Abu Duhur base as part of a weeks-long assault against Hayat Tahrir Al Sham (HTS), which is dominated by Al Qaeda's former Syria affiliate.
The offensive has seen Syrian forces seize surrounding territory in the provinces of Aleppo and Hama as they close in on Abu Duhur, which lies just inside the Idlib province.
They briefly broke into the air base this week from the south but were ousted in a ferocious counter-offensive by extremists and rebels.
With the latest push in Aleppo province, Abdel Rahman said, army troops were seeking to open a new front on the airport's northern and eastern flanks.
"Regime troops lost control of those villages in southern Aleppo province in 2012," he said.
"They are advancing quickly now because of HTS's collapse, and the withdrawal of its fighters and those of other groups from the area," Abdel Rahman added.
Syrian daily Al Watan, which is close to the government, also reported that the army was "encircling" the airport.
The airport straddles the border between Aleppo and Idlib, the last province in the country outside the government's control.
In addition to the base, the regime hopes to secure a key patch of highway running through Idlib that links the northern city of Aleppo with the capital Damascus further south.
Rebels and extremists overran Idlib province over the course of several months in 2015, capturing Abu Duhur in September of that year.
Since then, the extremist forces behind HTS have expanded their control in the province, with the influence of mainstream rebels shrinking drastically.
The fighting in Idlib has displaced nearly 100,000 people since early December, the United Nations has said.
Related Articles
Jan 16,2018
BEIRUT — The Daesh terror group has been roundly defeated across much of Syria — which made it all the more surprising when it announced an
Oct 07,2018
BEIRUT — Syrian rebels said Saturday they have begun withdrawing heavy arms from a planned buffer zone in north-western Idlib province, ahea
Jun 11,2018
BEIRUT, Lebanon — Fifteen Syrian civilians were killed on Sunday in regime strikes in the country's northwest, a monitor said, in apparent r