You are here
Syria aid trucks enter one of five besieged areas to deliver relief
By Reuters - Feb 17,2016 - Last updated at Feb 17,2016
BEIRUT — Trucks carrying humanitarian aid entered a besieged Damascus suburb on Wednesday in a major, UN-backed deal to deliver help to tens of thousands of trapped residents in several of Syria's worst hit areas, a Syrian Arab Red Crescent source said.
The Syrian government has approved access to seven besieged areas, the United Nations said after crisis talks in Damascus on Tuesday, a week ahead of a planned resumption of peace talks between Syria's warring parties.
The UN estimates there are roughly 486,700 people in around 15 besieged areas of Syria, and 4.6 million people in hard-to-reach areas. Starvation deaths and severe malnutrition have been reported in some of these areas.
Aid convoys on Wednesday travelled to Madaya, Zabadani and Mouadamiya Al Sham near Damascus which have been under siege by government forces, and the villages of Al Foua and Kefraya in Idlib province which are surrounded by rebel fighters.
Nine aid trucks crossed a checkpoint to enter Mouadamiya Al Sham on Wednesday, the SARC source told Reuters.
There have been several aid deliveries to Madaya and Zabadani, and to Al Foua and Kefraya this year, but each delivery has to be carefully synchronised between the warring sides so that the convoys enter simultaneously.
The Syrian Red Crescent is coordinating with the UN on the deliveries which include wheat and high-energy foods, with medical teams being sent to some areas.
The United Nations has demanded unhindered access to all besieged areas of the country, where it says hundreds of thousands of people are trapped by fighting and deliberate blockades by Syria's various warring sides.
In Madaya, near the border with Lebanon, dozens have starved to death after months of siege by government forces and their allies.
In the city of Deir El Zzor in eastern Syria, parts of which are under siege by Daesh militants, unverified reports have said up to 20 people have died of starvation.
Deir El Zzor was one of the seven areas to which the aid convoys were expected to head within the next few days, the United Nations said.
Unrelenting fighting
Syria's opposition says it will not negotiate with Damascus until sieges imposed by government forces and their allies have been lifted — one of many issues that led to a suspension of peace talks in Geneva earlier this month.
Talks are scheduled to resume on February 25, but fighting and air strikes continue unabated throughout the country, where 250,000 people have been killed in five years of war.
In the town immediately next to Mouadamiya, Daraya, the Syrian army and allied forces continue a major offensive to take back the rural suburbs of Damascus still in rebel hands.
In Deraa city, south of Damascus, jets believed to be Russian pounded insurgent positions on Wednesday near a now-closed rebel-held border crossing with Jordan. The attacks appeared aimed at cutting rebel supply lines east of Deraa with the rural areas west of the city.
A fighter from Al Tawhid Al Janub Brigade, part of the Southern Front rebel alliance, said the bombing of the old quarter of Deraa city, which has been in rebel hands for nearly three years and whose residents have fled since the start of the conflict, was the heaviest in over two years. The army controls the rest of the city.
Related Articles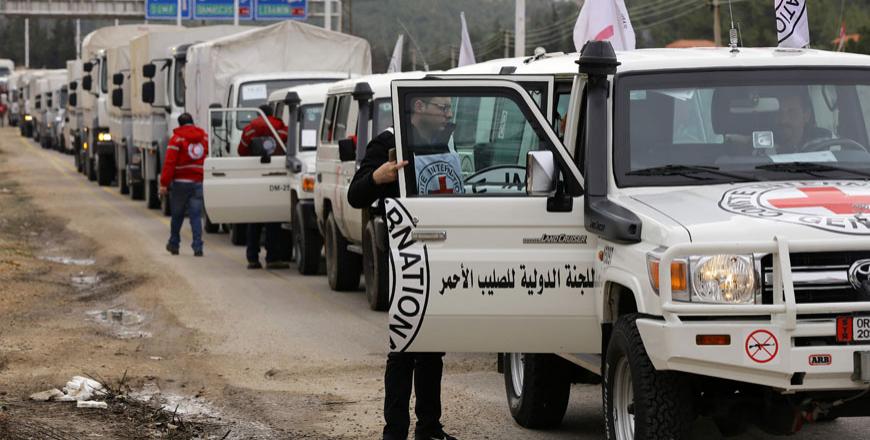 Jan 12,2016
MADAYA, Syria — An aid convoy entered a besieged Syrian town on Monday where thousands have been trapped without supplies for months and peo
Jan 13,2016
BEIRUT — Aid groups were in talks Tuesday to evacuate 400 people, many starving, from a besieged Syrian town where the UN said suffering was
Jan 14,2016
NEAR MADAYA, Syria/BEIRUT/GENEVA — Aid supplies on Thursday reached a besieged Syrian town and two trapped villages for the second time this
Newsletter
Get top stories and blog posts emailed to you each day.