You are here
South Syria ceasefire deal largely holds despite minor clashes
Evacuation of opposition fighters and their families delayed after exchange of fire
By AFP - Jul 09,2018 - Last updated at Jul 09,2018
A Syrian soldier is seen standing at the Nasib border crossing with Jordan in Deraa, Syria, on Sunday (Reuters photo)
BEIRUT — Tens of thousands have returned to their homes in southern Syria since a ceasefire deal between regime ally Russia and rebels to end more than two weeks of deadly bombardment, a monitoring group said Sunday.
The deal was largely holding despite air strikes on two areas that killed four civilians, the Syrian Observatory for Human Rights monitoring group said, and although rebel evacuations under the deal were postponed.
President Bashar Assad's regime is determined to retake control of the key southern province of Daraa bordering Jordan and the Israeli-occupied Golan Heights, seven years after protests there sparked Syria's civil war.
Since June 19, a deadly regime bombardment campaign on the province had caused more than 320,000 people to flee their homes, according to the United Nations, many to the sealed border with Jordan.
On Friday, rebels and the regime announced a ceasefire deal, providing for opposition fighters to hand over their heavy weapons and paving the way for a government takeover of the province.
More than 60,000 people have since taken to the roads from the Jordanian frontier, heading back to their homes in the east or west of the province, the Britain-based observatory said.
The UN humanitarian coordinator in Jordan, Anders Pederson, said most of the displaced along the Jordanian border had headed back inside Syria.
There are only "around 150 to 200 people right now at the border", he said.
On Sunday, the returns were continuing, the observatory said, even as regime warplanes pounded two areas of Daraa province.
Acting 'the way they want'
Three civilians were killed in air strikes on Um Al Mayazin, just 5 kilometres north of the Jordanian border, said the Britain-based monitor.
Earlier, rebel fire on a regime convoy travelling near Um Al Mayazin on the highway from the border had killed several soldiers, observatory director Rami Abdel Rahman said, without providing a toll.
By Sunday afternoon, regime forces had taken control of the village, he and Syria's state news agency SANA said.
"The military incursion into Um Al Mayazin came after opposition fighters there rejected the agreement," Abdel Rahman said.
A regime air strike on the rebel-held half of the provincial capital of Daraa also killed one civilian, the observatory said.
Clashes between both sides rocked the area between Daraa city and Um Al Mayazin.
By late Sunday, regime troops had taken control of an air base southwest of Daraa City after rebel fighters there withdrew, according to the observatory.
On Saturday, several rebel factions put out a statement saying they did not accept the ceasefire deal and would continue fighting.
"The regime and the Russians consider themselves to have won and are acting accordingly, advancing and applying articles of the deal however they want," rebel spokesman Hussein Abazeed said.
On Friday, regime forces retook control of the Nassib border crossing with Jordan.
Under the ceasefire deal, government forces were to deploy along the frontier with Jordan, while rebels were to hand over their heavy weapons.
Opposition fighters were also given the option of being bused out to rebel-held areas in northern Syria.
Evacuations on hold
But Abazeed said the evacuation of opposition fighters and their families planned for Sunday was temporarily put on hold due to "an exchange of fire" between rebels and regime forces.
"A hundred buses were supposed to arrive but [the operation] has been postponed to a later date," the rebel spokesman said.
A Daesh extremists group affiliate, which holds a small pocket in the southwest of Daraa, is excluded from the ceasefire deal.
The regime assault on rebel-held areas in Daraa since June 19 had killed more than 160 civilians, the observatory says.
Since Russia intervened on Assad's side in Syria's conflict in 2015, the Damascus regime has notched up a series of victories against rebels and fighters in the country.
Regime forces, who secured the capital Damascus earlier this year, now control more than 60 per cent of the country, according to the observatory.
The deal between rebels and Russia announced for Daraa is the latest in a string of such accords to see Damascus regain control of rebel-held areas.
These often come after blistering military offensives or crippling sieges, which effectively force the rebels into the so-called "reconciliation" deals.
Syria's war has killed 350,000 people and displaced millions of others since it started with the brutal repression of anti-Assad protests in 2011.
Jordan says it has taken in around 1.3 million refugees and will not open its border to any more.
Related Articles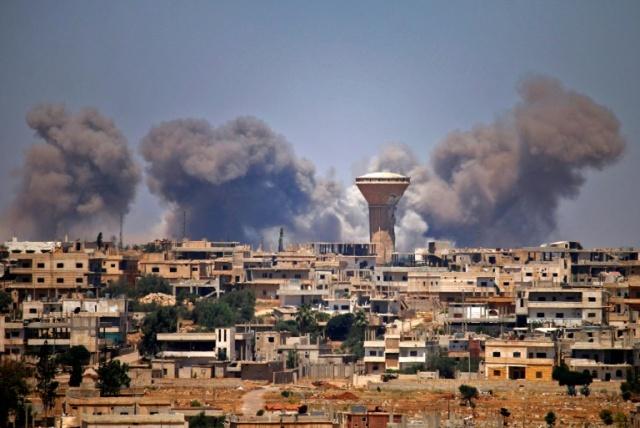 Jul 07,2018
DARAA — The Syrian regime on Friday reached a deal with rebels for the surrender of the remaining opposition-held cities and towns in
Jul 18,2018
BEIRUT — Air strikes have killed 15 civilians in a rebel-held pocket of southern Syria as regime ally Russia presses talks for Damascus to r
Jul 05,2018
DARAA/BEIRUT/UNITED NATIONS — Rebels in Syria's battered south are returning to talks with government ally Russia, an opposition spokesman s
Newsletter
Get top stories and blog posts emailed to you each day.