You are here
'Severe damage' in Syria's Yarmouk makes returns unlikely — UN
By AFP - May 23,2018 - Last updated at May 23,2018
Members of the Syrian pro-government forces inspect the damage of a street in the Hajar Al Aswad neighbourhood on the southern outskirts of the capital Damascus on Tuesday (AFP photo)
BEIRUT/DAMASCUS — The UN on Tuesday said it was almost impossible to imagine people returning to Syria's ruined Yarmouk Palestinian camp, a day after the government recaptured it from militants.
Syrian troops seized control of Yarmouk and other neighbourhoods in the south of the capital Damascus on Monday after a month-long assault against the Daesh extremist group.
Yarmouk has been so heavily battered by fighting that it was hard to picture daily life restarting there, the United Nations' Palestine refugee agency (UNRWA) said on Tuesday.
"Yarmouk was once the thriving home of 160,000 Palestinians. Today it lies in ruins, with hardly a house untouched by the conflict," spokesman Chris Gunness said.
"The public health system, water, electricity, basic services for life are severely damaged. The debris of this pitiless conflict is everywhere," he told AFP.
"In that environment, it is hard to see how people can go back."
An AFP correspondent in Yarmouk on Monday during a government press tour said buildings had been reduced to mound after mound of smashed concrete and rubble.
Any structures left standing appeared gutted or burned, with holes punched through by artillery fire.
Also on Tuesday, Syrian police deployed across devastated districts in southern Damascus, according to state media.
Police units entered Yarmouk and Hajar Al Aswad and planted the two-star Syrian flag there, state television reported.
It broadcast images of security forces atop a pockmarked multi-storey building in Yarmouk where they had hung the national flag.
They had also plastered pictures of President Bashar Al Assad and his predecessor and father Hafez.
Other police officers gathered in the ravaged streets below and fired in the air in celebration.
"The police are present round-the-clock," said one officer interviewed on the state broadcaster.
"Special units are deployed across the camp to help any civilians and protect their belongings," he said.
It also showed footage from Hajar Al Aswad of a convoy of police cars and motorcycles making its way through dusty streets lined with crumbling buildings.
There were no civilians in sight.
Yarmouk, Hajar Al Aswad and the nearby district of Tadamun all lie in a southern pocket of Damascus that had escaped regime control for several years.
The government began losing its grip on parts of the capital in 2012, just one year after the conflict in Syria erupted.
But it has made a comeback this year, with Assad using a mix of military pressure and evacuation deals to flush rebels and militants out of Damascus and its outskirts.
His troops and allied Palestinian fighters turned their sights on Yarmouk and the other Daesh-held parts of the capital last month.
Daesh overran Yarmouk in 2015, but the massive Palestinian camp had already been ravaged by years of rebel infighting and government attacks.
Several sources, including the Syrian Observatory for Human Rights and a military source close to Damascus, said the capture came after a negotiated withdrawal of Daesh fighters. The government has denied such a deal.
Fighting over the years had whittled down Yarmouk's population to just hundreds by the time Syria's army began its assault last month.
Gunness said between 100 to 200 civilians were estimated to still be in Yarmouk, including people too old or sick to flee.
"The situation they face is inhumane by any standards and we need humanitarian access urgently," he said, adding that UNRWA had not had access to Yarmok since 2015.
"It is heartbreaking to see these images and hear the human stories that lie behind them."
Yarmouk was, for decades, a bustling district where both Palestinians and Syrians lived. It was placed under crippling siege a year after the uprising began in 2011.
Anwar Abdel Hadi, an official with the Palestinian Liberation Organisation (PLO), told AFP discussions had been initiated with UNRWA to see how Yarmouk could be rebuilt.
"The next step after liberation is combing the area, removing rubble, and assessing the damage to rebuild and bring infrastructure back so civilians can return," Abdel Hadi said.
"If someone tried to come back, wouldn't he need water, electricity, streets, services, and safety to live there?"
Related Articles
May 15,2018
BEIRUT, Lebanon — Syrian regime forces on Tuesday retook a neighbourhood south of Damascus from Daesh, slicing off yet another part of the m
Apr 23,2018
BEIRUT, Lebanon — The Syrian army bombarded a militant enclave in south Damascus on Monday, state television and a war monitor said, as Pres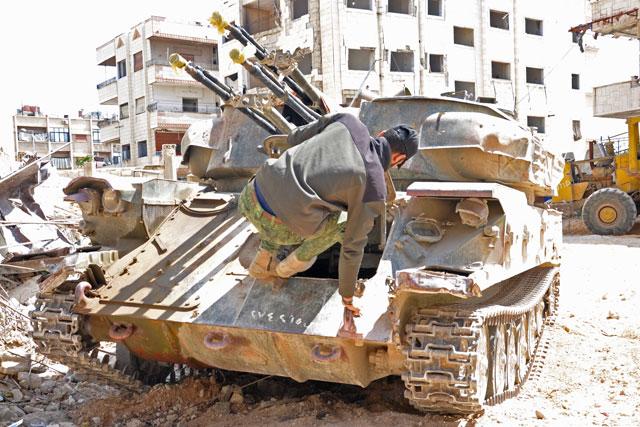 Apr 22,2018
BEIRUT/LONDON — Air strikes pounded an extremist-held area near Damascus on Sunday, footage broadcast by Syrian state TV stations showed, as
Newsletter
Get top stories and blog posts emailed to you each day.