You are here
Palestinians reject US blame accusation after deadly attack
By AFP - Jan 10,2018 - Last updated at Jan 10,2018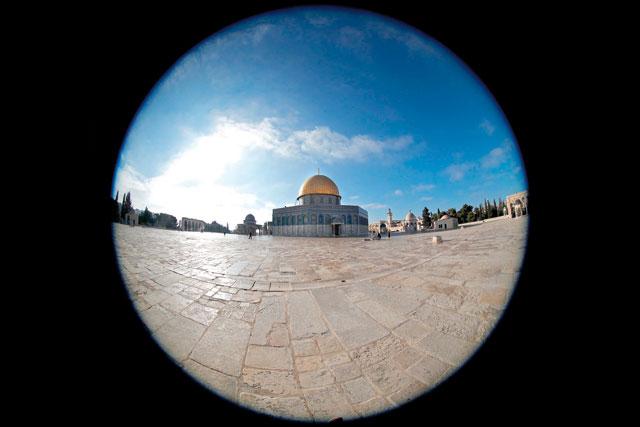 This photo made with a fisheye lens on Wednesday, shows the Dome of the Rock Mosque at Al Haram Al Sharif/Al Aqsa Mosque compound, in Jerusalem's Old City, following renovation work carried out by the Waqf, a Jordanian-run body that oversees Muslim religious sites in Jerusalem (AFP photo)
RAMALLAH, Palestinian Territories — The Palestinian government attacked comments Wednesday by the US ambassador to Israel blaming it for the failure of peace efforts, after an Israeli settler was killed in the occupied West Bank.
In the latest tensions between them, the Palestinian foreign ministry accused US Ambassador David Friedman of a "prejudiced and selective attitude" towards the conflict.
It comes a month after US President Donald Trump recognised occupied Jerusalem as Israel's capital, angering the Palestinians.
"An Israeli father of six was killed last night in cold blood by Palestinian terrorists", Friedman said on Twitter Wednesday after a 35-year-old was killed near an Israeli settlement in the West Bank.
"Hamas praises the killers and PA [Palestinian Authority] laws will provide them financial rewards. Look no further to why there is no peace."
Friedman, a supporter of West Bank settlements, was referring to payments to the families of imprisoned Palestinians, including those who have carried out attacks against Israelis, and to those killed while carrying out attacks.
Hamas, a Palestinian Islamist group, praised the attack.
The Palestinian Ministry of Foreign Affairs said in a statement that Friedman's comments reflected his "prejudiced and selective attitude towards the occupation, settlement construction, and the Palestinian just and legitimate national rights".
It pointed to Friedman's silence over what Palestinians say was the killing by Israeli forces of a disabled Palestinian man during recent protests and clashes on the Gaza border and other killings as evidence of his bias.
"Friedman's remarks and positions further complicated the road towards the peace process and the resumption of negotiations between the Israeli and Palestinian sides, specifically after President Donald Trump's declaration on Jerusalem," the statement added.
Trump's December 6 announcement that he would move the US embassy from Israel's commercial capital to Jerusalem enraged the Palestinians.
They said they will no longer engage with the Trump administration's push for fresh peace talks.
Israeli officials say payments to the families of attackers encourages further violence and have regularly called for a halt to them.
On Tuesday, the Israeli Ministry of Defence said the Palestinian Authority had paid out 1.2 billion shekels ($350 million) last year in such payments.
For Palestinians, such payments are a key source of income for families who have in many cases lost their main breadwinner.
Qadura Fares, head of the Palestinian Prisoners Club, did not dispute the figures but said that the Palestinian people overwhelmingly supported the payments.
"We stress the commitment of the Palestinian people to the prisoners and families of the prisoners. This is a legal, moral and humanitarian obligation."
Related Articles
Dec 26,2016
NEW YORK — If President-elect Donald Trump wanted to show he planned to obliterate President Barack Obama's approach to Israel, he mig
Feb 10,2018
OCCUPIED JERUSALEM — US President Donald Trump told Israel on Friday that it too would need to make "significant compromises" for peace with
May 15,2017
OCCUPIED JERUSALEM — Controversial new US ambassador to Israel David Friedman arrived in the country on Monday to take up his post, days ahe
Newsletter
Get top stories and blog posts emailed to you each day.