You are here
Nearly 100,000 Iraqis flee battle for west Mosul
By AFP - Mar 15,2017 - Last updated at Mar 15,2017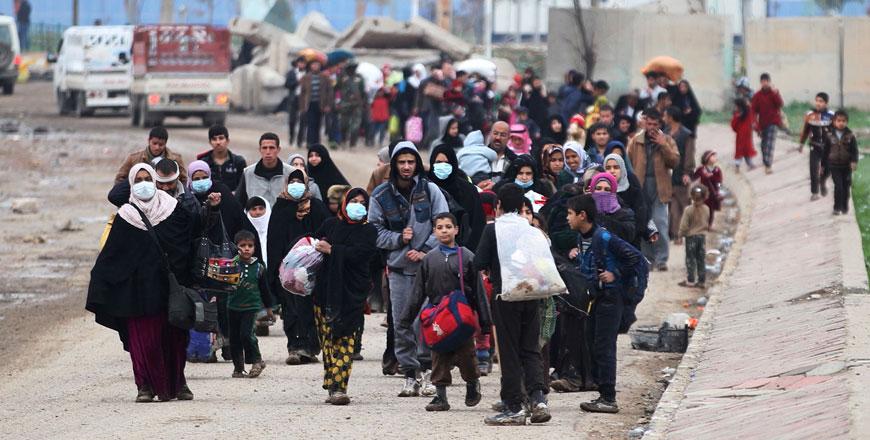 Displaced residents of western Mosul evacuate their neighbourhood on Wednesday, as Iraqi forces continue to advance in the embattled city combatting the Daesh militants (AFP photo)
MOSUL — Nearly 100,000 people have poured out of west Mosul in less than three weeks as Iraqi forces fought to retake the area from extremists, the International Organisation for Migration (IOM) said on Wednesday.
Iraqi security forces launched a major push last month to recapture west Mosul, which is the most populated urban area still held by the Daesh terror group, with an estimated 750,000 residents when the battle began.
Iraqi special forces units and police have made steady progress in the area, forcing Daesh out of a series of neighbourhoods and retaking important sites such as the airport, Mosul museum, train station and provincial government headquarters.
But the battle for west Mosul — which is smaller but more densely populated than the eastern side which Iraqi forces recaptured earlier this year — has pushed a flood of people to flee their homes.
Between February 25 and March 15, more than 97,000 people have been displaced from west Mosul, the IOM said on its official Twitter account.
It marks an increase of around 17,000 from the displacement figure the IOM released the previous day, though this does not necessarily indicate that all of those additional people fled in the past 24 hours.
The IOM also said that Iraqi government figures indicated a total of more than 116,000 people from west Mosul had gone through a screening site south of the city.
Men, women and children carrying their possessions sometimes walk for hours before arriving at a security forces checkpoint.
From there they can take buses or pickup trucks to camps after the men go through initial screening aimed at identifying those with Daesh ties.
Hajj Ahmed, a 55-year-old wearing a dark coat over a traditional robe, who had recently fled Mosul, said that people were living under Daesh siege.
Searching for Daesh bombs
"They have been besieging people for seven days," Hajj Ahmed said, praising Iraq's elite Counter-Terrorism Service (CTS) for saving them.
"All the buildings have been destroyed over our heads by the car bombs. Some families are still stuck there," he said.
On the military front, CTS forces hunted for bombs left by Daesh in areas that have recently been recaptured.
CTS is conducting an "operation to clear and search for bombs and explosives-rigged cars", Staff Lieutenant General Abdulwahab Al Saadi, one of the top commanders in the unit, told AFP.
"There is not any operation to advance and attack new neighbourhoods in west Mosul during this day," Saadi said.
Staff Major General Maan Al Saadi, another CTS commander, also confirmed that the focus on Wednesday was on searching and clearing areas that had already been retaken.
CTS and the interior ministry's Rapid Response Division — a special forces unit operating with members of the federal police — are spearheading the advance in west Mosul.
West of the city, Iraqi soldiers and members of pro-government paramilitary groups are also fighting Daesh.
The US envoy to the international anti-IS coalition said that soldiers cut the last road out of Mosul on Saturday night, trapping the jihadists still inside.
Daesh overran large areas north and west of Baghdad in 2014, but Iraqi forces backed by US-led air strikes have since retaken most of the territory they lost, launching the operation to retake Mosul — the country's last Daesh-held city — in October.
Related Articles
Mar 22,2017
MOSUL — The Daesh terror group militants shelled areas recaptured by Iraqi forces in western Mosul, hitting civilians fleeing the fighting e
Jan 14,2017
ERBIL — Iraqi forces on Saturday retook Mosul's university from the Daesh terror group, the latest key advance in efforts to recapture the e
Dec 19,2016
BAGHDAD — More than 100,000 people have been displaced as a result of the massive operation to recapture Iraq's second city Mosul, the Inter
Newsletter
Get top stories and blog posts emailed to you each day.