You are here
Libya PM regrets 'missed opportunity' to meet rival
By AFP - Feb 16,2017 - Last updated at Feb 16,2017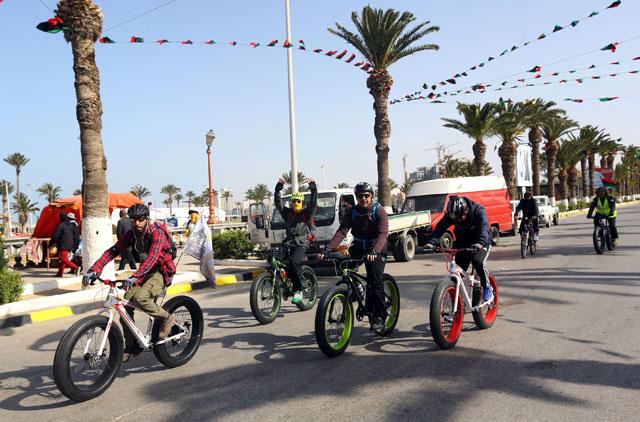 Libyans cycle in Tripoli's Martyrs' Square, on Wednesday, ahead of celebrations marking the sixth anniversary of the start of the armed revolt that ousted Muammar Qadhafi (AFP photo)
TRIPOLI — Libyan unity government chief Fayez Al Sarraj said on Thursday a "precious opportunity" had been missed when his rival, military strongman Khalifa Haftar, refused to meet him for Egypt-backed talks this week.
Sarraj said Field Marshal Khalifa Haftar, whose forces control much of eastern Libya, had refused to meet him on Tuesday in Cairo "without justification or reason".
The parties had missed "another precious opportunity that we hoped would be the beginning of a solution to the state of division and suffering" in Libya, he said in a statement.
"Intransigent political stances and oversized egos were preventing a resolution to the conflict," he said.
Libya has been submerged in chaos since the fall of longtime dictator Muammar Qadhafi in 2011.
A UN-backed deal signed in Morocco in late 2015 gave birth to Sarraj's fragile unity government based in Tripoli, but gave Haftar no role in Libya's future.
The Government of National Accord has since struggled to impose its authority across the country, particularly in the east where a rival administration holds sway, backed by Haftar's forces.
The controversial head of the self-styled Libyan national army has established himself as a key player, especially after seizing the country's key oil terminals in September.
Last week, UN envoy Martin Kobler said that negotiations on "possible amendments" to the 2015 accord had been under way for two months.
The Egyptian army hosted Sarraj and Haftar in Cairo this week for talks. They were set to meet but Sarraj said they did not meet face to face.
The army announced on Wednesday that the two sides had agreed to form "a joint committee" to come up with amendments to the deal that set up the unity government.
But Sarraj said the talks had "failed".
Haftar's rivals accuse him of wanting to establish a military dictatorship in Libya.
The foreign ministry in Tunis said on Wednesday that the chief diplomats of Tunisia, Algeria and Egypt would meet on March 1 in the Tunisian capital to discuss the Libyan crisis.
Related Articles
Feb 24,2015
A South Korean teenager who went missing last month has joined Daesh terror group and is receiving training, South Korea's spy agency said Tuesday.
Mar 09,2014
Officials investigating the disappearance of a Malaysia Airlines jetliner with 239 people on board suspect it may have disintegrated in mid-flight, a senior source said on Sunday, as Vietnam reported a possible sighting of wreckage from the plane.
Dec 20,2014
India's finance minister appealed to opposition parties Saturday to cooperate in passage of economic reform legislation, warning otherwise Asia's third largest economy "will miss the bus" again.