You are here
Lebanon's Aoun says ties with Saudi Arabia on the mend after visit
By Reuters - Jan 11,2017 - Last updated at Jan 11,2017
RIYADH — Lebanon's President Michel Aoun said his country's ties with Saudi Arabia were recovering, after tensions linked to the regional rivalry between Saudi Arabia and Iran led Riyadh to cancel $3 billion of military aid to Beirut last year.
Aoun, an ally of the Iranian-backed Lebanese Shiite group Hizbollah, visited Saudi Arabia this week, trying to mend relations with the Sunni Muslim monarchy which has traditionally backed Hizbollah's opponents in Lebanon.
Saudi Arabia cancelled the military aid in February last year when the Lebanese government failed to join other Arab states in condemning attacks by Iranian demonstrators on Saudi missions in Iran.
It has also warned wealthy Saudi visitors to stay away from Lebanon, depriving the country of vital tourism revenue.
Aoun told the Saudi-owned Asharq Al Awsat in an interview published on Wednesday — a day after he held talks with King Salman — that Saudi tourists would soon return to Lebanon.
Asked if his visit had turned a new page in relations with Saudi Arabia, Aoun said: "Yes. When this transient era clears, we will be certain that it had no roots from the Lebanese people's side."
"It is obvious that ties should be normal, regardless of any differences that may arise, or that may have arisen in the past, in relation to the Syrian file," he added, referring to the civil war in neighbouring Syria — one of several Middle East conflicts where Tehran and Riyadh back opposing forces.
The dispute has also cast a shadow on the fate of an estimated 750,000 Lebanese nationals living and working in Saudi Arabia and in other Gulf Arab states, who transfer between $7 and $8 billion each year to support extensive families.
Asked about the fate of Saudi aid to the Lebanese army, he said: "This issue will be discussed by the defence ministers of the two countries."
Aoun, who was in Qatar on Wednesday on the second leg of his first trip abroad since he was elected in October, said Saudi Arabia has already decided to allow tourists back to Lebanon, and that details were being worked out between experts from both sides.
In talks in Doha, Aoun agreed with Qatari Emir Sheikh Tamim Bin Hamad Al Thani to resume meetings of the higher joint committee between the two countries, according to a statement from the Lebanese presidency.
Aoun invited Tamim to visit Beirut and asked the emir to keep up his efforts to free nine kidnapped Lebanese army soldiers believed to be held by Daesh militants as well as two Orthodox bishops and a Lebanese journalist who were abducted in Syria in 2013.
"There was a promise from the emir to continue the efforts in this regard despite the sensitivity of the subject," the statement said.
Related Articles
Nov 21,2016
BEIRUT — Lebanon's Prime Minister-designate Saad Al Hariri said on Monday his efforts to form a new government faced "stumbling blocks", tes
Mar 06,2017
BEIRUT — French Defence Minister Jean-Yves Le Drian pledged support for Lebanon's military on Monday during meetings with the country's pres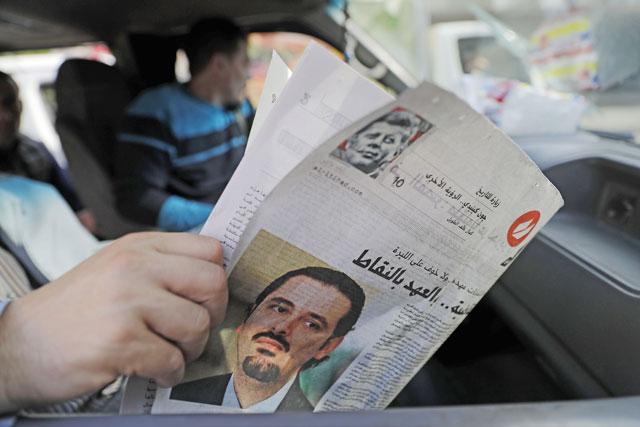 Nov 08,2017
BEIRUT — Lebanon's outgoing prime minister, Saad Al Hariri, made a brief visit to the United Arab Emirates from Saudi Arabia on Tuesday desp
Newsletter
Get top stories and blog posts emailed to you each day.