You are here
At least 14 die in Mediterranean migrant shipwreck
By AFP - May 12,2014 - Last updated at May 12,2014
ROME — At least 14 people died when a boat packed with migrants sank between Libya and Italy on Monday, in the latest shipwreck tragedy to hit the Mediterranean.
The Italian navy said another 200 people had been rescued after the ship sank with a reported 400 people on board.
"Fourteen bodies have been recovered so far. Medical workers on the Sirio and the Grecale are providing assistance to the 200 survivors," the Italian navy said on Twitter, referring to two warships on the scene.
Two Italian coast guard vessels and several merchant ships scrambled to the area were also taking part in the high-seas rescue operation, the navy said.
It said it had also deployed a helicopter in the zone.
Libya has long been a springboard for Africans seeking a better life in Europe and the number of illegal departures from its shores is rising.
Hundreds of migrants land in Italy almost every day, most of them asylum-seekers from Eritrea, Somalia and Syria, and many are now being picked up by Italian warships.
The latest shipwreck happened at around 1100 GMT and some 185 kilometres south of Lampedusa Island, Italy's southernmost point.
The area is closer to Libyan than to Italian shores.
Italian media reported that there had been some 400 people on board the migrant boat, which would leave dozens of people still unaccounted for.
Centro Astalli, a Jesuit refugee shelter and research centre in Rome, said "at least 40 people" had died and called for the establishment of "humanitarian corridors" for asylum-seekers coming from North Africa.
The head of Italy's Red Cross, Francesco Rocca, said that "the European Union must act immediately, without wasting any time" and "not shirk responsibility".
ANSA news agency cited rescuers saying the boat was first spotted by a patrolling Italian coast guard plane that made an emergency call to a merchant ship in the area, which became the first on the scene.
The migrant boat later sank near an offshore oil rig, the report said. The cause is not yet known.
Italian and European leaders expressed outrage and called for action in a repeat of the response to the drowning of more than 400 migrants off Italy in October 2013.
European Parliament President Martin Schulz said in a tweet that he was "shocked" by the tragedy, adding: "EU must take responsibility to protect people and values".
The European Union's Home Affairs Commissioner Cecilia Malmstroem also expressed concern saying Europe needed "legal ways... to avoid these disasters".
On a visit to Brussels, Italian Foreign Minister Federica Mogherini said: "There is an awareness that this is not just something that concerns Italy."
"There is a moral duty for everyone as human beings to avoid people dying in the Mediterranean," she said.
A Libyan navy spokesman, Colonel Ayub Kassem, said Libya "does not have the means to help with this shipwreck, which took place in international waters".
'Europe's turn to pay'
The Libyan navy earlier said that 36 migrants perished, 42 were missing and 52 were rescued following another shipwreck on Tuesday closer to Libyan shores.
Immigration charities estimate up to 20,000 migrants have died at sea trying to reach Europe in the past 20 years, often travelling on rickety fishing boats.
In the wake of last year's shipwrecks, the Italian navy launched "Mare Nostrum" — a Latin reference to the Mediterranean — a large-scale operation that anti-immigration politicians in Rome have accused of assisting irregular migration in Europe.
Interior Minister Angelino Alfano said last month that more than 20,000 migrants had arrived this year.
Libya's interim interior minister said on Saturday that Tripoli could "facilitate" the migrant arrivals unless the European Union helped it combat the problem.
"I'm warning the world and Europe in particular — if they do not assume their responsibilities, Libya could facilitate the transit of this flood" of immigrants towards Europe, Salah Mazek told a news conference.
He said Libya was "suffering" because thousands of mainly sub-Saharan Africans were spreading disease, crime and drugs in the North African nation.
"Libya has paid the price. Now it's Europe's turn to pay," Mazek added.
Related Articles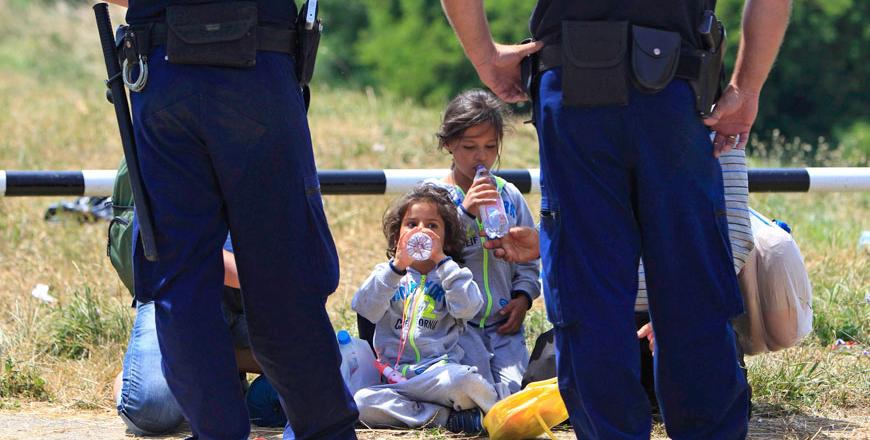 Jun 29,2015
ROME — Italy's navy said on Monday it had begun to recover the bodies of up to 800 migrants from a fishing boat that sank in the Mediterrane
May 05,2015
Around 40 migrants died when their inflatable boat sank off the coast of Italy, which Tuesday renewed an appeal to the EU for help in managing a relentless wave of arrivals.
Jun 14,2014
Ten migrants drowned after the boat they were travelling in sank off the Libyan coast, Italy's navy said on Saturday, reporting the latest deaths among thousands of migrants trying to reach Europe from Africa and Syria.