You are here
Kerry in Kenya calls for unity to defeat terrorism
By AFP - May 04,2015 - Last updated at May 04,2015
NAIROBI — US Secretary of State John Kerry vowed support to Kenya on Monday in the battle against Somalia's Al Qaeda-affiliated Al Shabab, after calling for unity in the face of terror attacks.
"The US continues to stand resolutely with the government and people of Kenya in the effort to end scourge of violent extremism," Kerry said.
Kenya is struggling to stop increased cross-border attacks by the militants even though it has thousands of troops in neighbouring southern Somalia as part of an African Union force, which Washington has funded by over half a billion dollars since 2007.
Last month Al Shabab gunmen massacred close to 150 people, mostly students, in a raid on a university in the northeastern Kenyan town of Garissa, the worst ever attack by the insurgents.
The raid followed a string of other massacres in the northeast and Muslim-majority coastal areas, and after the September 2013 siege of the Westgate shopping mall in Nairobi which left at least 67 dead.
Since the Garissa attack Kenya threatened to shut down the world's largest refugee camp complex in Dadaab and send 360,000 Somali refugees back home, but Kerry said after meeting with President Uhuru Kenyatta that it would remain open.
"I'm confident Dadaab will remain open while we work through how they will be able to go home, by doing a better job of finishing our task in Somalia," Kerry said.
Kerry's trip to the east African nation is the first high-level visit since 2012, and comes after years of tensions surrounding Kenyatta after he was charged by the International Criminal Court (ICC) for crimes against humanity.
The ICC has since abandoned the case against Kenyatta over his alleged role in the 2007-2008 post-election violence, citing a lack of evidence and Kenya's failure to cooperate — somewhat removing Kenyatta's pariah status.
Kenyatta told Kerry during their meeting that the country needs "support in terms of training, equipment and surveillance", as well as to "work more closely with the US to control financing of terrorism", a Kenyan government statement read.
Diplomats earlier said Kerry would raise human rights issues with Kenyatta, whose government has been accused of clamping down on civil society groups and the press.
The pair's meeting also came as Kenya's deputy president William Ruto reportedly told worshippers at a church service in Nairobi that homosexuality "violates our religious and cultural beliefs".
Kerry and Kenyatta met for around half an hour, with the Secretary of State saying it was a "good meeting". The US envoy also met opposition leaders.
Kerry's trip also comes ahead of US President Barack Obama's visit to his late father's home country in July.
Earlier Kerry visited a memorial in Kenya to the 1998 bombing of the US embassy. The attack by Al Qaeda was the worst carried out by Islamist militants against the east African nation, killing 213 people.
"The terrorists who struck on August 7, 1998 failed utterly in their purpose, which was to implant fear in the hearts of the Kenyan people and to divide America from the citizens of this country," Kerry said.
"We do have however the power to fight back, not only with our military and law enforcement, but also through something that may be even more powerful and that may make a bigger difference in the end, and that is our unity and the character of our ideals," Kerry said.
Kerry, who arrived from Sri Lanka on Sunday afternoon, later heads for the Horn of Africa nation of Djibouti, where the US has a major military base, and where refugees from war-torn Yemen are arriving.
Kerry then heads to Saudi Arabia and France for talks on regional security, as well as to take part in commemorations marking the end of World War II in Europe.
Related Articles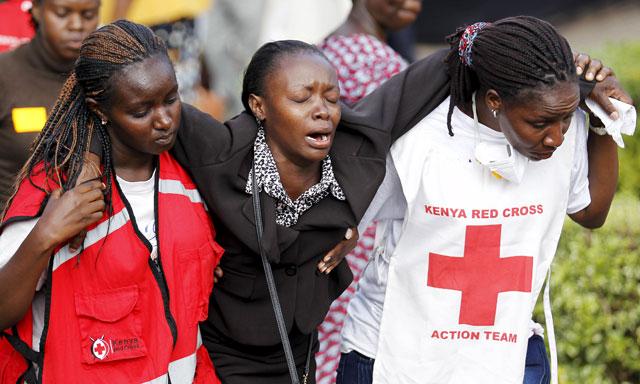 Apr 06,2015
Kenyan fighter jets pounded Al Qaeda-linked Al Shabab insurgent camps in southern Somalia on Monday, the army said, days after the Islamists killed 148 people in their worst ever massacre in Kenya.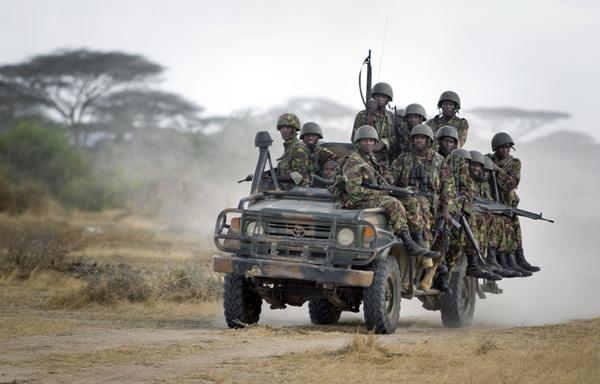 Jan 17,2016
MOGADISHU — Somalia's Al Qaeda linked Al Shabab militants stormed an African Union base manned by Kenyan troops in the country's southwest o
Apr 05,2015
The son of a Kenyan government official was one of the masked gunmen who killed nearly 150 at a university last week, the interior ministry said on Sunday, as Kenyan churches hired armed guards to protect their Easter congregations.
Newsletter
Get top stories and blog posts emailed to you each day.