You are here
Italy inks deal with Libya neighbours to block migrants
By AFP - May 23,2017 - Last updated at May 23,2017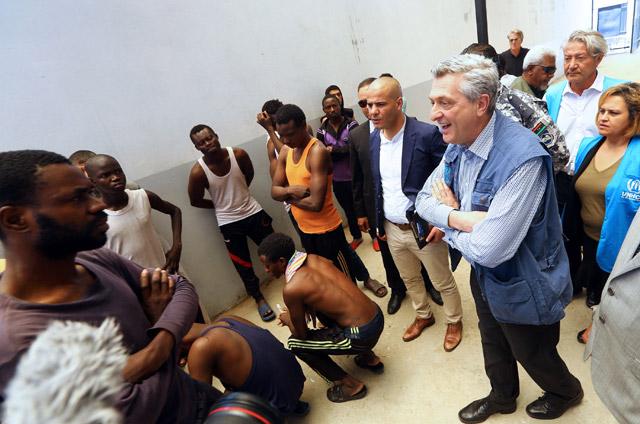 The United Nations' High Commissioner for Refugees Filippo Grandi (right) speaks to illegal immigrants at the Tripoli branch of the Illegal Immigration Authority, in the Libyan capital, on Sunday (AFP photo)
ROME — Italy has signed a deal with Libya, Chad and Niger to try to stem the flow of migrants across the Mediterranean by beefing up border controls and creating new reception centres in the African nations.
A joint statement by the interior ministers of the four countries said they had agreed to set up centres in Chad and Niger, key countries of transit for migrants who travel to Libya and on to Italy from sub-Saharan Africa.
The statement, released Sunday after an Italy-organised meeting in Rome, said the new centres in Chad and Niger, and the existing ones in Libya, would live up to "international humanitarian standards".
Rights groups have slammed the conditions of existing detention centres in crisis-hit Libya and questioned how the West can ensure such "international standards" are met and kept.
"Libyan legislation criminalises illegal immigration so it is not clear how these could be reception centres and not detention centres," Mattia Toaldo, a European Council on Foreign Relations expert, said on Monday.
"The establishment of 'reception centres' in Niger and Chad is also questionable: is Europe outsourcing its border control to these countries? If so, in exchange for what amounts of money and coming from where?"
Toaldo also questioned why the deal was made by interior ministers and how they hoped to follow through on a commitment to "promote legal economic development" as an alternative to the wealthy trafficking trade.
Brink of famine
On Sunday the head of the United Nations refugee agency Filippo Grandi urged Libyan authorities to free all asylum seekers and refugees from its detention centres, slamming the conditions as "shocking".
While promising to try to step-up the UNHCR's presence, Grandi said it would take time for political and security reasons.
Libya has long been a stepping stone for migrants seeking a better life in Europe. People smugglers have stepped up their lucrative business in the chaos which has engulfed the country since its 2011 revolution.
Italy registered nearly 50,000 migrant arrivals by sea by mid-April, 97 per cent of them from Libya, according to Rome.
The Libyan coastguard is believed to have picked up close to 6,000 migrants attempting the perilous crossing this year and returned them to Libya, according to the International Organisation for Migration.
Nigerians have made up the largest group of people fleeing for Italy since January. Two million people are teetering on the brink of famine in the country's northeast, home to the notoriously ruthless Boko Haram.
The militant group launched an uprising there in 2009 which has since spilled over into neighbouring Chad and Niger.
Related Articles
Aug 08,2017
ROME — The UN's new envoy to Libya on Tuesday endorsed Italy's drive to stem the flow of migrants leaving the north African state for Europe
May 18,2016
ROME — Italy says it is making headway in its bid to persuade African countries to help close migrant routes to Europe and take back some of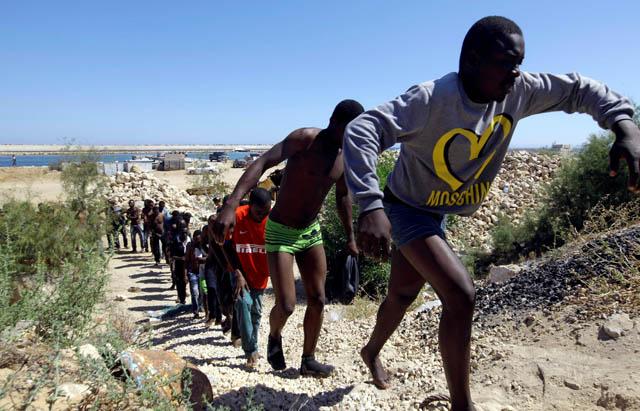 Jul 19,2017
GENEVA — West Africa migrants and asylum-seekers must be dissuaded from going to Libya, the main point of departure for Europe but where the
Newsletter
Get top stories and blog posts emailed to you each day.