You are here
Israelis taunt hunger strikers by barbecuing outside prison
By JT - Apr 20,2017 - Last updated at Apr 20,2017
Israeli right-wing activists barbecue outside the Israeli-run Ofer military prison, north of Jerusalem, in the occupied West Bank, on Thursday, where a number of Palestinian prisoners are on a hunger strike (AFP photo)
AMMAN — Israeli settlers on Thursday held a barbecue party in front of Ofer Prison, west of Ramallah, where Palestinian prisoners are on a hunger strike.
According to a statement by the Commission of Detainees and Ex-detainees Affairs, extremist settlers said they had come to "break the morale of the striking Palestinian prisoners", through spreading the smell of meat that would make abstention harder.
Meanwhile, Agence France Press reported that several dozen Palestinian protesters clashed with Israeli occupation forces Thursday outside Ofer, confirming reports of the group of Israeli hardliners that sought to taunt prisoners by barbecuing.
Some 1,500 Palestinian prisoners in Israeli jails have joined a hunger strike that began Monday against detainees' conditions, according to the Palestinian Authority's detainees' affairs department.
The hunger strike has been led by prominent prisoner and popular Palestinian leader Marwan Barghouthi, who is serving five life sentences over his role in the second Palestinian Intifada, or uprising.
Israeli occupation forces fired tear gas, sound grenades and rubber bullets at the crowd of Palestinians who threw stones and protested in support of the detainees outside Israel's Ofer Prison north of Jerusalem in the occupied West Bank.
It was not immediately clear if anyone was injured in the clashes, AFP said.
Palestinian Prisoners Club head, Qadura Fares, told AFP at the protest that Israel would allow all the strikers, including Barghouthi, access to lawyers, in a reversal of its previous position.
Access to lawyers had been prevented following the start of the strike, Palestinian officials said, with Barghouthi moved to solitary confinement.
The Israel Prisons Service said it was acting under its rules, without elaborating further.
The Israeli hardliners held the barbecue nearby on the opposite side of a checkpoint, where around a dozen of them grilled chicken and other kinds of meat, with a number of Israeli soldiers joining them to eat.
"At this moment [the hunger strikers] will smell the food's scent and maybe later in the evening they will see it on television," event organiser Ofer Sofer told AFP in front of two barbecue pits.
"It is a bunch of 'terrorists' that are threatening us with hunger strike. We are happy that they are on strike. Let them have this strike as long as they want."
They called for tough punishments for the protesting Palestinians, including worsening their conditions.
Some 6,500 Palestinians are currently detained by Israel for a range of offences and alleged crimes.
Around 500 are held under administrative detention, which allows for imprisonment without charge.
Palestinian prisoners have mounted repeated hunger strikes, but rarely on such a scale.
Related Articles
Apr 25,2017
RAMALLAH, Palestinian Territories — Israel has forbidden contact with the 1,500 Palestinian prisoners on hunger strike for the past eight da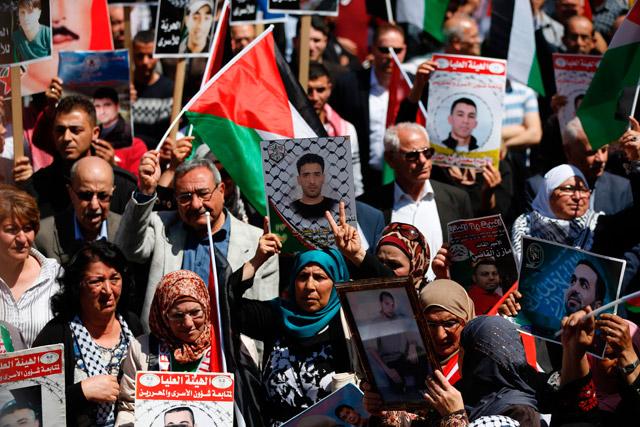 Apr 18,2017
RAMALLAH — Hundreds of Palestinians in Israeli jails launched a hunger strike Monday following a call from leader and prominent prisoner Mar
Apr 27,2017
RAMALLAH, Palestinian Territories — Palestinians held a general strike Thursday in solidarity with hundreds of prisoners in Israeli jails on
Newsletter
Get top stories and blog posts emailed to you each day.