You are here
Israel locks down West Bank, Gaza for anniversary celebrations
By Anadolu Agency - Apr 16,2018 - Last updated at Apr 16,2018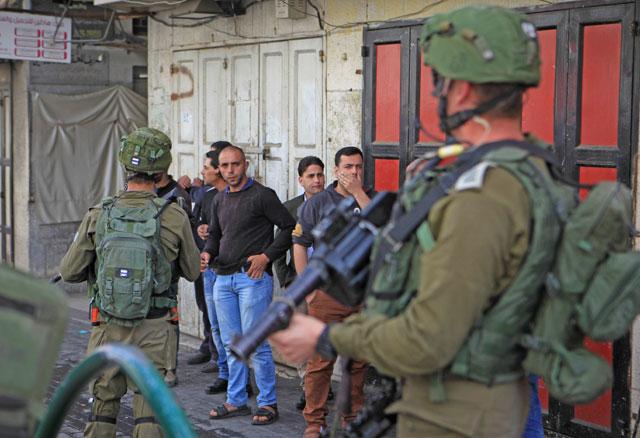 Israeli occupation forces intervene during a demonstration in support of the 'Great March of Return' in Hebron in the occupied West Bank, on Friday (Anadolu photo)
OCCUPIED JERUSALEM — The Israeli forces has imposed a four-day closure on both the occupied West Bank and the blockaded Gaza Strip ahead of planned celebrations marking the 70th anniversary of Israel's establishment, which began on Monday and will continue until mid-May. According to an army statement, the closure began on midnight Sunday and will continue until midnight Friday.
The Israeli authorities typically lock down the occupied West Bank during Jewish holidays.
It is the first time, however, for the Israeli forces to seal the West Bank and Gaza for national anniversary celebrations.
According to the army statement, the closure means Palestinians from the West Bank will be barred from entering Israel while the limited import of goods into the Gaza Strip — including fuel — will be temporarily halted.
The move comes amid mounting tension amid plans by the US to move its embassy from Tel Aviv to Jerusalem on May 14.
That day will mark the 70th anniversary of Israel's establishment in 1948, when hundreds of thousands of Palestinians were dispossessed of their land and forced to flee in violence surrounding the creation of Israel.
The Palestinian territories have remained tense since last December, when US President Donald Trump recognised Jerusalem as Israel's capital, drawing condemnation and protest from across the Arab and Muslim world.
Ever since, Palestinians in the West Bank have held rallies each Friday — which often lead to crackdowns from Israeli occupation forces — to protest the controversial US decision.
Meanwhile, in the Gaza Strip, Palestinians are holding continuous sit-ins along the strip's eastern border with Israel to demand the "right of return" to their ancestral homes in historical Palestine.
Since the "Great Return March" began on March. 30, at least 35 Palestinians have been killed — and thousands more injured — by cross-border Israeli occupation force gunfire.
In a related development, the Israeli forces rounded up 30 Palestinians in overnight raids carried out across the West Bank, according to an army statement issued Monday.
The individuals were arrested for suspected involvement in "popular activities affecting security", the statement read, going on to note that they had all since been referred to the authorities for investigation. According to Palestinian figures, some 6,400 Palestinians are currently languishing in Israeli prisons, including dozens of women and scores of minors.
About 450 of these are under what Israel calls "administrative detention" in which they receive neither trial nor charge.
Israeli occupation forces frequently carry out sweeping arrest campaigns across the occupied West Bank under the pretext of searching for "wanted" Palestinians.
Related Articles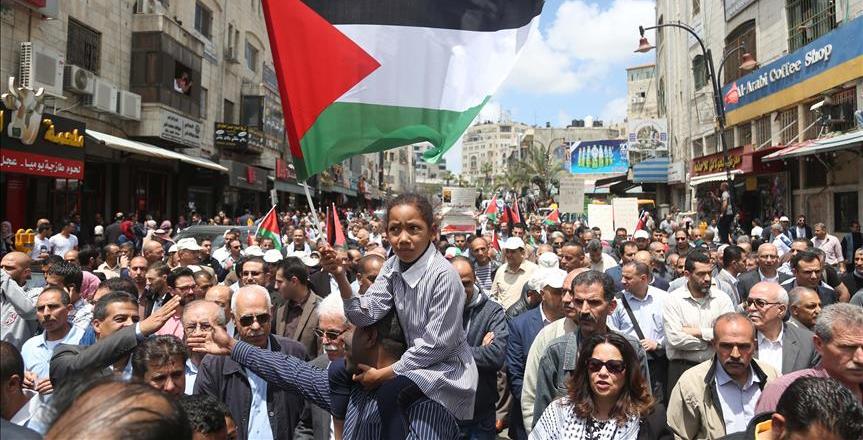 May 15,2018
RAMALLAH – Palestinians in the occupied West Bank staged a general strike on Tuesday in mourning of dozens of fellow Palestinians mart
Oct 11,2016
OCCUPIED JERUSALEM — Israel boosted security and barred Palestinians from entering from the occupied West Bank or the Gaza Strip ahead of th
May 17,2018
GENEVA/AMSTERDAM — Over 1,000 children have been wounded by Israeli occupation forces in the besieged Gaza Strip during demonstrations that
Newsletter
Get top stories and blog posts emailed to you each day.