You are here
Islamists beat liberals in Morocco elections
By AFP - Oct 09,2016 - Last updated at Oct 09,2016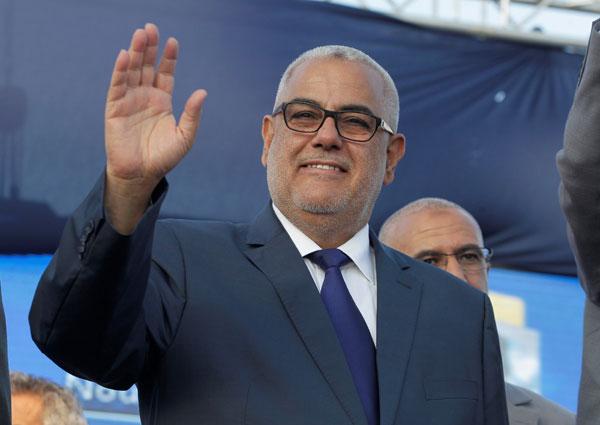 Moroccan Prime Minister Abdelilah Benkirane, secretary general of the Justice and Development Party, waves during a party meeting in Rabat, Morocco, on Thursday (Reuters photo)
RABAT — Morocco's ruling Islamists have beaten their liberal rivals in parliamentary elections five years after sweeping to power following Arab Spring-inspired protests, results showed on Saturday.
Prime Minister Abdelilah Benkirane's Islamist Justice and Development Party (PJD) took 125 seats out of 395 in Friday's polls, the interior ministry said after all ballots were counted.
Its main rival, the Authenticity and Modernity Party (PAM), which had campaigned against the "Islamisation" of Moroccan society, won 102 seats, the ministry said.
The PJD's rise to power in 2011 after King Mohammed VI relinquished some of his powers following street protests brought hopes of change in the North African country.
The PJD was the first Islamist party to win a national election, and the first to lead a government, albeit with coalition partners after failing to win an outright majority.
'Fraud allegations'
Observers from the Council of Europe who monitored Friday's vote said it was organised "with integrity and full transparency".
But the delegation said it "regrets that the current voters' registration system and the awareness campaign have not produced a turnout higher than in 2011, particularly among young voters".
It also noted "the surprisingly high amount of spoilt ballot papers" and said there were reports of "electoral fraud" although members of the delegation did not witness any wrongdoing.
Interior Minister Mohamed Hassad rejected accusations of voter fraud from both sides. He said turnout was 43 per cent.
On Friday, the PJD and the PAM traded accusations of vote irregularities, while the media reported that a video shared on social networks had showed a man stuffing a ballot box.
Apart from the two main parties, Istiqlal, which historically fought for independence from France, came third with 45 seats.
Nine other parties also won seats, including the National Gathering of Independents which took 37 and the Federation of the Democratic Left which clinched two.
A statement by the PJD said the Islamists were "very concerned about numerous reports of fraud being carried out by authorities" in favour of the PAM and urged the interior ministry to intervene.
PAM spokesman Khalid Adennoun said his party had filed "50 complaints" of voting irregularities, some concerning the PJD in Tangiers.
The head of the European observers team, Ian Liddell-Grainger, told a news conference he was confident that the interior ministry had done a good job.
"I don't feel that at any stage the ministry interfered," he said.
Scandals
To make life easier for the illiterate, who make up a third of Morocco's population, the 30 parties in contention were marked on ballot papers with symbols such as a tractor or camel.
The PJD clinched 12 more seats in parliament than in the 2011 election, which was held after a new constitution transferred some of the king's powers to parliament, at a time when autocratic regimes were falling in Tunisia, Egypt and Libya.
The king is expected to appoint a new prime minister from the biggest party in parliament — a task which could again fall to Benkirane.
Over the past five years his PJD has been weakened by rising unemployment and plummeting growth while critics said it failed to make good on promises to tackle corruption.
The PJD also faced a string of scandals within its ranks including a drugs bust, a land-grab deal and the suspension of two vice presidents found in a "sexual position" on a beach.
The PAM, formed in 2008 by a close adviser to the king, had hoped to take advantage in the poll and despite coming in second place more than doubled the number of its seats in the future parliament.
Headed by Ilyas El Omari, it has poured enormous resources into a campaign criticising the government's economic record as "catastrophic" and pledging to roll back the "Islamisation" of society.
The PJD and the PAM have ruled out joining forces in a grand coalition.
Related Articles
Oct 10,2016
RABAT — Morocco's King Mohammed on Monday named moderate Islamist leader Abdelilah Benkirane as prime minister for a second term after his p
Jan 09,2017
RABAT — Morocco's prime minister has broken off talks to form a new government with two main coalition partners three months after the count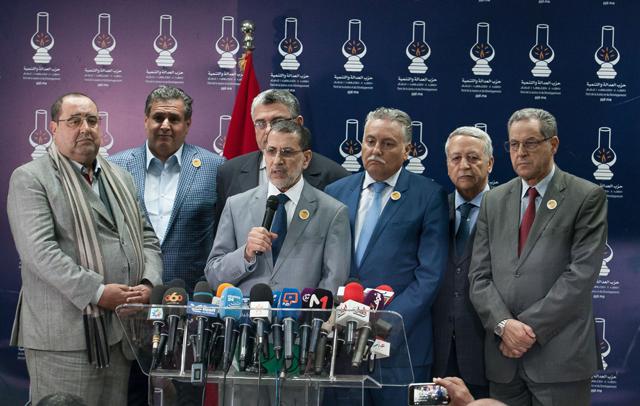 Mar 26,2017
RABAT — Moroccan Prime Minster Saad Eddine El Othmani said on Saturday he had agreed to form a coalition government with five other parties,
Newsletter
Get top stories and blog posts emailed to you each day.