You are here
Iraqi forces push north in a bid to reshape battlefield
By AFP - Oct 17,2015 - Last updated at Oct 17,2015
BAGHDAD — Iraqi forces pressed Saturday their biggest offensive in months to resume their long-stalled northward advance and disrupt militant lines, security officers said.
After recapturing parts of Baiji and the huge nearby refinery complex from the Daesh terror group, security and allied paramilitary forces thrust further northward up the main highway leading to Mosul.
They reached the town of Zawiyah and vowed to push on to Sharqat, the northernmost town in Salaheddin province before the border with Nineveh province, of which Mosul is the capital.
"Iraqi forces are besieging the villages of Msahaq and Zawiyah," about 25 kilometres north of Baiji, a senior officer in Salaheddin operations command said.
Reclaiming control of that stretch of road and the villages along it would contribute to isolating Daesh strongholds east of the Tigris, such as Hawijah, from the self-proclaimed caliphate's heartland on the other side of the river.
"Retaking Zawiyah would divide the battlefield; Daesh will be in an awkward position," retired general and security analyst Abdel Karim Khalaf said.
"Their transport towards Tikrit and Ramadi will be complicated, the secondary itineraries are long and difficult," he said.
Iraqi forces, including thousands of fighters from the Popular Mobilisation organisation dominated by Tehran-backed Shiite militias, were still battling Daesh in and around Baiji Saturday.
They were also securing Sinniya, a nearby town which commands access to the road leading to the western Anbar province, where thousands more forces were closing in on the capital Ramadi.
Further west along the Euphrates, Iraqi troops backed by Sunni tribal fighters and US-led coalition strikes were fighting to retake the town of Baghdadi.
Iraqi forces' recaptured the Daesh stronghold of Tikrit, 160 kilometres north of Baghdad in April.
The government then lost its last foothold in Ramadi, west of Baghdad, in mid-May.
Anti-Daesh operations, slowed by searing summer temperatures, had since focused mainly on training and disrupting Daesh supply lines rather than territorial reconquest.
Mosul, Iraq's second city and Daesh's largest hub, is around 125 kilometres north of Zawiyah.
As Iraqi forces marched past Baiji, there were several reports of residents fleeing their Daesh-held villages to meet the pro-government forces or turning against the jihadists.
Residents of Sharqat, north of Zawiyah, told AFP that a man who had two relatives executed by Daesh since the militants took over his town last year, opened fire on Daesh members and killed five before being shot dead himself.
Hundreds of fighters from Sunni tribes opposed to Daesh are involved in the Salaheddin operation.
Related Articles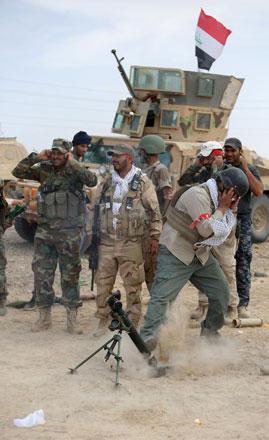 Oct 15,2015
BAGHDAD — Iraqi forces battled the Daesh terror group on separate fronts Thursday, ramping up operations to retake Baiji and Ramadi, two of
Oct 18,2015
BAIJI, Iraq — Iraqi forces advanced on three fronts against the Daesh terror group Sunday, flushing out pockets of resistance in and around
Apr 14,2018
SAMARRA, Iraq — At least 25 people were killed and 18 injured in Thursday's bomb attack on funerals for Iraqi fighters killed by extremists,
Newsletter
Get top stories and blog posts emailed to you each day.