You are here
Iraq forces seize villages in last Daesh-held pocket
By AFP - Nov 11,2017 - Last updated at Nov 11,2017
Iraqi forces stand guard near Al Qaim border crossing between Syria and Iraq on November 8 (AFP photo)
RUMANA, Iraq — Iraqi forces seized several villages from the Daesh extremist group on Saturday in an operation to retake the last pocket of militant-held territory in the country, the operation's commander said.
The Euphrates Valley town of Rawa and nearby villages were bypassed by government troops and allied militia when they retook the town of Al Qaim on the Syrian border last week.
But on Saturday, troops backed by militia recruited among the region's Sunni Arab tribes "launched a major offensive to liberate Rumana and the Rawa area", General Abdelamir Yarallah said.
He later said they had "retaken Rumana and its bridge on the Euphrates" along with 10 other villages.
Rumana is on the north side of the Euphrates just across from Al Qaim, while the small town of Rawa lies downstream.
Several officers told an AFP reporter in Rumana that Iraqi forces had managed to foil at least two Daesh suicide car bomb attacks.
"Troops are continuing their advance," Yarallah said.
Rawa is the last town still held by Daesh apart from Albu Kamal, just across the Syrian border, where the extremists were still battling Syrian regime and allied forces on Saturday after mounting a surprise counterattack late Thursday.
Prime Minister Haider Al Abadi, who is also head of the armed forces, said Saturday the operation also aims to "clean open areas in the desert" of western Iraq.
The recapture of the Rawa pocket would mark the final battleground defeat of Daesh in Iraq and sound the death knell of the sprawling "caliphate" the group declared in 2014 over a swathe of Iraq and Syria the size of Britain.
Across the border, the Syrian army had declared victory in the battle for Albu Kamal.
But Daesh fighters pushed back in from the desert to the north where they still control a strip of territory between areas held by government troops and by US-backed Kurdish-led forces.
Related Articles
Nov 11,2017
BEIRUT — The Daesh extremist group recaptured Albu Kamal in eastern Syria on Saturday after a fierce fightback to save the last urban bastio
Nov 18,2017
BAGHDAD — Iraqi forces on Friday captured the border town of Rawa, the last remaining town under the Daesh terror group control, signalling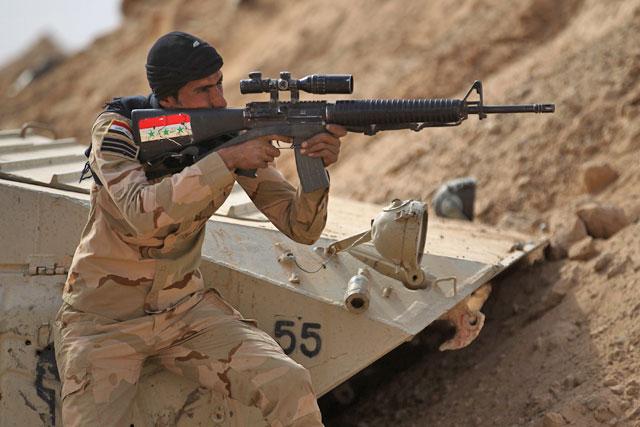 Nov 05,2017
BEIRUT/ERBIL — The Daesh terror group's self-proclaimed "caliphate" was on the verge of final defeat on Friday, with Syrian government force
Newsletter
Get top stories and blog posts emailed to you each day.