You are here
Iran Revolutionary Guards commander killed in Syria
By AFP - Oct 10,2015 - Last updated at Oct 10,2015
TEHRAN — Daesh militants have killed a senior commander in Iran's Revolutionary Guards in Syria, the elite branch of the Iranian military said Friday.
General Hossein Hamedani was killed on Thursday by Daesh "during an advisory mission" in the northern region of Aleppo, a Guards statement said.
Hamedani had been playing an "important role... reinforcing the front of Islamic resistance against the terrorists", it added.
Ali Shamkhani, secretary of Iran's Supreme National Security Council, described Hamedani's death as "a huge loss" in the fight against militant groups in Syria.
Quoted by the IRNA news agency, he said the loss would be "avenged" and that this would lead to the "complete destruction" of these groups.
Shiite-dominated Iran is a staunch ally of President Bashar Assad, sending Guards forces and military advisers to aid him against Sunni Muslim rebels seeking his overthrow.
Lebanon's Shiite group Hizbollah has done much of the fighting to prop up the Syrian army, though the commander of the Revolutionary Guards' foreign wing, Qassem Soleimani, is said to be heavily involved in guiding military strategy.
Related Articles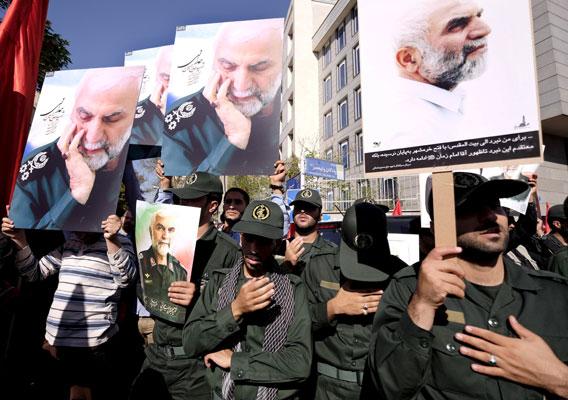 Dec 22,2015
BEIRUT — The vehicle carrying Iranian Brigadier General Hossein Hamedani was passing through the outskirts of Aleppo on the afternoon of Oct
Nov 05,2017
BEIRUT — Iran put a ballistic missile on display as thousands marched on Saturday to mark the anniversary of the 1979 seizure of the US emba
Apr 13,2017
WASHINGTON — The United States on Thursday sanctioned Sohrab Soleimani, the brother of the commander of Iran's Revolutionary Guards, for his
Newsletter
Get top stories and blog posts emailed to you each day.