You are here
Hamas says Trump smeared Palestinian 'resistance'
By AFP - May 23,2017 - Last updated at May 23,2017
Palestinians protest against the visit by US President Donald Trump to Israel, in Rafah in the southern Gaza Strip, on Monday (AFP photo)
Gaza City, Palestinian Territories — Palestinian Islamist movement Hamas accused US President Donald Trump on Monday of smearing the name of Palestinian "resistance" to Israeli occupation during a speech on Islam.
Addressing Muslim leaders in Riyadh on Sunday, Trump called for unity against "Islamic terror", specifically naming Hamas and the Daesh terror group.
Hamas spokesman Fawzi Barhum said Trump's remarks were "aimed at besmirching the reputation of the Palestinian resistance".
The movement refused to be treated as a "terrorist" organisation, he told AFP.
Senior Hamas official Mushir Al Masri said Trump was "aligning himself with the policies of the [Israeli] occupier".
In his speech, Trump called on Muslim leaders to confront "the crisis of Islamic extremism and the Islamists and Islamic terror of all kinds".
He specifically named militant groups Daesh and Al Qaeda and Lebanon's armed Shiite movement Hizbollah alongside Hamas.
Hamas used force to seize control of the Gaza Strip from secular Palestinian rivals in 2007 after winning an election.
It is considered a terrorist organisation by the United States, the European Union and Israel, with which it has fought three wars in the Gaza Strip since 2008.
Trump arrived in Israel on Monday and held talks with Israeli Prime Minister Benjamin Netanyahu later in the day.
He is to meet Palestinian President Mahmoud Abbas on Tuesday as he seeks ways to restart moribund Israeli-Palestinian peace efforts.
Related Articles
Feb 06,2017
GAZA CITY — Israel carried out a series of strikes against the Islamist Palestinian movement Hamas in the Gaza Strip on Monday after a rocke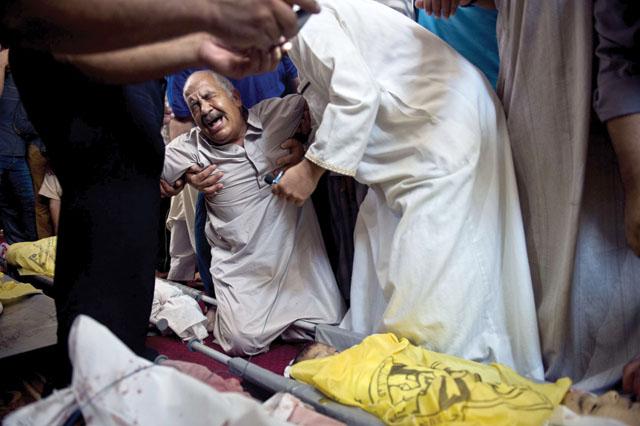 Aug 21,2014
Israel killed three senior Hamas commanders in the Gaza Strip in an air strike on Thursday and said it would continue to target the group's armed leadership after a ceasefire failed.
Jul 10,2014
The latest mini-war between Israel and the Islamist group Hamas began with the Gaza-based fighters eager to strike a blow, but the escalation that followed has left them physically and diplomatically exposed, with no ready way out.
Newsletter
Get top stories and blog posts emailed to you each day.