You are here
Egypt military denies report on chief's candidacy
By AP - Feb 07,2014 - Last updated at Feb 07,2014
CAIRO — The Egyptian military on Thursday denied a report by a Kuwaiti daily claiming that its chief had made up his mind to run for president.
The military's spokesperson said the nation's top soldier will, if he decides to run for president, announce his intention in an address to the "glorious people of Egypt" — and not through a third party.
The spokesperson, Col. Ahmed Mohammed Ali, was responding to comments attributed by the Kuwaiti daily to Field Marshal Abdel-Fattah El Sisi, saying that he has decided to run for president.
Sisi is widely expected to run for president, but he has yet to announce his candidacy. Speculations are rife in Egypt that he will do so in a televised address to the nation later this month.
The spokesperson insisted that what Kuwait's Al Seyassah newspaper attributed to Sisi was the daily's own "interpretation" and not "direct comments" by the military chief. Ali's statement was posted on his official Facebook page.
Sisi, 59, led the popularly backed "military coup" in July that ousted Egypt's Islamist president Mohamed Morsi.
Sisi's popularity has since soared, with many Egyptians now viewing him as a saviour and demanding that he run for president.
Presidential elections are expected in the spring, followed by parliamentary elections. Thousands of posters bearing Sisi's image already have sprung up across Egypt and much of the media treats his victory as a foregone conclusion.
If Sisi runs, the career infantry officer is likely to win a landslide victory, but he will then face the unenviable task of finding remedies to a multitude of pressing problems, from a terrorist campaign by Islamic militants in the strategic Sinai Peninsula and tenuous security to a deepening economic crisis and persistent street protests by Morsi's supporters.
The interim government's finance minister, in comments to reporters on Thursday, underlined some of the more pressing economic problems facing Egypt and explained that raising taxes was essential to fund state services like education and healthcare.
Ahmed Galal, the minister, said the government spends a staggering 130 billion Egyptian pounds, or nearly $1.9 billion, every year on fuel subsidies so that oil products are sold at well below world prices. He said a comprehensive plan to gradually reduce fuel subsides has been put together but gave no details.
Sisi himself has offered a glimpse on his possible economic plans, saying in leaked videos that mobile phone users should pay for incoming calls as well as the ones they make and that no state service should be offered to the public at below cost, suggesting that he disapproves of a decades-old system under which successive governments were burdened by a heavy subsidies bill to provide Egyptians with cheap basic items like bread, fuel and sugar.
In a separate development, authorities on Thursday set February 19 as the starting date for the trial of ousted president Hosni Mubarak and his two sons on charges that they had illegally seized 125 million pounds of state funds earmarked for the maintenance of presidential palaces.
Mubarak was ousted by a popular uprising in 2011.
He was detained along with his sons — wealthy businessman Alaa and one-time heir apparent Gamal — in April that year.
Mubarak and his security chief were convicted and sentenced to life in prison in June 2012 for the killing of protesters in the 2011 uprising that led to his ouster. Their conviction was overturned and they are now being tried again.
Alaa and Gamal were acquitted of corruption charges in the same trial, but the prosecution successfully appealed the verdict and they are being retried in the same case as their father's.
The Mubarak sons have been in detention since April 2011. Their father was ordered released last year, but he has since been placed under "house arrest" in a Nile-side military hospital in a southern Cairo suburb.
Related Articles
Jan 30,2014
Unknown only two years ago, the head of Egypt's military, Abdel Fattah Al Sisi, is riding on a wave of popular fervour that is almost certain to carry him to election as president. Many Egyptians now hail him as the nation's saviour after he ousted the Islamists from power and as the only figure strong enough to lead.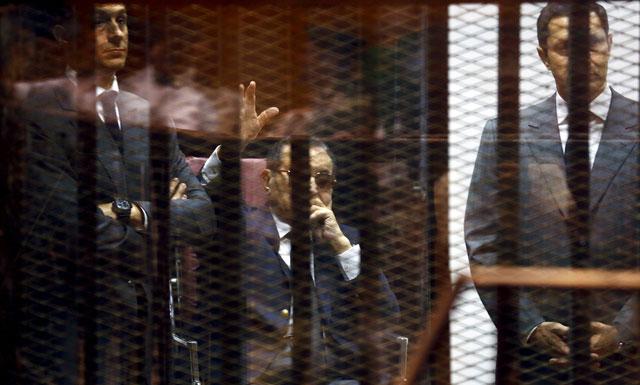 May 09,2015
An Egyptian court sentenced ousted president Hosni Mubarak and his two sons to three years in prison on Saturday after a retrial for embezzlement.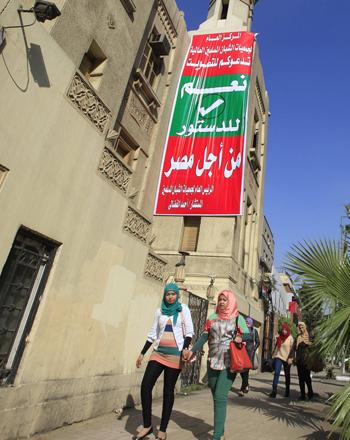 Jan 07,2014
In Egypt, it no longer appears to be a question of if, but when army chief Abdel Fattah Al Sisi will declare his candidacy for president.
Newsletter
Get top stories and blog posts emailed to you each day.