You are here
Egypt extends state of emergency
'Emergency law expands police powers of arrest, surveillance, and seizures'
By AFP - Apr 14,2018 - Last updated at Apr 14,2018
CAIRO, Egypt — Egypt's President Abdel Fattah Al Sisi extended for three months from Saturday a state of emergency for the fourth time since it was first declared last year, the official gazette said.
A nationwide state of emergency was first imposed in April last year after two church bombings claimed by Daesh killed at least 45 people, and was renewed in July, in October and in January.
"The armed forces and the police will take the necessary measures to confront the dangers of terrorism, its financing, and preserving security across the country," the official gazette said.
It cited a decree issued by Sisi stating that the renewed three-month state of emergency would take effect from 1:00am on Saturday.
The emergency law expands police powers of arrest, surveillance and seizures and can limit freedom of movement.
Under Egypt's constitution, the three-month state of emergency can only be renewed once, but the president can subsequently reinstate it.
Prime Minister Sherif Ismail also extended an overnight curfew in parts of North Sinai, where Daesh's Egypt affiliate is based, according to another decree published Saturday by the official gazette.
It would take place in areas including around the town of Rafah bordering the Palestinian Gaza Strip, and around Al Arish, the capital of North Sinai, according to the gazette.
The curfew would stay in effect for as long as the three-month state of emergency, according to the decree.
The extremist group said it was behind the bombings in the cities of Tanta and Alexandria, and it threatened further attacks against Egypt's Coptic Christian minority.
Egypt had been ruled for decades under a state of emergency, which was cancelled a month before Islamist president Mohamed Morsi took power in 2012.
Following Morsi's overthrow by Sisi in 2013, when the president was army chief, a state of emergency was declared for a month.
It came after clashes between police and Islamist protesters that killed hundreds and after mobs attacked Christian properties.
Sisi was reelected for a second term with 97 per cent of votes in a March 26-28 election, amid a sweeping military operation in Sinai against extremist militants based in the north of the Peninsula.
Related Articles
Apr 10,2017
ALEXANDRIA, Egypt — Hundreds gathered Monday to mourn 45 Egyptian Christians killed in terrorist bombings just a week before Easter, after C
Jul 04,2017
CAIRO/ISMAILIYA, Egypt — Egypt's parliament on Tuesday approved an extension of a nationwide state of emergency until the end of September a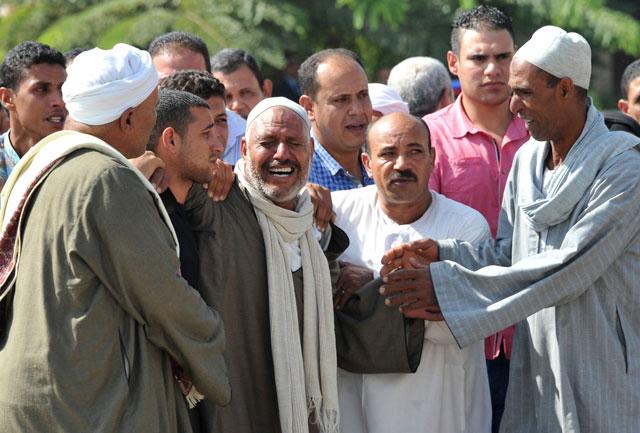 Oct 25,2014
A state of emergency came into force Saturday across much of Egypt's Sinai Peninsula after 30 soldiers were killed in a suicide car bombing by suspected jihadists.
Newsletter
Get top stories and blog posts emailed to you each day.