You are here
Egypt elections to start on October 17
By AFP - Aug 30,2015 - Last updated at Aug 30,2015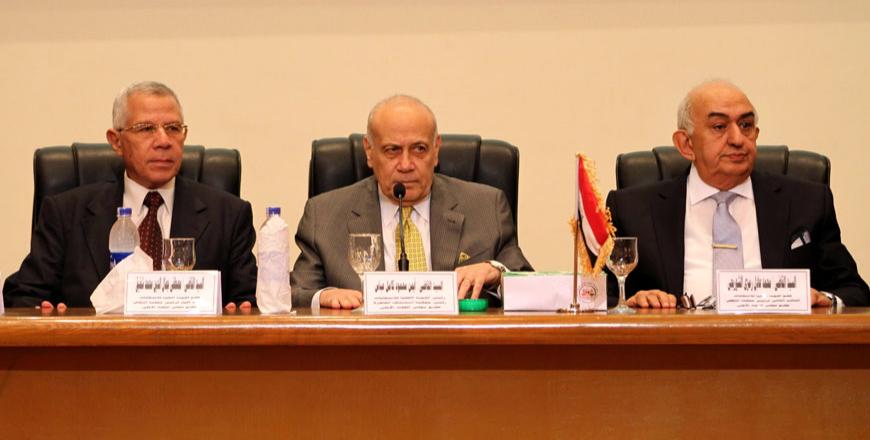 Ayman Abbas (centre), head of the Supreme Election Committee, announces the dates for Egypt's parliamentary elections at a news conference in Cairo, Egypt, on Sunday (AP photo)
CAIRO — Egypt's legislative elections, the first since President Abdel Fattah Al Sisi took office, are to be contested in phases starting October 17, the electoral commission announced on Sunday.
Analysts say the polls, with Sisi loyalists heavily favoured to emerge the big winners, will serve to appease Egypt's backers in the West who see the president as a rampart against jihadist violence despite concerns over repression that has eliminated any meaningful opposition.
A new parliament will be in place "by the end of the year", according to Ayman Abbas, head of the electoral commission.
The polls had initially been scheduled for early 2014 but were repeatedly delayed on legal grounds amid charges from rights groups of repressive measures during a crackdown on the Islamist opposition.
The October 17-December 2 elections will be contested more than two years after the military under Sisi, who was then army chief and won a presidential election last year, toppled Islamist president Mohamed Morsi, whose now-banned Muslim Brotherhood had swept Egypt's last legislative vote in late 2011.
The constitutional court had ruled in March that part of the electoral law was unconstitutional, prompting the latest delay before the electoral commission began work on setting the new dates.
The same court had dissolved the previous Islamist-dominated parliament, which was elected after the 2011 uprising that forced longtime dictator Hosni Mubarak from power.
It ruled that parts of the law under which parliament was elected were unconstitutional. That decision granted broad legislative powers to the presidency in the absence of an assembly.
Lawyers who appealed against the electoral law argued that it did not divide districts in a way that would adequately represent voters.
After Morsi's ouster in July 2013, Sisi announced plans for a new constitution, to be followed by presidential and parliamentary elections.
A new charter was adopted in January 2014 and Sisi was elected president in May of last year.
Complex voting system
Critics say that with the Brotherhood having been crushed and banned, the elections are bound to be dominated by Sisi loyalists.
The elections are important to Sisi as he seeks to shore up his standing in the eyes of Western governments that condemned his overthrow of Morsi — Egypt's first freely elected leader.
Even secular and liberal activists, including several who played a prominent role in the 2011 revolt, have been jailed for holding unauthorised protests.
In a complex electoral system for the 568-member parliament, a sector of the electorate living abroad will vote on October 17, followed on the following two days by voters in 14 of the country's 27 provinces.
Run-offs in the same constituencies will be held on October 26, 27 and 28.
Remaining voters abroad and inside the Arab world's most populous country will take part in a first round on November 21, 22 and 23, followed by run-offs on November 30, December 1 and 2.
Twenty-seven of the seats in parliament will be appointed directly by the president, with the rest contested through party lists or on an individual basis.
Related Articles
Dec 02,2015
CAIRO — Egypt wrapped up Wednesday a legislative election that spanned over six weeks but failed to mobilise a high turnout for a parliament
Oct 27,2015
CAIRO — Egyptians voted on Tuesday in run-off elections for more than 200 parliamentary seats in which no clear winner emerged in the first
Nov 22,2015
CAIRO — Egyptians voted on Sunday in the second phase of elections that are meant to restore parliament after a more than three-year gap but
Newsletter
Get top stories and blog posts emailed to you each day.