You are here
Egypt election in view, Sisi supporters fire up campaign for mandate
By Reuters - Oct 26,2017 - Last updated at Oct 26,2017
A homeless man sleeps under a poster of Egyptian President Abdel Fattah Al Sisi of the campaign titled 'Alashan Tabneeha' (So You Can Build It), that demands Sisi to run in the next year's presidential election, at Sayeda Zainab Square in downtown of Cairo, Egypt, on October 17 (Reuters photo)
CAIRO — Six months before Egypt's election, President Abdel Fattah Al Sisi's supporters are petitioning for him to run, rallying around the former military commander.
Four years ago, Sisi won a landslide victory after the ouster of then president Mohamed Morsi of the Muslim Brotherhood, promising stability following Egypt's 2011 Arab Spring uprising.
Sisi, 62, has yet to declare if he will run, though he is unlikely to face strong opposition. He says he will follow the people's will, and many in Egypt still see him as key to stability in a country where unrest since 2011 has battered the economy.
But some critics say that narrative has been undercut by tough austerity reforms and a currency flotation that has made even the middle-class poorer, and an extremist insurgency that has extended outside its battleground in the northern Sinai.
The "So You Can Build It" petition campaign launched by a businessman, professors and pro-Sisi independent lawmakers is looking to whip up turnout for Sisi and show he still has the legitimacy of a popular mandate.
Less than a month into the campaign, its founders claim they will rally massive support. A host of celebrities have signed up, posing on social media with petition forms that show Egypt's red, white and black flag, and a silhouette of the pyramids.
"We will find out from the numbers we have collected what the Egyptian people's support looks like ... especially since there are rumours that there's been a decline in popular support," said Mohamed Shaaban, the campaign's co-founder and an independent lawmaker allied with Sisi.
Some Sisi opponents say the scale of the campaign shows that Egyptians have few viable opposition candidates to choose from in the election likely to happen around April.
"All this negatively affects the political climate in Egypt and increases reluctance to run against Sisi," Mohamed Anwar Al Sadat, nephew of a former president who once backed Sisi but is now considering running against him, said last week.
"It will discourage voters and make them more reluctant to go out and vote in the upcoming elections."
Detractors have taken to social media to poke fun at the petition, posting pictures of aliens and US President Donald Trump signing the form.
Many Egyptians are wary of challenging the status quo after six years of living through a pro-democracy revolt, a military takeover and a prolonged state of emergency that has left people unwilling to protest or looking for stability.
Only two people — Sadat and Khaled Ali, a lawyer who challenged Sisi over a dispute about two islands in the Red Sea — have publicly aired the idea of challenging him and even they say Sisi is likely to win.
Last election, Sisi won about 97 per cent of the vote on a turnout of 47.5 per cent, after voting was extended for a day. This time, his backers want to show his legitimacy not been tarnished by economic and security problems.
"The issue is not whether Sisi will win the 2018 election; rather, it is about how much interest and buzz can be generated about the process," said H.A. Hellyer, senior non-resident fellow at the Atlantic Council.
"The more public interest, the better — if turnout and interest is minimal, that won't be catastrophic for the authorities, but is certainly not the image they wish to project domestically or internationally," he added.
Spreading of campaign like wildfire:
The campaign was inspired by the 2013 'Tamaroud', or 'Rebellion', petition, that Sisi used as a mandate to topple the Muslim Brotherhood, said Shaaban.
The Tamaroud movement encouraged millions of Egyptians to take to the streets demanding the overthrow of Mursi. Sisi then led the military ouster of Mursi after those protests.
Organisers say they are already seeing results. What started off with only 10 offices has mushroomed into a large-scale operation with 178 offices nationwide, said Shaaban, and close to half a million likes on the campaign's official Facebook page.
"The numbers are changing by the moment," said parliamentarian Karim Salem, campaign spokesman and co-founder.
Organisers say the campaign is run by volunteers and funded by private donations.
Egypt's state news agency reported that 14,000 people had signed the petition in the Nile delta province of Al Beheira. Reuters could not independently confirm these numbers.
The petition form lists five reasons why Sisi should seek a second term -- cleansing the country of terrorism, completing his megaprojects, ending corruption, education, and protecting its leadership.
Even some of Sisi's supporters who helped propel him into power, such as former campaign officials Hazim Abdelazim and Nour Al Huda Zaki, have turned against him over his handling of the economy and security. Critics point to a dispute that saw his government hand over two Red Sea islands to Saudi Arabia, touching a nationalistic nerve.
Egypt has fought an insurgency waged by a Daesh terror group affiliate in North Sinai since 2013. Hundreds of members of the security forces have been killed. But the group has begun turning its guns towards the mainland in attacks this year.
Sisi has inaugurated mega infrastructure projects he promised would turn around the economy, and the IMF has praised the progress of measures it has backed that are meant to curb deficits and create long term growth.
But many Egyptians say they are frustrated with the immediate fallout of reforms. The currency devaluation a year ago has cut the Egyptian pound's value in half — though it has stabilised now — and inflation is just off record highs of above 30 per cent.
In Shaaban's home district in Cairo, middle-class Sayeda Zeinab, where a petition campaign banner with an image of the smiling president hangs above a main square, Essam Moahmed, a baker, expressed discontent over the economy.
"Now things are even more expensive than under the Brotherhood. But people can't stand against Sisi," he said.
Sisi acknowledges the tough economic situation many Egyptians face, saying sacrifices like IMF-backed austerity reforms are needed "so we can take our true place".
Related Articles
May 28,2014
Grilled meat vendor Tarek Fathi planned to support Abdel Fattah Al Sisi in Egypt's presidential election, believing the man worshiped in the press could fix all problems: from shabby healthcare to an energy crisis.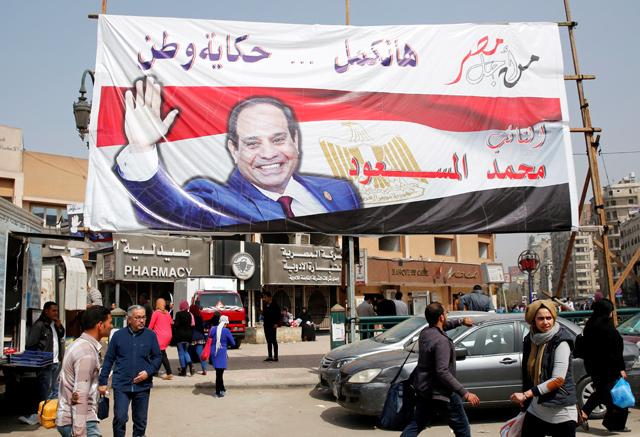 Mar 15,2018
CAIRO — President Abdel Fattah Al Sisi said on Thursday his government had fulfilled its promises during his first term and called on Egypti
Jul 19,2017
CAIRO — Some of the people who helped propel Egypt's President Abdel Fattah Al Sisi to power are calling for his replacement in an election
Newsletter
Get top stories and blog posts emailed to you each day.