You are here
Daesh militants lose ground in Syria town after major attack — monitor
By AFP - Jun 10,2018 - Last updated at Jun 10,2018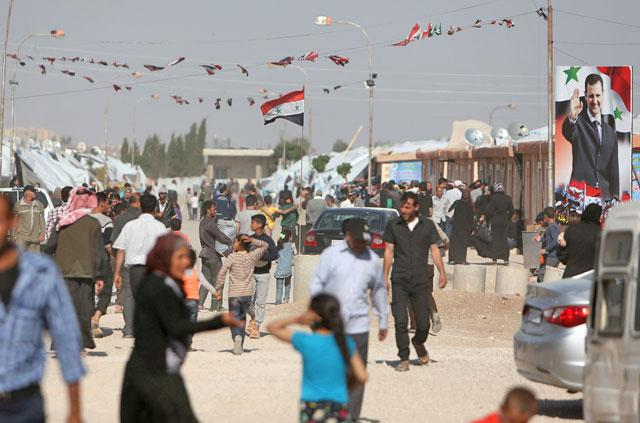 A Syrian flag and a photo of Syrian President Bashar Assad are seen in Herjelleh shelter in Damascus countryside, Syria, on April 15 (Reuters photoa)
BEIRUT, Lebanon — The Daesh group had lost ground on Saturday in a town on the Syrian-Iraqi border after pro-regime forces repelled a major attack the day before, a Britain-based monitor said.
Violent clashes were ongoing in Albu Kamal, which lies in the Euphrates Valley in eastern Syria, the Syrian Observatory for Human Rights monitoring group said.
"Daesh has retreated from inside the town to its western and northwestern parts" after pro-regime forces pushed back the militants, observatory head Rami Abdel Rahman said.
Pro-government reinforcements had arrived, he said.
On Friday, Daesh used at least 10 suicide bombers in its offensive on Albu Kamal, swiftly taking several of its neighbourhoods, the monitor said.
It was the biggest attack on the town since the militant group lost it in November 2017, and the latest in a string of attacks by Daesh across Syria.
Neither Syrian state media nor the army reported Friday's attack on Albu Kamal.
The fighting in the town over the past 24 hours has killed 30 pro-regime fighters, the observatory said.
These include 16 regime troops among them a general, as well as 14 non-Syrian combattants, notably Iranians and Lebanese Hizbollah movement fighters, the monitor said.
Twenty-one Daesh extremists were also killed in that same period, including the 10 suicide bombers, according to the same source.
Daesh has ramped up its attacks against pro-regime forces since its fighters in May left their last bastion near Damascus under an evacuation deal with the regime.
Daesh in 2014 proclaimed a cross-border "caliphate" in Syria and neighbouring Iraq, but has since lost most of its territory to various military offensives.
Its presence is mostly confined to pockets of eastern Syria in the vast desert stretching from the country's centre to the border with Iraq.
Earlier this week, Daesh assaults in the eastern province of Deir Ezzor killed 45 pro-regime fighters.
On Thursday, Daesh militants also killed 22 pro-regime fighters in surprise attacks in the southern province of Sweida, a monitor said.
Newsletter
Get top stories and blog posts emailed to you each day.