You are here
Chemical weapons allegedly used 45 times in Syria — OPCW chief
By AFP - Apr 29,2017 - Last updated at Apr 29,2017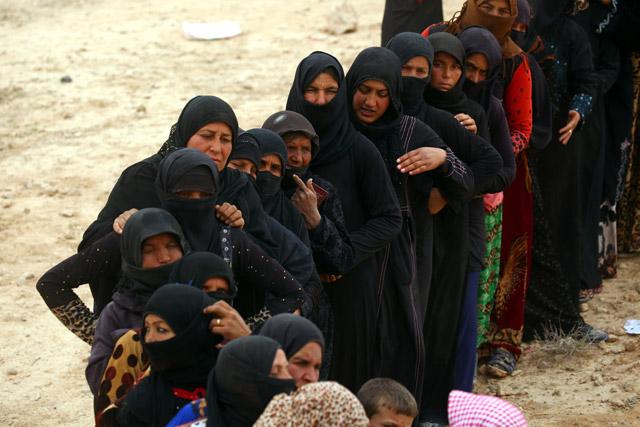 Displaced Syrian women, who fled the countryside surrounding the Daesh terror group stronghold of Raqqa, stand in a queue at a temporary camp in the village of Ain Issa on Friday (AFP photo)
THE HAGUE — Experts from the world's watchdog tasked with destroying chemical weapons are probing reports that toxic arms have been used 45 times in Syria since late last year, the body's chief said on Friday.
Director General Ahmet Uzumcu said there was "a huge list of allegations" of the use of toxic arms reported to the operations hub of the Organisation for the Prohibition of Chemical Weapons (OPCW).
In the "second part of 2016, 30 different incidents, and since the beginning of this year, 15 separate incidents, so 45", he told a reporters, brandishing a list of several pages which he chose to keep confidential.
They include the April 4 sarin gas attack on the rebel-held town of Khan Sheikhun that was reported to have killed 88 people, including 31 children.
"All these allegations are recorded by our experts, who follow this every day from our operations centre," Uzumcu said.
The OPCW is currently trying to ensure it is safe enough to deploy its fact-finding team to the town for further analysis, after Uzumcu said last week that "incontrovertible" test results from OPCW-designated labs on samples taken from victims showed sarin gas or a similar substance had been used.
The government of Syrian President Bashar Assad has "already stated that they would support this mission, actually they have invited us to go via Damascus", he said.
"The problem is that this area is controlled by different armed opposition groups, so we need to strike some deals with them to ensure a temporary ceasefire, which we understand the Syrian government is willing to do," he added.
"If we can put all this together then we will deploy. The team is ready, and we have the volunteers."
However, it is not yet mandated to also visit the Shayrat air base in the central Syrian province of Homs.
The base was the target of a US strike launched in the wake of the Khan Sheikhun attack, and Russia has called for the allegations that it was stocking chemical weapons to be investigated.
Uzumcu also confirmed that the OPCW, based in The Hague, believed extremist rebels from the Daesh terror group had used "sulphur mustard" near Iraq's second city of Mosul last week.
The Iraqi military said some security personnel were injured in the April 15 attack as part of the operation to recapture Mosul.
Related Articles
Apr 19,2017
THE HAGUE — The head of a global arms watchdog said on Wednesday that "incontrovertible" test results from an alleged chemical strike in Syr
Apr 20,2017
THE HAGUE — The global chemical arms watchdog Thursday "overwhelmingly" rejected a Russian-Iranian move to launch a new investigation into a
Oct 05,2017
THE HAGUE — Sarin nerve agent was used in an "incident" at a northern Syrian village in late March, five days before the deadly attack on Kh
Newsletter
Get top stories and blog posts emailed to you each day.