You are here
Bashir re-elected with 94 per cent of vote
By AFP - Apr 27,2015 - Last updated at Apr 27,2015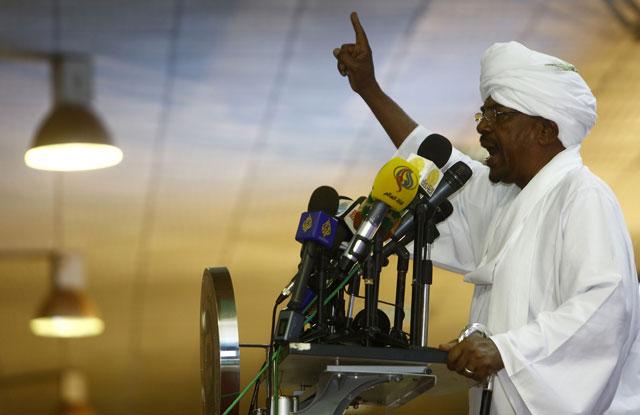 KHARTOUM — Sudan's President Omar Al Bashir was elected to another five years in office, results showed Monday, despite international war crimes charges and a vote marred by low turnout and an opposition boycott.
Bashir, 71, took more than 94 per cent of the vote in the election held earlier this month, the electoral commission said, prompting the opposition to reject the result as a "joke".
National Electoral Commission chief Mokhtar Al Asam announced Bashir's victory to a Khartoum news conference to cries of "Allahu akbar!" (God is greatest) from the long-serving president's supporters.
Only little-known candidates had run against Bashir and his closest competitor — Fadl Al Sayed Shuiab of the Federal Truth Party — took just 1.43 per cent of the vote.
Bashir's ruling National Congress Party (NCP) also dominated results in a simultaneous parliamentary election, taking 323 of 426 seats.
The elections took place over four days from April 13, with voting extended by a day after turnout appeared minimal. Asam said the participation rate was more than 46 per cent.
Western governments criticised the elections, which were held amid deepening economic woes and conflicts in the Darfur, Blue Nile and South Kordofan regions.
Bashir is wanted by the International Criminal Court on charges of war crimes, crimes against humanity and genocide in Darfur, where the UN says more than 300,000 people have been killed and more than 2.5 million displaced.
Norway, the United States and Britain slammed Sudan for its "failure to create a free, fair and conducive elections environment" while the European Union said the vote could not produce a "credible" result because of Bashir's failure to engage the opposition in national dialogue talks he promised last year.
Victory rally
But at a victory rally on Monday afternoon, Bashir hailed the elections as free and fair.
"We will not talk about the number or proportion of votes we obtained, but we thank God and the Sudanese people, who gave a lesson in fairness and transparency," he said.
Thousands of supporters cheered him, waving flags and pictures of Bashir as he spoke at the NCP headquarters on Monday afternoon.
The mainstream opposition and rebel groups — which urged voters to stay away from polling stations — rejected the vote from the beginning.
"Nobody recognised the election, it is a one-party, one-person election process, and of course we have been saying so all along," said Arnu Lodi, a spokesman for the Sudan People's Liberation Army-North.
The SPLA-N launched an insurgency against Bashir's government in the South Kordofan and Blue Nile areas in 2011, complaining of economic and political marginalisation.
"The SPLA-N doesn't recognise the elections, let alone the results," he told AFP by telephone. "It's a joke and I don't think anybody can believe that figure."
His group, along with rebels in Darfur who have been fighting Khartoum's forces since 2003, had vowed to disrupt the ballots across their region.
During the four-day vote, a handful of polling stations in the troubled areas were attacked and ballots stolen.
Bashir has promised to launch the national dialogue with the opposition after the election, and rebels from Darfur and South Kordofan were due to participate.
Continued unrest
But fighting still rages in the regions, and the election results came the day after rebels and the Sudanese military said there had been major clashes in South Darfur state, with both claiming to have inflicted heavy losses on the other side.
Career soldier Bashir took power in an Islamist-backed takeover in 1989, the last in a series of coups that marked Sudan after its independence from joint British and Egyptian rule in 1956.
He has since overseen the country's split with South Sudan after a 22-year civil war.
Bashir promised on the campaign trail that his next term would be one of "security and political and economic stability for Sudan".
He made few concrete policy promises but vowed to boost development of Sudan's struggling economy, which for years has suffered from international isolation.
The United States imposed a trade embargo in 1997 over alleged rights abuses and sanctions over Khartoum's sheltering of Al Qaeda leader Osama bin Laden for five years in the early 1990s.
More than three quarters of the country's oil reserves were also lost with South Sudan's split.
Related Articles
Apr 13,2015
Sudan was voting Monday in elections boycotted by the mainstream opposition that are expected to extend the quarter-century rule of President Omar Al Bashir, who is wanted on war crimes charges.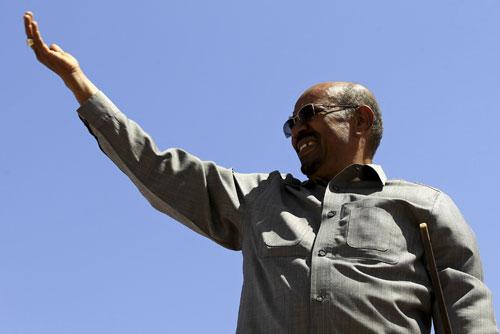 Apr 09,2015
Sudan heads to the polls next week in elections widely expected to extend President Omar Bashir's quarter-century rule, despite his indictment for alleged war crimes, continued unrest and a faltering economy.
Jan 11,2015
Sudan's President Omar Al Bashir launched his bid for reelection Sunday, facing little threat to his quarter century in power despite an ailing economy, multiple insurgencies and allegations of war crimes.
Newsletter
Get top stories and blog posts emailed to you each day.