You are here
Bahraini police fire on Shiite protest, one reported dead
By AFP - May 24,2017 - Last updated at May 24,2017
DUBAI — Bahraini police opened fire on Tuesday on a protest by supporters of a top Shiite cleric, with at least one demonstrator reported dead in the latest unrest to hit the Gulf state.
The Britain-based Bahrain Institute for Rights and Democracy (BIRD) announced the "tragic death of a peaceful protester in the crackdown" in Diraz, the scene of a long-running sit-in outside the home of cleric Isa Qassim.
Eyewitnesses told AFP multiple civilians were wounded when police opened fire at demonstrators throwing stones and Molotov cocktails at security forces.
Police arrested several people wanted by the authorities, the interior ministry said.
Qassim is considered the spiritual leader of Bahrain's majority Shiite community.
Authorities have accused Qassim, sentenced on Sunday to a suspended one-year jail term for illegal fundraising and money laundering, of serving "foreign interests" and promoting "sectarianism and violence".
A court last year stripped him of his citizenship, sparking repeated sit-ins outside his residence in Diraz.
Bahrain's interior ministry said on Tuesday it had "launched a security operation in the village of Diraz to preserve security and civil order as the site is a safe haven for fugitives".
Bahraini authorities have accused Iran of fomenting unrest in the kingdom, ruled for more than two centuries by the Al Khalifa dynasty. Tehran has consistently denied involvement.
US policy shift
The tiny Gulf state is a key regional ally of the United States and is home to its Fifth Fleet, but the administration of former president Barack Obama frequently criticised Manama over rights concerns.
In a meeting with Bahrain's King Hamad in Saudi Arabia at the weekend, US President Donald Trump made a clear break from previous US policy.
Trump told the king on Sunday it was "a great honour to be with you" and said there "has been a little strain but there won't be strain with this administration".
Manama has imprisoned dozens of Shiites accused of taking part in demonstrations and stripped at least 316 Bahrainis of their nationality since 2012, according to Amnesty International.
A court last year ordered the dissolution of the kingdom's main opposition group Al Wefaq after authorities accused it of "harbouring terrorism".
An 18-year-old Bahraini died in March, nearly two months after he was shot in the head fleeing a raid on Qassim's house, Amnesty said.
Bahrain's parliament in March voted unanimously to grant military courts the right to try civilians charged with any act of "terrorism".
Rights activists fear Qassim could be among the first to face court-martial.
Related Articles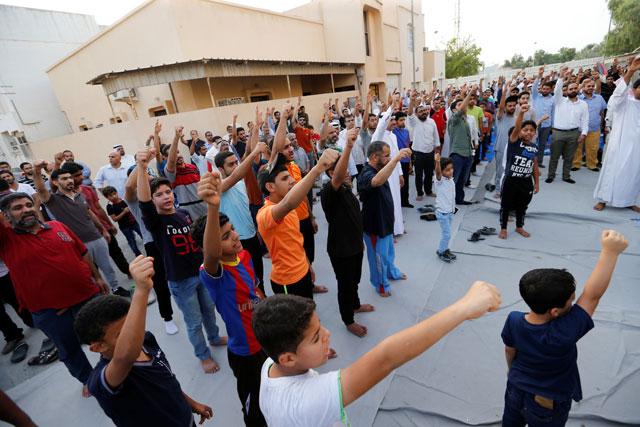 Jun 22,2016
DUBAI — Iran has warned Bahrain that it is fanning armed rebellion and "will pay the price" after an escalating crackdown on the country's S
Jun 20,2016
DUBAI — Bahrain said Monday it has revoked the citizenship of the kingdom's top Shiite cleric, accusing him of sowing sectarian divisions, i
Dec 27,2014
Bahraini police will question key members of the mainly Shiite Muslim opposition movement Al Wefaq for what it said were "violations" committed during a pro-democracy rally, Bahrain's state news agency BNA reported on Saturday.
Newsletter
Get top stories and blog posts emailed to you each day.