You are here
Bahrain 'foils arms smuggling bid', recalls Iran envoy
By Reuters - Jul 25,2015 - Last updated at Jul 25,2015
ABU DHABU/DUBAI — Bahrain said on Saturday it had foiled an arms smuggling plot by two Bahrainis with ties to Iran and announced the recall of the Gulf island kingdom's ambassador to Tehran for consultations after what it said were repeated hostile Iranian statements.
Bahrain made the announcements on the eve of a tour of some Arab states by Iranian Foreign Minister Mohammad Javad Zarif aimed at calming tensions following a historic nuclear deal between Tehran and world powers. He is due to visit Qatar, Kuwait and Iraq on Sunday.
Most Arab Gulf states are concerned that the July 14 accord will hasten a rapprochement between Tehran and Washington that could embolden the Islamic republic to heighten support for paramilitary groups across the Middle East.
Announcing the arrests, the ministry said the two suspects had admitted receiving the shipment of explosives, automatic weapons and ammunition from Iranian handlers outside Bahrain's territorial waters. It added that one had received military training at a Revolutionary Guards camp in Iran in 2013.
There was no immediate comment from Iran on the Bahraini statement.
Bahrain has reported a growing number of attacks using homemade explosives, some of them deadly, in the past two years and has accused a banned Shiite opposition group called Saraya Al Ashtar of responsibility for some of them.
Sunni Muslim-ruled Bahrain, home to the US Navy's Fifth Fleet, often accuses Iran, a Shiite Muslim theocracy, of seeking to subvert Bahrain.
Iran denies interfering in Bahrain, although it acknowledges it does support opposition groups seeking greater political and economic rights for Bahrain's Shiite community.
Bahrain said in June it had seized explosives and bomb-making materials earmarked for use in Bahrain and neighbouring Saudi Arabia in what it described as an Iranian attempt to use Bahraini borders as a base for attacking targets in the region.
Iran seeks Arab détente
Anouncing the recall of its envoy, Bahrain said recent Iranian statements reflected an unfriendly attitude towards it and an interference in its internal affairs, a statement on state news agency BNA said.
It did not elaborate on the statements. However hardline commentators in Iran have occasionally laid a territorial claim to Bahrain, a Sunni-ruled monarchy closely allied to dominant Gulf Arab power Saudi Arabia.
Bahrain's government on Friday accused Iran of attempting to disrupt Bahrain's security by provided weapons and explosives training to Bahrainis, and escalating violence on the island whenever Bahrain made "progress with national stability".
Bahrain was hit in 2011 by demonstrations demanding greater democracy and more rights for Shiites, many of whom say they are subject to political and economic discrimination.
Detailing the July 15 arrests, the ministry said the coastguard intercepted a vessel heading to Bahrain after meeting another vessel just outside Bahrain's territorial waters.
"The two suspects have admitted receiving the shipment from Iranian handlers outside Bahrain's territorial waters," the ministry said. It named the two as Mahdi Subah Abdulmohsen Mohammed, 30, and Abas Abdulhussain Abdullah Mohammed, also 30.
Related Articles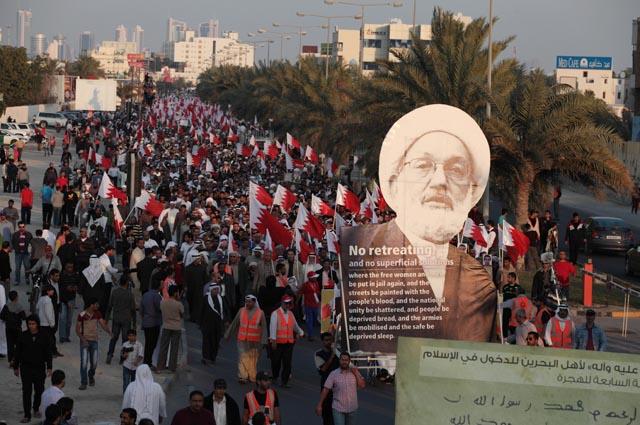 Jan 04,2014
Bahrain has named a Bahraini citizen who lives in Iran as a main suspect in what it called planned "terrorist acts" and said he and his collaborators had received training and other help from Tehran.
Jul 28,2015
MANAMA — A bomb killed two policemen and wounded six in the deadliest such attack in Bahrain in months, and state media said the explosives
Sep 29,2014
A Bahraini court on Monday revoked the citizenship of nine people convicted of trying to smuggle weapons into the country and it sentenced them to life in prison, the Gulf Arab kingdom's official news agency said.
Newsletter
Get top stories and blog posts emailed to you each day.