You are here
Arab states cut Qatar ties in major diplomatic crisis
Saudi Arabia, Egypt, UAE and Bahrain cite Doha's 'support of extremism' for decision
By AFP - Jun 06,2017 - Last updated at Jun 06,2017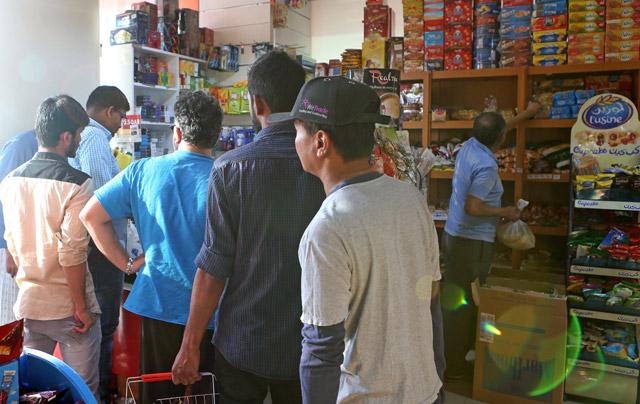 People buy snacks at a shop in Doha on Monday (AFP photo)
RIYADH — Arab nations including Saudi Arabia and Egypt on Monday cut ties with Qatar, accusing it of supporting extremism, in the biggest diplomatic crisis to hit the region in years.
Bahrain, the United Arab Emirates, Yemen and the Maldives joined Saudi Arabia and Egypt in severing relations with gas-rich Qatar, with Riyadh accusing Doha of supporting groups, including some backed by Iran, "that aim to destabilise the region".
Qatar reacted with fury, denying any support for extremists and accusing its Gulf neighbours of seeking to put the country under "guardianship".
The crisis was likely to have wide-ranging consequences, not just for Qatar and its citizens but around the Middle East and for Western interests.
Qatar hosts the largest US airbase in the region, which is crucial to operations against Daesh militants, and is set to host the 2022 football World Cup.
Monday's announcement came less than a month after US President Donald Trump visited Saudi Arabia to cement ties with Riyadh and called for a united front among Muslim countries against extremism.
It also followed weeks of rising tensions between Doha and its neighbours, including Qatari accusations of a concerted media campaign against it and the alleged hacking of the Qatar News Agency.
Qatar slams 'baseless claims'
The Gulf states and Egypt said they were severing diplomatic ties and closing transport links with Qatar, which relies on imports from its neighbours.
The Gulf states banned their citizens from travelling to Qatar and ordered Qatari citizens to leave within 14 days.
Saudi Arabia also closed its borders with Qatar, effectively blocking food and other supplies exported by land to Qatar.
Supermarkets were besieged by shoppers Monday as many rushed to buy food, leaving shelves bare and resulting in queues up to 25-people deep at some major stores in central Doha.
The Qatar Stock Exchange tumbled 8 per cent on opening and eventually closed down 7.58 per cent.
Riyadh said in a statement its measures were the result of "gross violations committed by authorities in Qatar", accusing Doha of harbouring "terrorist and sectarian groups that aim to destabilise the region including the Muslim Brotherhood, the Daesh terror group and Al Qaeda".
Gulf states have for years accused Qatar of supporting extremist groups, in particular the Muslim Brotherhood, the world's oldest Islamist organisation.
Riyadh also accused Doha of supporting Iran-backed "terrorist activities" in Saudi Arabia's Qatif, as well as in Bahrain, both of which have seen Shiite unrest in recent years.
Any suggestion that Qatar is backing the agenda of Shiite-dominated Iran — Sunni Saudi Arabia's regional arch-rival — is especially sensitive, particularly in the wake of Trump's comments last month.
"The measures are unjustified and are based on false and baseless claims," the Qatari foreign ministry said in a statement.
"The aim is clear, and it is to impose guardianship on the state", it said, insisting authorities would "take all measures necessary... to foil attempts to affect or harm Qatar's society and economy".
Flights cancelled
Economic consequences were already emerging, with UAE carriers Emirates, Etihad, flydubai and Air Arabia, as well as Saudi Airlines, announcing the suspension of all flights to and from Qatar as of Tuesday morning.
Egypt said it would also suspend air links with Qatar from Tuesday and gave Doha's ambassador 48 hours to leave the country.
Qatar Airways said it had suspended all flights to Saudi Arabia with immediate effect, at least until the end of Monday.
The airline — one of the region's busiest — also faced major potential problems after Saudi civil aviation authorities said the country's airspace would be closed to Qatari planes.
The Saudi-led coalition battling Iran-backed rebels in Yemen said it had expelled Qatar from the group.
The coalition accused Qatar of providing "support to [terrorist] organisations in Yemen" — the first time it has made such a claim.
Gulf countries previously recalled their ambassadors from Qatar in 2014, ostensibly over its support for the Muslim Brotherhood, but Monday's moves go much further.
Saudi Arabia and its Gulf allies may have felt emboldened by Trump's visit, which saw the new president clearly align US interests with Riyadh and lash out at Iran.
Speaking in Sydney, US Secretary of State Rex Tillerson said he did not expect the announcement to have "any significant impact... on the unified fight against terrorism".
He encouraged Qatar and its neighbours to "sit down together", adding that Washington was ready for "any role that we can play" in helping to overcome divisions.
Iran's Foreign Minister Mohammad Javad Zarif also urged Qatar and its neighbours to talk.
"Neighbours are permanent; geography can't be changed. Coercion is never the solution. Dialogue is imperative, especially during blessed Ramadan", Zarif tweeted, referring to the Muslim month of fasting.
'Unprecedented tensions'
Hints of an impending crisis emerged last month when Doha alleged that hackers were behind the release of false remarks attributed to Emir Sheikh Tamim Bin Hamad Al Thani published on the Qatar News Agency website.
The stories quoted him questioning US hostility towards Iran, speaking of "tensions" between Doha and Washington and speculating that Trump might not remain in power for long.
Doha denied the comments and said it had been the victim of a "shameful cybercrime".
Media organisations in several Gulf countries reported the emir's comments as fact, despite Doha's official denial.
The crisis is the worst to hit Gulf Arab nations since the creation in 1981 of the Gulf Cooperation Council (GCC) grouping Saudi Arabia, Bahrain, the UAE, Kuwait, Oman and Qatar.
There was no immediate word from Kuwait and Oman on Monday on their ties with Qatar.
Last week, the Qatari emir travelled to Kuwait to meet Emir Sheikh Sabah Al Ahmad Al Sabah in what was widely seen as an attempt at mediation by the Kuwaitis.
"This certainly represents an unprecedented uptick in tensions within the GCC," said Adam Baron, visiting fellow at the European Council on Foreign Relations.
"Qatar has long had an independent streak that's led to resentment from its neighbours."
Related Articles
Jun 08,2017
DOHA — When 31-year-old Ali Al Mohanadi heard Saudi Arabia, the United Arab Emirates and other nations were cutting ties and severing all tr
Jun 11,2017
DUBAI — Russia called Saturday for dialogue to resolve a dispute between Qatar and its Gulf neighbours, as Riyadh and its allies welcomed US
Jun 07,2017
AMMAN — Jordan on Tuesday announced that it decided to reduce diplomatic representation with Qatar and revoke the licence of the Doha-based
Newsletter
Get top stories and blog posts emailed to you each day.