You are here
Arab Israelis in Haifa protest over Gaza killings
By AFP - May 21,2018 - Last updated at May 21,2018
Palestinians carry the dead body of 20-year-old Mohammed Mazen Alyan, who died from wounds sustained after Israeli forces opened fire on protesters, during a funeral ceremony at Al Nusirat refugee camp in Gaza, Gaza City, on May 19 (Anadolu Agency photo)
Haifa, Israel — Hundreds of Arab Israelis demonstrated Saturday evening in Haifa in solidarity with Gaza, where more than 60 Palestinians have been killed by Israeli occupation forces in recent days, an AFP reporter said.
Protesters shouted "down with the occupation, stop fascism" and denounced the arrests on Friday of 19 people in the northern city during a previous rally held in solidarity with Gaza residents.
They waved four large letters in bright red, making up the word "Gaza" and chanted slogans, including "Jews and Arabs, we are not enemies".
A total of 62 Palestinians have been killed by Israeli occupation gunfire on Monday, when thousands of Palestinians protested as the US officially moved its embassy from Tel Aviv to Jerusalem after recognising the disputed city as the capital of Israel.
They were among 119 Palestinians killed by Israeli forces on the border between the Gaza Strip and Israel since mass demonstrations started on March 30, according to authorities in Gaza, which is run by the Islamist movement Hamas.
Israel insists its actions are necessary to defend the border and prevent infiltrations.
Palestinian and Israeli sources on Sunday said a Palestinian prisoner had died of a heart attack whilst in Israeli custody.
Aziz Ewisat was serving a 30-year prison sentence since 2014 and had suffered a heart attack earlier this month, the Palestinian Prisoners' Club said.
Israeli prison authorities claimed he had heart failure after attacking a guard.
Israeli Arabs, the descendants of Palestinians who remained on their land when Israel was created in 1948, are around 17.5 per cent of the Israeli population.
Related Articles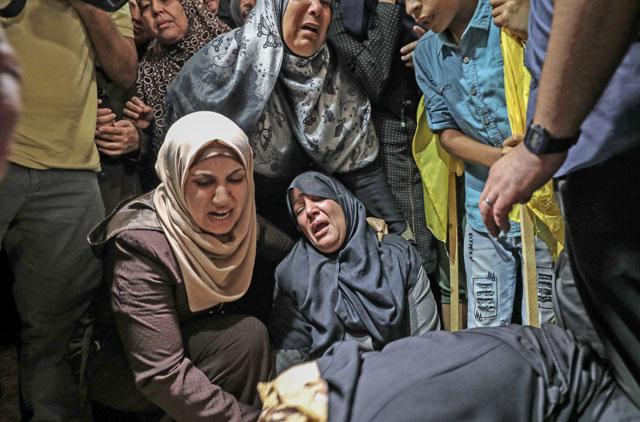 May 19,2018
GAZA CITY/OCCUPIED JERUSALEM — Three Palestinians have died from their wounds days after being shot by Israeli occupation forces during prot
May 28,2018
GAZA CITY/OCCUPIED JERUSALEM — A Palestinian was killed by Israeli tank fire into northern Gaza on Monday, the health ministry in the Hamas-
Apr 25,2018
GAZA CITY, Palestinian Territories — A Palestinian journalist shot two weeks ago by Israeli occupation forces on the Gaza border has died, P
Newsletter
Get top stories and blog posts emailed to you each day.