You are here
Amid political crisis, Iraqi PM calls for focus on Daesh fight
By AP - May 05,2016 - Last updated at May 05,2016
BAGHDAD — Iraq's prime minister on Thursday called on the Iraqi people to prioritise the battle against the Daesh terror group amid a deepening political crisis in the country.
Haider Al Abadi's remarks come after the Iraqi leader moved to replace the commander of a military division tasked with protecting the heavily fortified Green Zone in the Iraqi capital, Baghdad, after hundreds of angry anti-government protesters broke into the parliament building on Saturday.
Ahead of possible protests Friday, Abadi urged Iraqis to "respect the prestige of the state and not give infiltrators and terrorists the opportunity" to carry out attacks.
The storming of Baghdad's highly fortified Green Zone was a major escalation of a political crisis that has simmered for months. Thousands of supporters of influential Shiite cleric Moqtada Al Sadr climbed over the compound's walls and broke into the parliament building, damaging furniture and slapping some lawmakers who tried to flee. Security forces largely stood idle with some were seen kissing and shaking hands with the protesters.
Sadr's supporters have been holding demonstrations and sit-ins for months to demand an overhaul of the political system put in place by the US following the overthrow of Saddam Hussein in 2003.
On Thursday, Abadi warned that demonstrations could be used "to drag the country into chaos and looting".
Following Saturday's breach of the Green Zone, a handful of violent incidents were reported where protesters attacked Iraqi members of parliament and their convoys. In his televised remarks, Abadi repeated a pledge to bring those responsible for the violence to justice.
"We directed the interior ministry to investigate the incidents of assault and vandalism that occurred and prosecute within the law," he said.
Earlier Thursday, Abadi replaced the commander of a military division tasked with protecting the heavily fortified Green Zone. Cabinet spokesman Saad Al Hadithi said Abadi issued a decree to replace staff Lt. Gen. Mohammed Ridha due to "the breach and assaults against the government institution".
In March, Ridha was seen kissing Sadr's hands when the cleric entered the Green Zone to start a brief protest sit-in in a tent.
Iraq's political crisis has hindered the government's efforts to address a worsening financial situation resulting from low oil prices and combat Daesh, which still controls much of northern and western Iraq.
up
38 users have voted, including you.
Related Articles
Mar 29,2016
BAGHDAD — Iraqi Prime Minister Haider Al Abadi asked parliament on Tuesday to give him clear guidance on whether he should appoint party pol
Mar 28,2016
BAGHDAD — Powerful Iraqi Shiite Muslim leader Moqtada Al Sadr entered Baghdad's Green Zone, the heavily fortified centre of the capital hous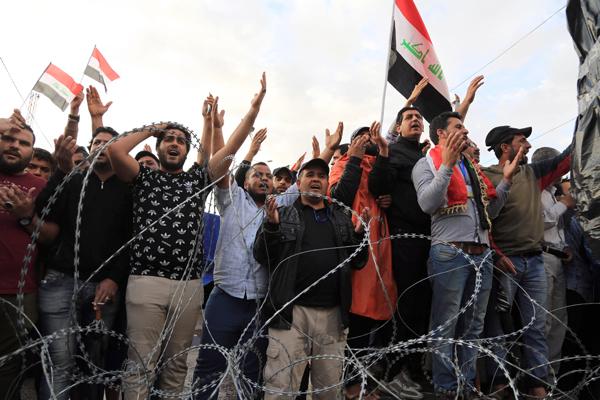 Mar 28,2016
BAGHDAD — Iraq's parliament gave embattled Prime Minister Haider Al Abadi until Thursday to present a Cabinet of technocrats as Shiite cleri
Newsletter
Get top stories and blog posts emailed to you each day.