You are here
Algeria identifies some kidnappers of French hiker
By AP - Sep 30,2014 - Last updated at Sep 30,2014
ALGIERS — Algeria's justice minister said Tuesday that some of the members of the group that kidnapped and beheaded a French hiker have been identified.
Tayeb Louh told state TV that the initial investigation has resulted in the identification of "certain members of the terrorist group behind the crime", without any further elaboration.
Ministry spokeswoman Amina Haddad told The Associated Press that the case was being handled by the Algiers Tribune and arrest warrants had been issued on charges of kidnapping, illegal detention and murder.
French mountain guide Herve Gourdel was kidnapped while hiking on Algeria's Djurdjura mountain range on September 21 by a splinter group from the Algerian branch of Al Qaida pledging allegiance to the Islamic State group in Syria and Iraq.
The group calling itself Jund Al Khilafah, or Soldiers of the Caliphate, demanded France end its participation in US-led airstrikes against the Islamic State group. On Thursday, a video surfaced on social network sites showing Gourdel's decapitation.
Algerian army and police have scoured the mountainous region where Gourdel was kidnapped searching for the group and his remains.
The group released a new video on Tuesday showing dozens of its members swearing allegiance to Abu Bakr Al Baghdadi, the leader of the Islamic State group.
Previously most Algerian extremist groups had recognised the authority of Al Qaeda.
Algerian extremist groups have been largely confined to the mountainous Kabylie region focusing their attacks on local security forces.
Related Articles
Jan 15,2015
Algerian troops found the body Thursday of French tourist Herve Gourdel, security sources said, months after he was beheaded by jihadists demanding that France halt air strikes against the Islamic State (IS) group.
Dec 23,2014
The Algerian army said on Tuesday it had killed the head of a militant group that beheaded a French tourist after it had pledged allegiance to the Islamic State (IS) group.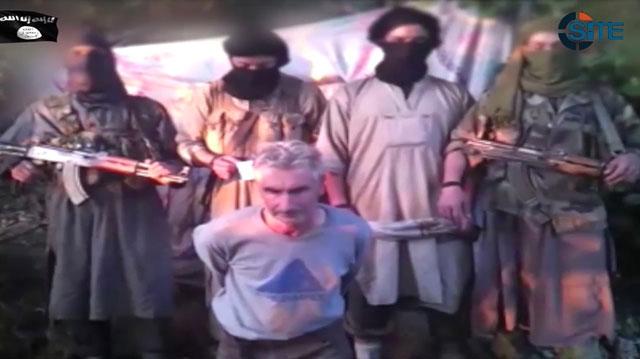 Sep 24,2014
Algerian militants have beheaded French tourist Herve Gourdel, who was kidnapped by gunmen on Sunday in what the group said was a response to France's action against Islamic State militants in Iraq.
Newsletter
Get top stories and blog posts emailed to you each day.