You are here
Aleppo White Helmet rescuers call for safe passage
By AFP - Dec 08,2016 - Last updated at Dec 08,2016
A civil defence member rolls a cigarette in a rebel-held area of Aleppo, Syria, on Thursday (AFP photo)
BEIRUT — The White Helmets rescue group on Thursday urged international organisations to protect its members in rebel-held parts of Syria's east Aleppo in the face of an advance by government forces.
"If we are not evacuated, our volunteers face torture and execution in the regime's detention centres," the rescuers said in a statement released by the Syria Campaign advocacy group that handles communications for them.
The White Helmets, which was nominated this year for a Nobel Peace Prize for its work, said it believed it had "less than 48 hours left" before the army arrived in parts of east Aleppo still held by rebels.
Addressing the International Committee of the Red Cross (ICRC), the United Nations and Security Council members, the group called for an "urgent safe passage" for its staff, their families and other humanitarian workers.
In the last three weeks, government forces have seized around 85 per cent of territory rebels controlled in east Aleppo.
A rebel call for a five-day ceasefire and the evacuation of civilians to opposition territory elsewhere has gone unanswered.
"We have good reason to fear for our lives," the White Helmets said.
It charged that the Damascus regime and its allies have "falsely claimed many times that our unarmed and impartial rescue workers... are in fact affiliated with radical extremist groups".
The group said its members in the city feared they would "be treated as terrorists" and could face detention or execution by advancing regime troops.
"We hold the ICRC, the United Nations and the Security Council responsible for our lives and we call on you to secure safe passage," it added.
The White Helmets operates in rebel-held territory throughout Syria and has won international acclaim for its daring rescues in the aftermaths of government attacks.
It was widely considered a frontrunner for this year's Nobel Peace Prize, and in September won a Swedish right award often described as an "alternative Nobel".
It is not without its critics, mostly backers of the government of President Bashar Assad who accuse it of being a tool of international donors that support the opposition.
But it contends it has no political affiliation, working only to save civilian lives in highly dangerous circumstances.
Related Articles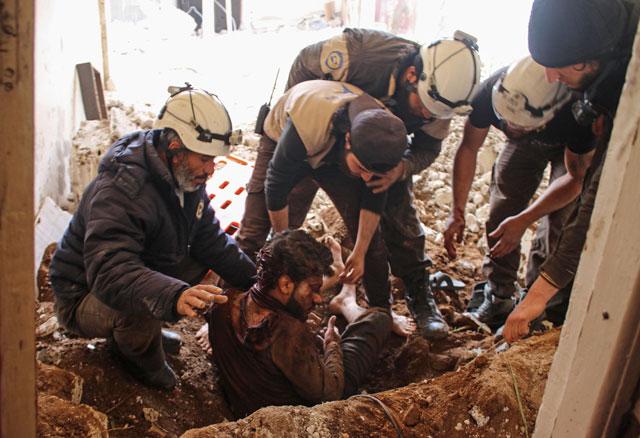 Jul 24,2018
DARAA — More than a dozen White Helmets rescue workers demonstrated Tuesday in Syria's Daraa city to demand safe passage out of the country'
Jul 23,2018
BEIRUT — Several hundred Syrian rescuers remain trapped in the country's south with no escape from approaching regime troops, two of them sa
Aug 20,2016
BEIRUT — It took Mahmoud Fadlallah and the team of seven rescue workers 30 minutes to reach the middle-aged couple trapped beneath the rubbl
Newsletter
Get top stories and blog posts emailed to you each day.