You are here
25 Palestinian children killed in 3 months — UNICEF
By AFP - May 14,2016 - Last updated at May 14,2016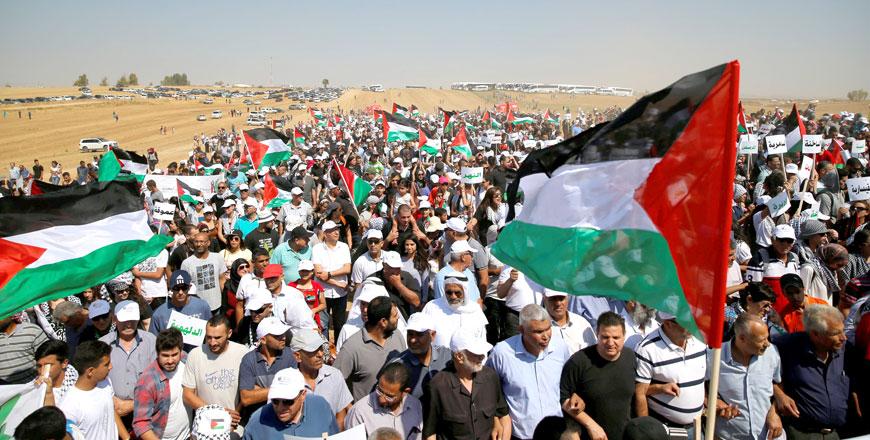 Arab Israelis and other supporters wave Palestinian flags as they march during a protest to mark the right of return for refugees who fled their homes during the 1948 Arab-Israeli war, at a village near Rahat in southern Israel, on Thursday. The 1948 war followed the creation of Israel on Palestinian land (Reuters photo by Ammar Awad)
OCCUPIED JERUSALEM — Twenty-five Palestinian children were killed in the last three months of 2015 during a wave of violence and the number detained was the highest in seven years, the UN children's agency said.
"Serious concerns arose regarding excessive use of force, particularly in relation to incidents where Palestinian children were shot dead by Israeli security forces after carrying out or being suspected of carrying out stabbing attacks," UNICEF said in a report.
It said more than 1,300 Palestinian children were injured during the spike in attacks, almost all in the West Bank and East Jerusalem, while three Israeli children were hurt in the West Bank and West Jerusalem.
UNICEF cited the example on October 25 in Hebron in the West Bank of a 17-year-old girl who was taken by Israeli soldiers for a search, shot with at least five bullets and killed.
"Israeli authorities said that she had attempted to stab a policeman, however an eyewitness stated that she was not presenting any threat at the time she was shot, and was shouting that she did not have a knife," it said.
Compared with the high toll for the October-December period, UNICEF recorded four Palestinian children killed and 165 injured between July and September.
UNICEF also voiced alarm over the number of Palestinian children aged between 12 and 17 held by the Israeli army, noting the tally stood at 422 at the end of December according to the Israeli prison service, the highest recorded since March 2009.
Israeli law allows Palestinian children from the age of 12 to be put on trial.
Since the October outbreak of a wave of unrest, 204 Palestinians and 28 Israelis have been killed.
Related Articles
Nov 22,2015
Israeli forces and civilians killed three Palestinians in the occupied West Bank on Sunday.Israeli soldiers shot dead a 16-year-old Palestin
Nov 09,2015
OCCUPIED JERUSALEM — Car-ramming and stabbing attacks wounded six Israelis in the West Bank on Sunday while two alleged Palestinian assailan
Oct 20,2015
UN chief Ban Ki-moon on Tuesday warned against any misuse of force as he met Israeli Prime Minister Benjamin Netanyahu in Jerusalem in a bid
Newsletter
Get top stories and blog posts emailed to you each day.