You are here
'Alleged Italian Daesh member held in Syria'
By AFP - Sep 13,2018 - Last updated at Sep 13,2018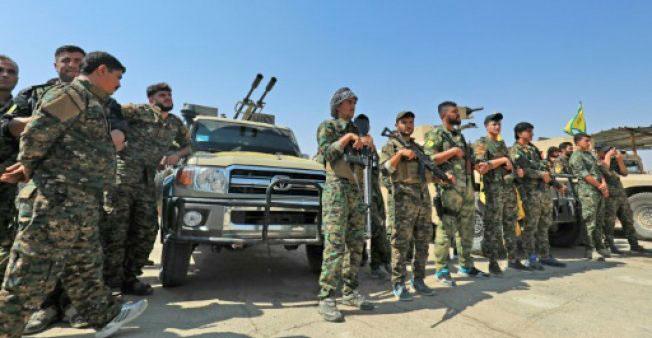 Members of the People's Protection Units gather in the Syrian town of Shadadi on Tuesday (AFP photo)
BEIRUT — Kurdish fighters in northern Syria detained an alleged Italian member of the Daesh group as he was trying to flee across the border to Turkey, they said on Thursday.
The People's Protection Units (YPG) have captured several foreign Daesh fighters since the extremists' so-called caliphate collapsed nearly a year ago.
"On August 27, a mercenary called Semir Bogana was captured as a result of a special operation conducted by our anti-terror units, when he was trying to flee to Turkey," said the YPG.
It said Bogana — an Italian citizen known also as Abu Hureyre Al Muhajir or Abu Abdullah Al Muhajir — was responsible for weapons shipments to Daesh.
There was no immediate reply from the YPG to a request for additional details.
At the peak of its "caliphate" in Syria and Iraq, Daesh attracted thousands of foreigners to join it.
But it has since lost almost all of its territory, including its de facto capital in Syria, the northern city of Raqqa.
Since then, US-backed forces have been detaining foreign Daesh members in both Syria and Iraq.
Among their most infamous detainees are Alexanda Amon Kotey and El Shafee El Sheikh, two survivors of a four-man Daesh unit that saw foreign journalists and others tortured and beheaded.
They had been dubbed "The Beatles" because they were British.
French Daesh members were also arrested in the months after Raqqa's fall, including Adrien Guihal, Emilie Konig and Thomas Barnouin.
The fate of the foreigners, including whether they are handed over to their national authorities, is a controversial topic as some countries appear unwilling to extradite nationals who fought with Daesh in Syria.
Last month, Washington said two Americans accused of supporting Daesh had been handed over to US authorities by the Syrian Democratic Forces, which is dominated by the YPG.
Lebanese members of Daesh have also been transferred to Beirut.
Newsletter
Get top stories and blog posts emailed to you each day.