You are here
Zaatari residents celebrate Int'l Day of Sport with world famous athletes
By Camille Dupire - Apr 07,2018 - Last updated at Apr 07,2018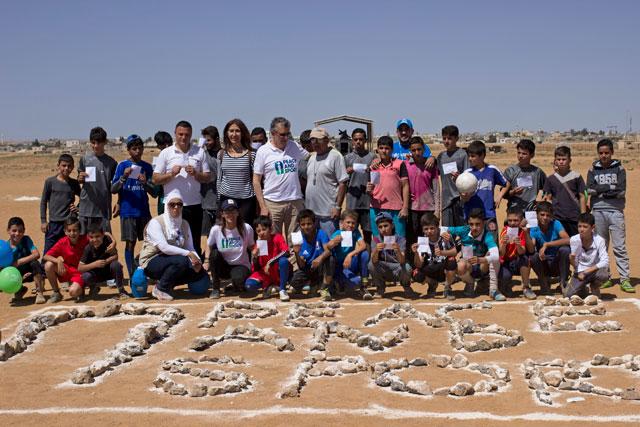 Syrian refugees take part in sports activities as part of the International Day of Sport for Development and Peace in Zaatari camp on Friday (Photos courtesy of Peace and Sport)
ZAATARI — Some 150 young refugees living in Zaatari refugee camp on Friday enjoyed a day of sports and cultural activities organised by "Peace and Sport" on the occasion of the International Day of Sport for Development and Peace.
The organisation, which promotes the use of sports as a tool for peace, invited a number of world renowned athletes to offer a unique experience to the camp's residents in partnership with the UNHCR, the Jordanian National Olympic Committee, the International Teqball Federation, the International Table Tennis Federation (ITTF), World Taekwondo and the International Kickboxing Federation.
The activities started off with a "Sport Simple" children workshop conducted by Egyptian pentathlete Aya Medany, vice world champion of modern pentathlon.
Medany then led a fencing workshop for 15 young Syrians who had created their swords from recycled materials found inside the camp. They learned the practice of fencing and its values which include salute, respect of the other, notions of protection, strategy development and anticipation, among others.
"Athletes are the best ambassadors to convey sports' culture and values," said Joël Bouzou, president and founder of Peace and Sport, citing the Champions for Peace club founded in 2009 to highlight the role of sports in "being more than performance alone", and "playing a genuine role to serve society by rallying champions around the common goal of peacebuilding".
International football legend and Teqball Ambassador Christian Karembeu joined refugee children with whom he played Teqball, a new football-based sport consisting of a football, and a curved table similar to a ping pong table.
For his part, Slovenian kickboxer and chairman of the WAKO athletes committee, Tomaz Barada, introduced a dozen girls to kickboxing techniques while Taekwondoists from Zaatari Taekwondo Academy offered a demonstration of their aerial figures and kickbacks.
The delegation also visited a father who made his own table-tennis table to play and train his children. "The idea was to play sports that have been adapted to local resources and environment while transmitting the positive values of sport," Manon Mainenti-Merie, media officer at Peace and Sport, told The Jordan Times.
Led by Olympic champion of table tennis and IOC member Ryu Seung-min, the ITTF also organised several workshops and matches with young refugees.
Later during the day, 50 children took part in a five-kilometre relay passing on the White Card around the camp, as a symbol of peace through sport.
"It is important for us to bring together a number of sports personalities such as top-level athletes and international sporting federations to work alongside local NGOs committed to helping refugees on a daily basis. Today more than ever, sport can be used as a means to reconcile, to bring a sense of normality and to support social inclusion programmes for refugees in communities and in camps," Bouzou said.
Champion for Peace Medany voiced her pride to celebrate the international day in Zaatari and "to give good times and good values to the kids", adding "I have been playing sport for 22 years but today is the most important day of my life. I can pay back for what I did, what I have learned all these years."
A number of similar events took place around the world, including one in Japan, India, Monaco and Guatemala, according to the organisers.
Related Articles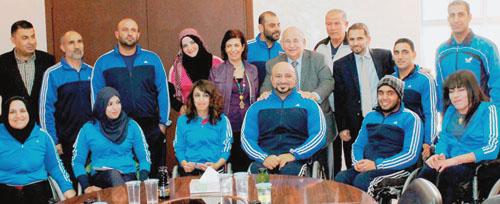 Dec 13,2014
The Jordan Olympic Committee (JOC) joined the Jordan Paralympic Federation in celebrating the incredible achievements of medal winners at the recent Asian Paralympic Games held in Incheon, South Korea, according to a statement from the JOC Media Centre.
Aug 04,2016
BEIRUT — As Syrian gymnast Ahmad Al Sawas watched his country fall apart, his Olympic dream collapsed too.The last national champion before
May 10,2017
AMMAN — Jordan has secured a second table tennis ladies medal at the 14th ITTF Slovenia Para Open Championships in Lasko, Slovenia, accordin
Newsletter
Get top stories and blog posts emailed to you each day.