You are here
Winners of 'Award for Buildings for Persons with Disabilities' honoured
By JT - Oct 02,2023 - Last updated at Oct 02,2023
HH Prince Mired presents a memento to a winner of the 'Award for Buildings for Persons with Disabilities' during a ceremony on Monday (Petra photo)
AMMAN — A number of public and private institutions on Monday received the "Award for Buildings for Persons with Disabilities" after meeting the accessibility criteria set by the Higher Council for the Rights of Persons with Disabilities (HCD).
HH Prince Mired, the chief chamberlain and the president of the HCD, honoured the winners of the first edition of the award.
The event featured the presence of HH Princess Dina Mired, a number of ministers, senators, the Kingdom's ambassadors from the UK, Sweden, Spain, Japan and Australia. The Deputy Director of the United States Agency for International Development and the Director of International Cooperation at the Jordanian Mission to the European Union were also present, according to the Jordan News Agency, Petra.
Besides encouraging the institutions to make their buildings more accessible for persons with disability, the award aims to promote the rights of persons with disabilities, including their right to easy access to buildings and the right to privacy and independence in both the public and private sectors.
In the first edition of the award that was launched in 2022, a total of 86 buildings have participated, including 58 government institutions and departments, 19 buildings from private sector institutions and nine buildings from voluntary organisations.
At the end of the ceremony, the prince honoured the winning institutions in the three award categories and the members of the Specialised Technical Arbitration Committee responsible for examining the applications and verifying the accessibility requirements.
The accessibility criteria include ramps, elevators, toilets, entrance and exit widths, tactile indicators, accessible websites with easy-to-read formats, Braille, large letters, colour and background control on websites, facilitating devices such as Braille signs, sign language for communicating with the public with disabilities and assistive technology as needed.
Related Articles
Dec 21,2014
HH Prince Mired, president of the Higher Council for the Affairs of Persons with Disabilities (HCD), on Sunday attended a ceremony the HCD held to honour 18 special education institutions that achieved public and private accreditation standards in 2014.
Feb 07,2023
AMMAN — HRH Prince Raad on Tuesday visited the Higher Council for the Rights of Persons with Disabilities (HCD), where he listened to a brie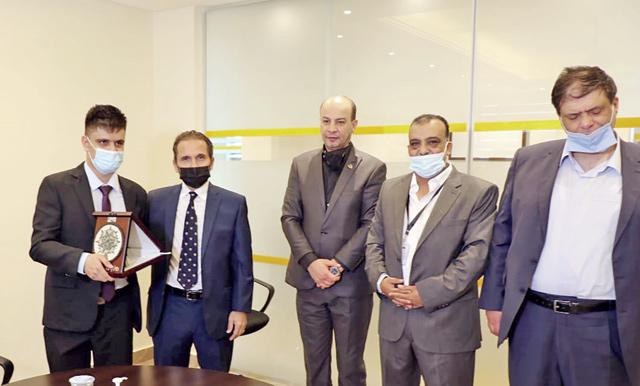 Sep 02,2021
AMMAN — HH Prince Mired, the president of the Higher Council for the Rights of Persons with Disabilities (HCD), on Wednesday honoured Al Taj