You are here
UNFPA training raises university students' awareness on reproductive health
By Khetam Malkawi - May 20,2014 - Last updated at May 20,2014
IRBID — Reproductive health and healthy nutrition top young people's health-related concerns, students interviewed by The Jordan Times said on Tuesday.
"I have a family of 11 members, and this is the result of a lack of awareness of family planning tools and its importance," noted Mohammad Halbaki, a second-year pharmacology student at the Jordan University of Science and Technology (JUST).
Halbaki said reproductive health issues are not tackled as they should be in his country, Yemen, and he is willing to start an initiative to educate his community.
"The minimum number of family members in my country is eight. This is a lot and affects women's health," the 20-year-old said, adding that whenever there is a class or training programme on this issue at the university, he is the first to register.
His compatriot Adham Akhali, who studies engineering at JUST, shared his views.
"There should be awareness in my country on the impact of having big families versus having small ones," Akhali said, adding that there is no such education about family planning in Yemen.
"But I want to be part of an initiative to launch such an education campaign when I am in Yemen," he noted.
School and university students, he stressed, should be targeted with this education, as they are going to have families in the future.
"I have the energy to learn and will focus on learning about this issue [reproductive health]," Akhali said.
Halbaki and Akhali were among a group of JUST students that took part in an awareness programme held this semester to educate students on several health-related issues.
Shababna (Youth for Health) is a pilot project organised by the UNFPA and the Royal Health Awareness Society (RHAS) to raise awareness amongst students on reproductive health issues by incorporating reproductive health and gender-based violence topics within the already RHAS-developed university community materials and courses, according to Zeina Horani, communication officer at UNFPA.
"We were not encouraged to discuss reproductive health issues with the students at this age because we were afraid they would not accept such discussions due to cultural reasons," said Nahla Al Ali, from the university's adult health department.
However, "when we opened the registration for lectures, we were surprised that the number of registered students was higher that the seats we have," Ali told The Jordan Times on Tuesday at a festival organised by the students who took part in the programme.
She explained that students were eager to learn about the subject.
The fact that the programme was in Arabic was another incentive that encouraged some students to attend, according to Nadeen Khazaaleh.
"Our courses are taught in English, but it is important to study them in Arabic as well," said Khazaaleh, a nursing student.
"If I want to educate women about the issue, I need to use Arabic for this purpose, and this was one of the positive aspects of the programme," she added.
Another point of interest about the programme is the way information was conveyed to students, according to pharmacology student Razan Bani Hani.
"Trainers used drama and role play to deliver the information to us," Bani Hani said, adding that she now knows more about the diseases that couples should be tested for before getting married.
"I used to think that thalassemia is the only test that should be conducted for this purpose, but now I realise that all other genetic diseases should be tested for," she noted.
According to Yasmeen Taba, a UNFPA youth officer, 10 subjects were included in the one-semester training.
These subjects, she said, include the impact of smoking on health, diabetes, cancer, obesity, psychological health, adolescents, gender, safe motherhood and reproductive health.
Related Articles
Jan 05,2015
Her Majesty Queen Rania on Monday said it is crucial to raise awareness on health-related issues such as the importance of balanced nutrition, the dangers of drug abuse and the necessity of obtaining patients' medical history prior to their treatment.
May 10,2016
AMMAN — Her Majesty Queen Rania on Tuesday highlighted the importance of raising health awareness on a range of issues, including the danger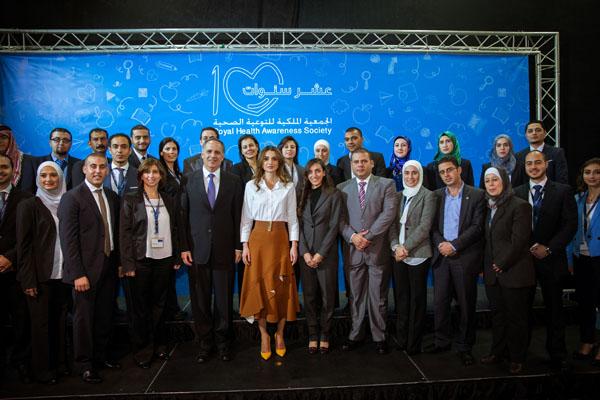 Nov 23,2015
AMMAN — Her Majesty Queen Rania on Monday honoured a group of schools accredited by the Royal Health Awareness Society's (RHAS) Healthy Scho
Newsletter
Get top stories and blog posts emailed to you each day.