You are here
UJ students protest against hike in tuition fees
By Suzanna Goussous , Petra - Nov 09,2014 - Last updated at Nov 09,2014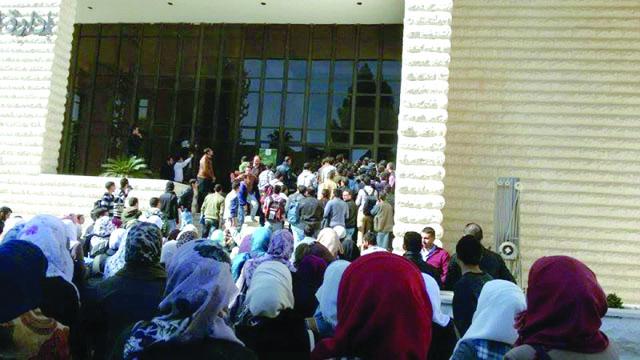 AMMAN — Some 250 University of Jordan (UJ) students staged a sit-in on Sunday near the administration building to protest against the hikes in tuition fees for the parallel and postgraduate programmes, according to the National Campaign for Defending Students' Rights, "Thabahtoona".
Thabahtoona Coordinator Fakher Daas said some students attempted to break into the building but were prevented by campus security.
The Jordan News Agency, Petra, quoted UJ Dean of Student Affairs Ahmad Owaidi as saying that the sit-in was peaceful and ended with no problems.
Owaidi said UJ President Ekhleif Tarawneh met with a group of students around two weeks ago and explained to them the reasons behind the increase in tuition fees.
The dean told Petra that no increase has been imposed on the regular undergraduate programme although the fees paid by students do not cover 50 per cent of the actual costs incurred by UJ.
UJ officials have said the 27 per cent deficit in the university's JD140-million budget prompted the board of trustees to decide to increase tuition fees of postgraduate and parallel programmes for new students as of the 2014-2015 academic year.
Thabahtoona says the increase in fees ranges between 100 and 180 per cent.
Under the new prices, one credit hour in a MA programme now costs between JD150 and JD230, while one PhD hour costs between JD180 and JD250 depending on the specialty.
Daas said higher education should be accessible to all Jordanians.
"Our campaign is not to promote violence, it's a campaign to make the students' voices heard; we emphasise the concept of education, universities and higher education are not only for the rich," he told The Jordan Times. "We will organise a protest on Tuesday starting from 3pm to 1am; it can go on until the next morning to protest the hike in tuition fees," Daas added.
Over 30,000 undergraduate students are enrolled at UJ, while there are around 4,000 postgraduate students.
Related Articles
Nov 11,2014
Around 300 University of Jordan (UJ) students gathered in front of the university's main gate on Tuesday for an "overnight stay" to continue their protest against the hikes in tuition fees for the parallel and postgraduate programmes.
Sep 30,2014
Around 100 University of Jordan (UJ) students held a protest on Tuesday to urge the administration to reverse a decision to raise fees for the parallel, international and postgraduate studies programmes.
Nov 12,2014
The National Campaign for Defending Students' Rights, "Thabahtoona", on Wednesday charged that security forces ended a protest organised near the University of Jordan's (UJ) main gate "with force" after scuffles broke out between protesters and "thugs".
Newsletter
Get top stories and blog posts emailed to you each day.