You are here
Truckers turn to gov't for support amid Saudi ban on old trucks 
By Mays Ibrahim Mustafa - Dec 01,2022 - Last updated at Dec 01,2022
The average age of Jordan's truck fleet is roughly 15 years old, and around 7,500 out of the 22,000 licenced trucks were manufactured before 2002, according to the Jordan Truck Owners Association (File photo)
AMMAN — Saudi Arabia's decision to prevent the entry of trucks that are more than 20 years old has caused sector losses of roughly JD250 million, according to Head of the Jordan Truck Owners Association (JTOA) Mohammad Khair Dawood.
The average age of Jordan's truck fleet is roughly 15 years old, and around 7,500 out of the 22,000 licensed trucks were manufactured before 2002, making them over 20 years old, Dawood told The Jordan Times.
Before the Saudi ban, which came into effect in April 2021, "the number of Jordanian trucks entering Saudi Arabia from Jordan during commercially active periods ranged from 400 to 500 per day," Dawood said, noting that this number has witnessed a notable decrease.
He added that 5,000 trucks with an operational age of over 20 years old have operated on the land border crossings between Jordan and Saudi Arabia.
"Three thousand of these vehicles are transit trucks, which currently pass through the Saudi border to transport goods to and from other Gulf countries, such as Bahrain, the United Arab Emirates and Kuwait," while the rest transport goods inside Jordan, or to Iraq and Syria for an "extremely low profit", Dawood continued.
As of February 1, 2023, the transit of all trucks that are over 20 years old through Saudi territories will also be banned, which will "drastically" impact the Kingdom's trade traffic, as the Gulf market is a "primary destination" for goods exported from Jordan, he said.
Dawood urged the government to grant truckers incentives in order to encourage them to "scrape" and upgrade their old vehicles, including a recommended reduction on customs fees as well as exemptions from sales tax and the initial registration fee.
He also noted that it has become "necessary" to allow the import of trucks with an operational life of up to 10 years instead of five years, so that truckers can afford to replace their vehicles.
The trucking industry is already burdened by the continuous rise of diesel prices, while land freight costs remain the same, Dawood added, noting that this issue is "pushing many out of business".
Abd Al Rahman Al Yassuri, a Jordanian who operates a truck manufactured in 1992, noted that his vehicle's value dropped by over JD8,000 due to the ban.
"I can't afford to upgrade my truck at the moment. My profit barely covers my expenses, and I'd be selling it a huge loss," he told The Jordan Times.
Yassuri noted that he used to transport and import goods between Jordan and Saudi Arabia four times a month before the ban, earning a monthly profit ranging between JD1,500 to JD2,000, excluding JD400 for diesel expenses.
Currently, Yassuri transport goods from Amman to Aqaba only one or two times a month due to the low demand, bringing in a profit of around JD650, minus JD370 for diesel and JD50 for other operational costs.
"Although the distance between Saudi Arabia and Amman is much farther than the distance between Aqaba and Amman, my diesel expenses weren't high because I'd fill up my truck's tank in Saudi Arabia before going back to Jordan," he added.
In a statement sent to The Jordan Times, the Land Transport Regulatory Commission (LTRC) spokesperson Abla Washah said that "a study conducted by the LTRC on this matter, including the demands of Jordanian truckers, was submitted to the Prime Ministry".
Related Articles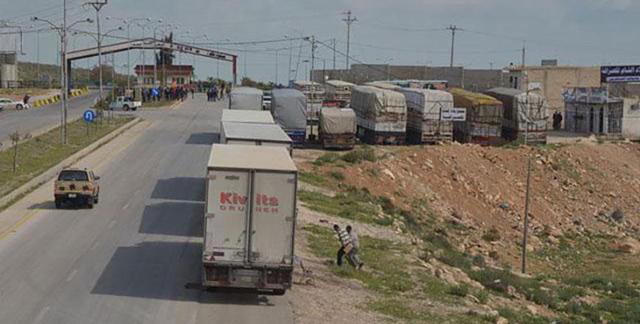 Aug 02,2023
AMMAN — Many truckers in Jordan fear for their livelihoods after Saudi Arabia's decision to prohibit trucks over 20 years old from ent
Oct 16,2023
AMMAN — The Land Transport Regulatory Commission (LTRC) recently revealed Saudi authorities' have approved a delay in implementing a ban on
Dec 28,2016
AMMAN — Public transport fares are to be hiked by 10 per cent as of January 5, under a decision taken by Land Transport Regulatory Commissio