You are here
Through technology, libraries can expand their role to become 'community connectors'
Experts say tools like virtual reality devices, 3D printing can make libraries appealing to youths
By Suzanna Goussous - Dec 06,2016 - Last updated at Dec 06,2016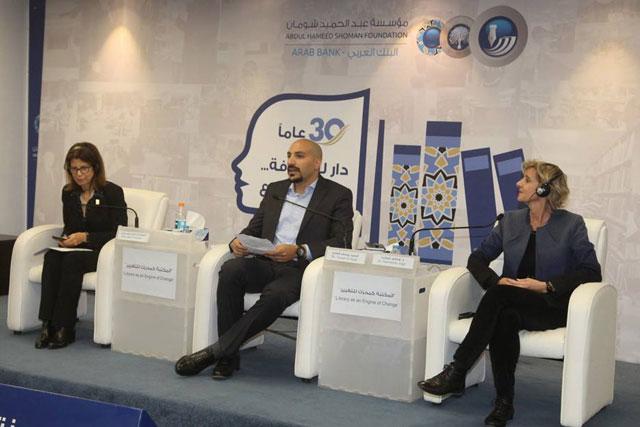 Sari Feldman (first from left) and Hannelore Vogt (third from left) participate in a panel discussion held on Monday at the Abdul Hameed Shoman Foundation (Photo courtesy of Abdul Hameed Shoman Foundation)
AMMAN — In the light of the technological revolution and changes in education around the world, libraries are now not only places for conventional research using traditional methodologies, they are also places to interact with the digital world, researchers said on Monday.
Executive Director of Cuyahoga County Public Library Sari Feldman said libraries are building the legacies of authors and writers who have contributed with their research papers and books.
"When we think about libraries today, we know we are the centre of community life and community learning. Libraries are building on our legacy," she said at a panel discussion held by Abdul Hameed Shoman Foundation to mark its public library's 30th anniversary.
Feldman said libraries can play a significant role in educating people about social media and the content published on the Internet.
"With the growth of inexpensive screening media, some of the content… such as CDs and DVDs are no longer really important; they are not the only source for that content," the US librarian added.
She emphasised the importance of having access to technology in order to provide readers and researchers with a suitable place to write, research, study or communicate.
"When a library is a place of technology access, it is very important… The technology access goes beyond the PC and Internet access and actually educating people with a resource that is going to support individuals' education," Feldman added.
From content consumption to content creation, libraries nowadays should not only help students "find" what they want, but to also "create" what they want, by providing more details to users, she said.
This can also be accomplished through allowing users to submit and create their own content depending on their understanding and knowledge.
"When people have access to expensive and complex tools, they can come in and learn at the library, they can learn coding, they can support entrepreneurs in all kinds of design software," she added.
The technological tools can be used to invest in the younger generation to motivate them to visit libraries and participate in the "Maker Space" area in the library to develop their skills and hobbies, according to Feldman.
"Before someone was a writer, they were a reader… We want to strengthen the library's role… to be a community connecter," she added.
PLA Charlie Robinson 2013 Award Recipient Hannelore Vogt said that to cope with the technological revolution, libraries can include virtual reality devices, e-learning, mobile devices, robotics and 3D printing gadgets to keep the visitors engaged in the library atmosphere, where they can also discuss the devices with each other and give hands-on lessons.
Speaking at the panel, the German expert noted that 3D printing can be part of libraries to encourage visitors to get more involved with their projects, so they can print the sketched outline, in addition to promoting interaction among young visitors.
Related Articles
Jul 02,2015
AMMAN — With some 12,000 visitors daily, the University of Jordan (UJ) Library seeks to facilitate a distinguished learning and research exp
Jul 27,2015
AMMAN — The growing influence of social media outlets as publishing tools requires adapting educational and scientific content to that mediu
Jul 27,2016
AMMAN — The University of Jordan's (UJ) library on Tuesday opened its second annual conference on e-publishing through cloud and mobile comp
Newsletter
Get top stories and blog posts emailed to you each day.