You are here
Teacher forum seeks to 'revolutionise education' in region
By Laila Azzeh - Oct 26,2014 - Last updated at Oct 26,2014
AMMAN — Revolutionising education in the region is no longer a far-fetched notion, but a possibility thanks to the Teachers Skills Forum, organisers said Sunday.
With preparations in full swing to introduce what experts say is "the first of forum of this kind" in the Middle East, eyes are now directed towards teachers who seek to come out of their comfort zones and discover new pedagogies.
"We are expecting over 700 educators from the Arab world to take part in the forum," said Haif Bannayan, CEO of the Queen Rania Teacher Academy (QRTA), who noted that the conference will be held under Her Majesty Queen Rania's patronage.
Slated to open on December 6 in cooperation with the International Baccalaureate (IB) and Texas Instruments (TI), the two-day event brings together international education experts from prominent institutions, including Harvard, Columbia University and the Massachusetts Institute of Technology.
Adopting the slogans "innovation in education" and "together for an educational revolution", participating educators will be exposed to best international practices in teaching reading and writing in Arabic and English, maths, science and information technology.
Such forums are held in Western countries each year, but this will be the first time an Arab country has organised a similar event, according to organisers.
"It [forum] aims to empower teachers and to provide them with the skills and tools that would help them improve student results, which were found lagging in comparison with international criteria," Bannayan said at a press conference on Sunday.
IB representative Mary Tadros noted that the event will "put teachers at the forefront of education innovation by way of enriching their skills".
Eleven Jordanian schools are IB accredited, and several others are still in the process of being authorised, Tadros said, noting that while there are 122 IB schools in the region, Arab teachers, especially Jordanians, have made significant contributions to the system's curriculum.
The IB is a nonprofit educational foundation that offers programmes designed for students aged three to 19 to develop their intellectual, personal, emotional and social skills.
The forum's sponsors are: Saraya, King Abdullah II Fund for Development, Microsoft, Arab Potash, Jordan Ahli Bank, Jordan Carbonate, Umniah, Intel and Pamoja, according to organisers.
Registration for the forum is still open.
The QRTA is an independent nonprofit organisation that seeks to empower educators with the skills, recognition, and support necessary to excel in their classrooms.
Related Articles
Jan 08,2019
AMMAN — The Teacher Skills Forum 2019 will be held between March 8 and 10, under the patronage of Her Majesty Queen Rania, the Queen Rania T
Jun 07,2014
As part of its mission to enable teachers to have an impact on students' development and attainment in all areas, the Queen Rania Teacher Academy (QRTA) has trained more than 900 International Baccalaureate (IB) educators so far.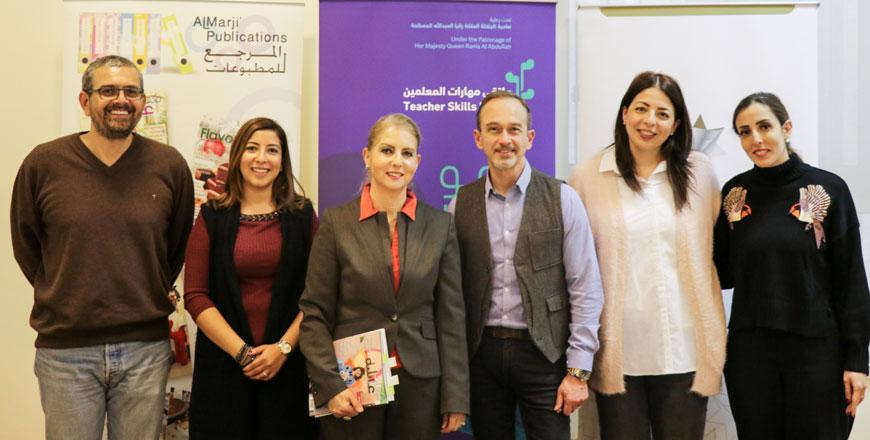 Dec 13,2017
Queen Rania Teacher Academy (QRTA) has signed a cooperation agreement with Al Marji' Publications to promote the upcoming Teacher Skills For