You are here
Syria's regaining control of border crossing 'good news' for Jordan
Commander says awaiting political decision to start arrangement to re-open border
By Rania Tadros - Jul 08,2018 - Last updated at Jul 08,2018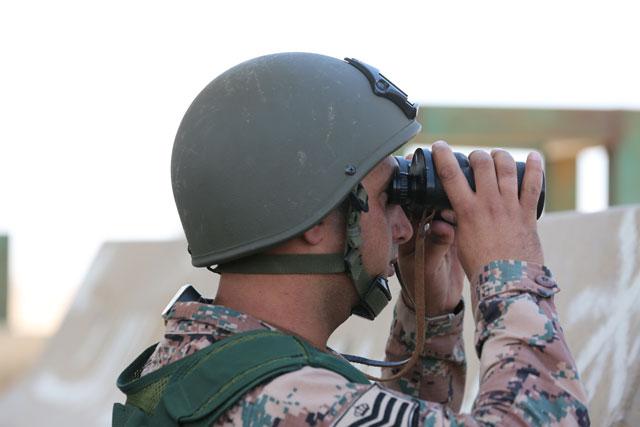 A soldier is on duty on Saturday at a border military post with Syria as regime forces regain control of the Syria side of the crossing (Photo by Raad Adaileh)
JABER BORDER CROSSING — A top military commander has said that the Syrian army's regaining control of the border crossing with Jordan is a "positive development" that serves the national security of Jordan.
In an interview during a tour of the northern border zone, Brig. Gen. Khaled Massaid, commander of the northern military region, told Al Rai and The Jordan Times that Syria is now capable of the full control of their side of the Jaber/Nassib border crossing, after the Jordan Armed Forces-Arab Army (JAF) has done its part during the time when the border outpost has fallen in the hands of "terrorist organisations".
He stressed, however, that the decision to open the border with Syria is political and if a political agreement is reached, security arrangements will follow.
He added that the JAF are able to fully control the border, thanks to professional military and advanced equipment that JAF possess.
Massaid's remarks came after the return of calm and the Syrian army's control in cooperation with the Russian troops over Nassib border crossing (See separate story).
The officer also stressed that Jordan stands firm on border closure decision, pointing out that "90 per cent of the Syrians stranded on the border have returned to their homes", adding that the remaining numbers are estimated at thousands and the reason for not going back is due to "their own situation with the Syrian regime".
Other sources at the border confirmed that, saying the remaining number of the displaced on the border does not exceed 8,000.
The commander noted that medical services were still provided to the people remaining in the area and that after the treatment, the patients are "immediately returned" to Syria.
The Royal Medical Services has provided medical assistance to about 1600 Syrians from those displaced in the Syrian-Jordanian Free Zone and more than 250 cases have transferred to the Jordanian hospitals.
Regarding the injuries of the displaced people, medical sources said that the injuries were caused by shrapnels on the first day of the bombing, but the following days, incoming cases mainly suffered from dehydration and intestinal infections.
Commenting on the fate of the terrorist organisations deployed in the south of Syria, Massaid said there was a state of chaos, but in light of the Syrian army's return, the terrorists will move into the Syrian northern territories or any border area, noting that their current number is estimated at 2,500 to 3,000.
However, Massaid acknowledged fears of terrorists' possible infiltration into Jordan, but he asserted that JAF are there to keep the danger out, reiterating that the system in place is assuring, in addition to the "rapid air force's response", coupled with sophisticated night vision equipment.
He said a limited number of infiltration attempts from the Syrian side had been detected and prevented recently.
Newsletter
Get top stories and blog posts emailed to you each day.