You are here
Sweifieh wall carries freshly painted piece of European history
By Camille Dupire - May 16,2018 - Last updated at May 16,2018
Former UN secretary general Dag Hammarskjold is portrayed on a wall in Amman's Sweifieh neighbourhood (Photo by Camille Dupire)
AMMAN — A wall in Amman's Sweifieh neighbourhood is bringing a piece of European history to local residents, through the recently painted mural of late Dag Hammarskjold, former UN secretary general and lifetime advocate for peacekeeping and world security.
The giant mural was created throughout last week by Swedish artist Gustaf Engstrom, a policeman by profession and street artist, who submitted his design as part of the Baladk Festival 2018.
"It is a great honour to see such a major Swedish symbol standing here in the streets of our brotherly country, Jordan. Hammarskjold is a perfect representation of our close ties to the Kingdom, as we both stand for international cooperation and security, which were two of the values this man fought for his entire life," said Swedish Ambassador to Jordan Erik Ullenhag as he inaugurated the mural, located in Al Qimma street.
"Now more than ever, we need strengthened international cooperation to face regional crises such as the Palestinian and Syrian ones and we have to preserve the legacy of such icons who strived to maintain a strong UN Security Council and support generous countries like Jordan in their endeavours to provide refuge to endangered populations," he told The Jordan Times, commending the great cooperation witnessed with the European Union through the festival.
"I wanted to present a figure that is not very well known in Jordan for the community to learn more about this man who truly marked my whole life, as I grew up in the area where he used to live in Sweden," said Engstrom, remembering "as I was painting on the third day, the pharmacist working across the street came to me very excited and started telling me all about Hammarskjold, after he had done some research and was very impressed by his journey. It was really great to see local residents become interested in what is truly a huge icon in our Swedish culture".
The artist used some 60 spraying cans for his mural, which reflects an astounding number of details that Engstrom said "is an illusion". "When working on such big murals, you have to think reversed: it is not about the small details like the lines on the man's suit or the intensity of his gaze, it is about the bigger picture," he explained, stressing that he did not use any brush or tool other than the spraying cans to create the portrait.
Baladk is an annual street art graffiti festival that aims to empower citizenship through different forms of street arts, primarily murals, according to Muath Isaeid from Al Balad Theatre, which curates the event currently in its sixth edition. "Baladk sought to present a unique cultural experience with a vision of contributing the local youth through different art formations, therefore enhancing their loyalty towards building a culture that represents them and speaks their language," he told The Jordan Times in front of the mural.
"For the first time this year, we partnered with several European artists like Gustaf, who came to Jordan to collaborate and share their knowledge with local talents," the project manager of Baladk said, stressing "this brought so much to the festival and to local aspiring artists who got to learn a lot about graffiti, big murals techniques, proportions, etc".
Each of the European participants, which included one French, a German, a Serbian and one Russian/Syrian, in addition to Engstrom, was assisted by a Jordanian artist who stayed on the crane throughout the spraying process, learning how to create large scale murals before exchanging thoughts and insights about the work.
"When we launched the open call for this edition under the theme 'People/Humans', many of the Jordanian applicants had amazing sketches of very high quality, but they were not fully ready to create big murals. Some who were selected worked on shared murals, but being accquainted with professional artists really gave them the chance to refine their work and learn a lot," Isaeid commented.
Supported by the Swedish institute, which also published a free booklet on the life and achievements of Hammarskjold in Arabic and English, the Hammarskjold mural will be displayed for at least 16 months, offering citizens the chance to enjoy an artistic slice of history.
Baladk Festival 2018 was organised in partnership with the EU National Institutes for Culture, the Greater Amman Municipality, Tamasi Collective, the French Agency for Development, the Goethe Institute, the Swedish Institute, the Swedish Embassy, Montana Cans and National Paints, a Baladk statement said.
Related Articles
Feb 27,2018
AMMAN — Foreign visitors to Amman often recalled being mesmerised by the colourful works of art covering the walls of the capital, designed
Apr 22,2014
Although Syrian children at the Zaatari Refugee Camp will still push wheelbarrows around to sell goods, they can now take pride in colourfully decorated carts that they themselves have painted.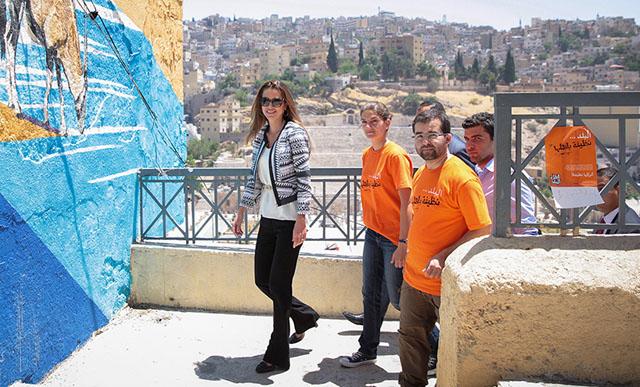 Jun 10,2014
Her Majesty Queen Rania on Tuesday joined a group of young volunteers taking part in activities carried out at Al Mattal Citadel by two local initiatives: Ahel Al Balad and Art for All.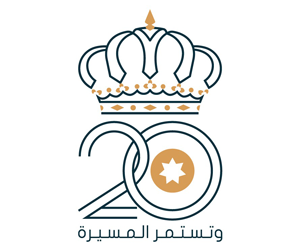 Newsletter
Get top stories and blog posts emailed to you each day.