You are here
Strategy launched to make most of archaeological legacy
By Laila Azzeh - Dec 04,2014 - Last updated at Dec 04,2014
AMMAN — The 2014-2018 Strategy for Management of Jordan's Archaeological Heritage was launched on Thursday in a bid to further capitalise on the Kingdom's archaeological legacy.
The plan, drafted by the Department of Antiquities (DoA) with
USAID support, provides an "in-depth" analysis of the situation and challenges facing the tourism sector, "in addition to ways to address them to help the industry achieve its potential as a main contributor to the national economy".
At the launch, DoA Director General Munther Jamhawi said the strategy provides a roadmap to better manage archaeological sites in Jordan while protecting them.
"The archaeological heritage is considered one of the strongest tourism resources in Jordan, especially cultural tourism, which is the main contributor to the national economy," Jamhawi added.
The strategy, which is an updated version of one drafted in 2007, outlines strengths, weaknesses and threats facing the country's archaeological assets.
It cites geo-political stability, technical resources and relations with regional and international archaeological organisations as opportunities the country should seize, but warns against "uncontrolled" and "poor" planning, urbanisation and "relatively expensive" tourism products and packages, compared to neighbouring countries.
The strategy also indicates that visitors' experience at archaeological sites is often "poor" due to a lack of support services and qualified interpreters.
"Foreign tourists used to mingle with local communities and become more familiar with their culture and lifestyle," Tourism Minister Nidal Katamine said during the ceremony, calling for bringing together experts, historians, engineers and graphic designers to create a "liveable" experience at archaeological sites.
Noting that there is insufficient marketing and promoting of Jordan's heritage sites, Katamine underscored that connecting tourists with the environment of the areas they visit is the best way to come up with a competitive tourism product.
Maya Shahateet from the USAID Jordan Tourism Project said the strategy is important as it guides efforts to safeguard the Kingdom's archaeological locations.
The strategy was updated with the help of the Tourism Ministry, Jordan Inbound Tour Operators Association, Petra Archaeological Park, Wadi Rum Protected Area and the Baptism Site.
Related Articles
Apr 22,2014
Efforts should be exerted to stop the recurrent sabotage and violations against archaeological sites in the Kingdom, officials said on Tuesday.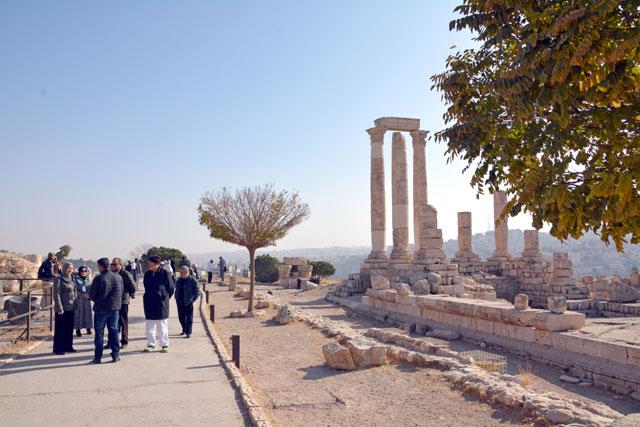 Jan 26,2017
AMMAN — Alongside oil smuggling, kidnap and ransoms, Daesh raises funds for its terror campaigns through a lesser-known activity: illicit tr
Nov 30,2017
AMMAN — A new version of the Middle Eastern Geodatabase for Antiquities (MEGA) Jordan is under development to serve as a user-friendly web-b
Newsletter
Get top stories and blog posts emailed to you each day.