You are here
'Start-Up Zaatari' celebrates innovation spirit of Syrian refugee youth
By JT - May 06,2018 - Last updated at May 07,2018
Young people participate in a workshop held by The One Foundation and UNICEF at Zaatari camp recently (Photo courtesy of UNICEF)
AMMAN — The first ever "Start-Up Zaatari" event concluded last week, following two days of social innovation exhibitions and workshops held by The One Foundation and UNICEF to showcase and unleash the talent and potential of young people in Zaatari refugee camp, a UNICEF statement said.
"Start-Up Zaatari" is part of the UNICEF X ONE humanitarian change makers lab, a new partnership to equip vulnerable youth in Jordan with the knowledge and business skills needed to design their own solutions to everyday challenges and to promote entrepreneurship and jobs.
Over 100 young people participated in skills workshops — including robotics, creative visioning, fashion design and artificial intelligence —esigned to foster their creativity and empower them to become co-creators, rather than recipients, of the products and services that impact their lives in the camp, the statement read.
"We are very excited to be part of this event celebrating the energy and innovation of youth in Zaatari," said The One Foundation, adding "this lab is providing talented young people in Jordan with transferrable skills and a path to contribute economically to a better future for themselves and the region."
The event was made possible by a The One Foundation grant provided through UNICEF Ireland, allowing talented youth to develop their skills and ideas on how be change makers in their communities, while transforming services that are provided for vulnerable and crisis-affected populations.
Joining the event, the executive director of UNICEF Ireland, Peter Power, said: "UNICEF Ireland is very proud of our association with The One Foundation and what it has achieved for Syrian children affected by the ongoing conflict inside Syria. Youth are at risk of becoming the forgotten victims of humanitarian crisis. By providing them with innovative social entrepreneurship skills they need to make a lasting sustainable impact for many years, we can prevent a lost generation."
UNICEF's newest youth goodwill ambassador, Muzoon, who used to live in Zaatari camp, sent a message saying: "This is exactly the type of opportunity I was looking for when I was in Zaatari. Young people in this camp will benefit enormously from this development. They particularly need this support to help them cope and learn the skills needed to rebuild Syria," expressing admiration for the project.
For his part, UNICEF Jordan Representative Robert Jenkins voiced his excitement for the partnership and the positive change it will create in these communities.
The event was supported by a dozen national organisations and individuals who volunteered their time to inspire and motivate young people in the camp. Exhibitions, pitch competitions, performances and inspiring talks demonstrated how social innovation can contribute to building an inclusive and resilient community, the statement concluded.
Related Articles
May 30,2018
AMMAN — Using virtual reality to help the world understand the plight of Syrian refugees was the purpose behind the recently released "Dream
Jul 08,2014
The German ambassador on Tuesday announced a 10 million euro contribution from his country's government to UNICEF for children affected by the Syrian refugee crisis in Jordan, according to a UNICEF statement.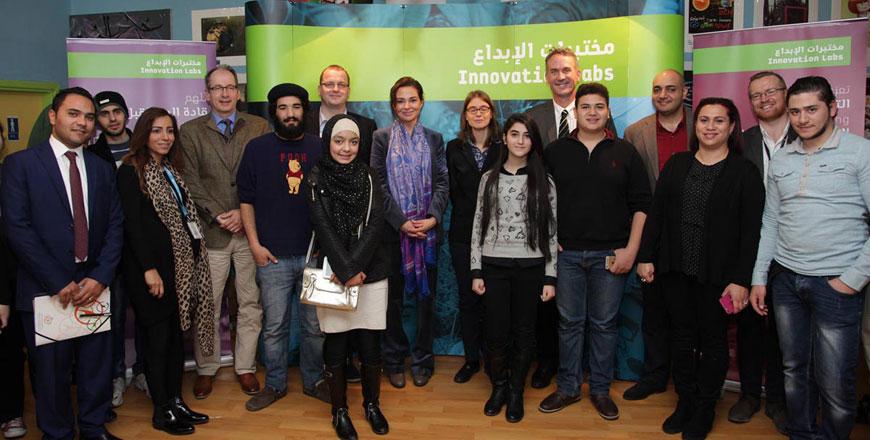 Jan 14,2016
AMMAN — Four innovation labs in different parts of Jordan officially opened on Wednesday seeking to create a "unique" atmosphere that foster
Newsletter
Get top stories and blog posts emailed to you each day.